Atlanta has produced some new, and delicious places to munch in while we've been gone. Not all of them are within walking distance of campus, but they are worth the (very small) trip to surrounding neighborhoods! If you're a returning student, you'll probably get the most appreciation of getting out of Broad St. and trying some new menus.
But we're also here to celebrate the oldies but goodies! While our city touts' delicious cuisine in surrounding neighborhoods, we also know there are some hidden secrets hiding through the streets of Downtown. For the freshmen, or for the returning, unexplored students, downtown has plenty of goods to keep you movin'—and by goods, I mean foods.
If you're the type of person to pack meals for the entirety of your day, by all means, continue your reign. For those who don't have the patience or motivation to keep up with homemade lunches each day, or you forgot your meal in the fridge (sadface), or you want something new to try with some friends, this roundup is for you.
The restaurants and cafes on this list range from trendy to best bet. Some are more experience driven than cuisine oriented, while others are the equivalent of student-status fine dining. No matter your hunger, you're sure to find what you're looking for at one of these spots!
What's new on the block, for the old kids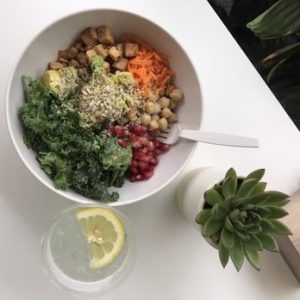 Upbeet: 1071 Howell Mill Road, Suite A, Atlanta, GA 30318
If you're looking for a new health-conscious, but wallet-conscious, eatery, Upbeet is right up your alley. Brought to you by the team behind YEAH! Burger, it's the new fast-casual, made-to-order restaurant and it's right off Howell Mill Rd. All the food there is organic with menu items that include salads with your choice of greens, smoothie bowls, smoothies, grain bowls, and yogurt bowls. They even serve organic wines, organic coffees, kombucha and other house made yummies. For the vegan, paleo and gluten-free customers—don't worry, they have bountiful options for you as well!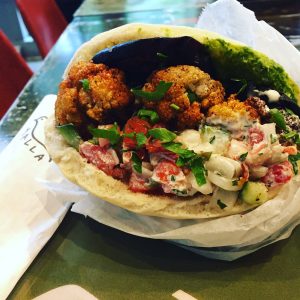 The Canteen: 75 5th St NW #170, Atlanta, GA 30308
Inside of Tech Square is downtowns newest "micro-food hall" and it's getting a lot of attention, and foot traffic. Right now, The Canteen has four stalls—or places to eat as we like to call it—including TGM Bagel, Fred's Meat & Bread, Yalla and Square Bar. For those who have ventured over to Krog Street Market Fred's and Yalla will be familiar names and smells, serving the same delicious Mediterranean goodies and melt in your mouth sandwiches—amongst other menu items. TGM Bagel is providing us with all the breakfast goods—General Muir's bagels, breakfast sandwiches and Batdorf & Bronson coffee. Last but not least, Square Bar is there to quench your thirst at any time of day (yes, happy hour too). In the mornings they have juices, energy shots and smoothies and as the day moves on they have (for our 21+ audience) beer, frozen cocktails and wine.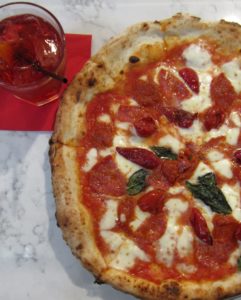 Varuni Napoli: 99 Krog St NE, Atlanta, GA 30307
A delicious Krog Street Market add on—pizza! Who doesn't love a good, open kitchen pizzeria?! The stall located inside of Krog Street is a scaled back version of the original restaurant in Morningside, but it's just as good offering authentic Italian cuisine. Customers can build their own pizza or pick from a selection of artisan red and white pizzas already planned for them. For the greenies, they have salads to choose from that are just as delicious as melted cheese—almost. Save room for dessert because, you guessed it, they have the classic cannoli there as well!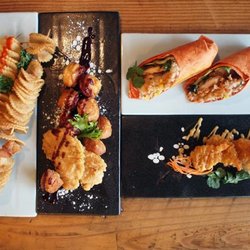 Hungry Ghost: 345 Edgewood Ave NE, Atlanta, GA 30312
"Food to die for," as their website puts it. And it must be because they have been getting rave reviews since they opened and they haven't stopped pouring in since. If you didn't know it already, a big selling point here is their late-night menu (cue the perking of students ears everywhere), perfect for those all-night study sessions or after a night out on the town. Another perk, being a college student, is the affordable menu prices. The cuisine is Asian fusion and they have everything from Sirracha fried rice balls to classic Pho noodles. The background for the name is interesting too, "In Asia, when people die unnaturally, your spirit is said to wander on the street at night, looking for food," Phan, owner of the Hungry Ghost, said in an interview with the AJC. So if you find yourself wandering the streets late at night looking for food, head on over to the Hungry Ghost and chow down.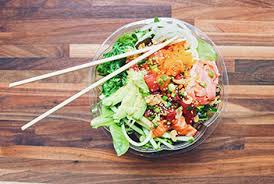 Fish Poke Bowls: 209 Edgewood Ave SE, Atlanta, GA 30303
Poke may or may not be taking over Atlanta as of late and Sweet Auburn Curb Market is welcoming Fish Poké Bowls to the market with open arms. Owned by the creators of Broad Street's DUA Vietnamese Noodle Soup, Fish Bowl Poke is a raw fish salad served as an appetizer in Hawaiian cuisine and sometimes as a main course. Fish Bowl Poke uses sustainably sourced fish seasoned to your liking atop of rice and sauces mixed in with vegetable toppings of your choice! It's like a sushi salad, but even better than it sounds.
Oldies but goodies, for the new kids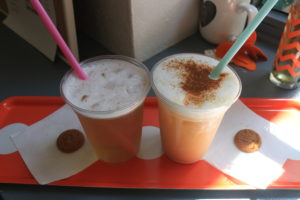 Sweet Auburn Curb Market: 209 Edgewood Ave SE, Atlanta, GA 30303
Speaking of Sweet Auburn Curb Market…this place is an absolute gem in the rough and one of the most forgotten multi-use food halls any Georgia State student has ever heard of. The Market is home to 11 of Atlanta's popular restaurants, all with made-to-order fresh goodies. Inside you can find places like Just Add Honey Tea Company where engaging the senses is their specialty. All-natural ingredients are used to brew black, herbal, fruit or specialty teas. Blended loose leaf teas are available for purchase. There's also Arepa Mia which serves specialty empanadas with flaky crusts and hearty fillings, but those are just the sideshow. Here, it's about the arepas: cornmeal split in half and stuffed with hot meats, cheeses and vegetables encased within traditional Venezuelan flavor. The classic, and always yummy, slow smoked meats await you at Sweet Auburn Barbecue. Sandwich and BBQ platters are available with innovative sides creating a sweeter experience. The SweetWater Honey Beans are cooked Borracho-style baked beans made with honey and local Sweetwater 420 beer.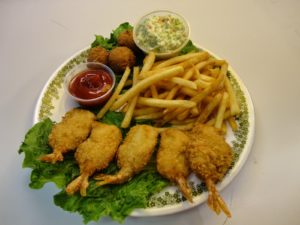 Weekday Café: 14 Park Place South SE, Atlanta, GA 30303
Open for breakfast and lunch, Weekday Cafe might not look like much to the untrained eye but you're your mother said, don't judge a book by its cover. This place serves home style options with all combos well under $10. For breakfast, any of the sandwiches or platters are a good choice. The breakfast platters include your choice of breakfast meats and sides —think pancakes, eggs, grits, toast, bagels. While the lunch menu highlights chicken tenders, wings, fries, definitely try the Philly cheesesteak—you won't regret it.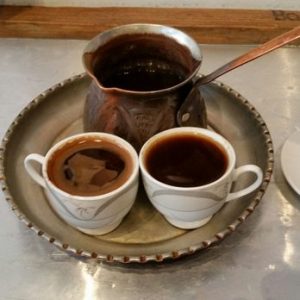 Ebrik: 16 Park Pl SE, Atlanta, GA 30303
Ebrik has moody lighting, chic, yet comfortable seating and music that makes you feel like you're actually at home. The hip, down to earth staff treat everyone with a warm smile and the perfect drink. They don't flinch when I order a 16 oz. dirty chai tea latte because they know how to do it right every single time (fist bumps all around). The bakery selection is small but the pastries and bagels are fresh and filling.
*Before we head on to the next, let me share this: Broad Street has a reputable mark on Downtown's food culture, but it is painfully crowded. It's definitely not the ideal place for food on the go, and if you're a returning student, I can bet that these options are a tad burnt out. However, Broad Street is the original go-to for variety in one common place. You'll know when it's lunch time since lines will be out the door and everyone you've ever met on campus will cross your path.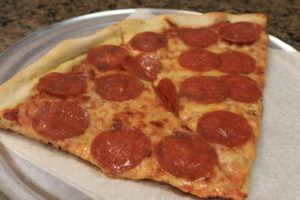 Rosa's Pizza: 62 Broad St NW, Atlanta, GA 30303
Since 1991, when you walk over to Rosa's Pizza you have to know what you want, tell them what you want (sometimes from outside the door) and follow the line until you arrive at the counter to pay for your pizza. A slice-combo will cost you well under $8—meaning slices and drinks. Sausage rolls, hot subs and Italian dishes are also available. As always, the grease is humbling. Rosa's will probably never die—huzzah!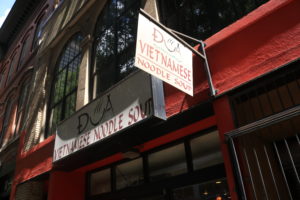 Dua Vietnamese Noodle Soup's: 53 Broad St NW, Atlanta, GA 30303
Two words: absolutely delicious! But…only if you have enough time. Jampacked class schedules reduce our earthly pleasures, but Dua's pho ("fuh") warms up the body and mind with tender pieces of traditional meats in their sultry broth. The basil, bean sprouts and jalapenos are served cold so they're fresh as can be. The pho is a must-try. Other options include egg rolls and Vietnamese-styled buns.
As Downtown grows, we expect a steady increase for dining options for students and commuters—as we've seen already! The additions are wonderful, the old places are still wonderful. All the above will give you the energy you need as a busy, bustling college student. And let's face it, we're all foodies at heart—eat on!