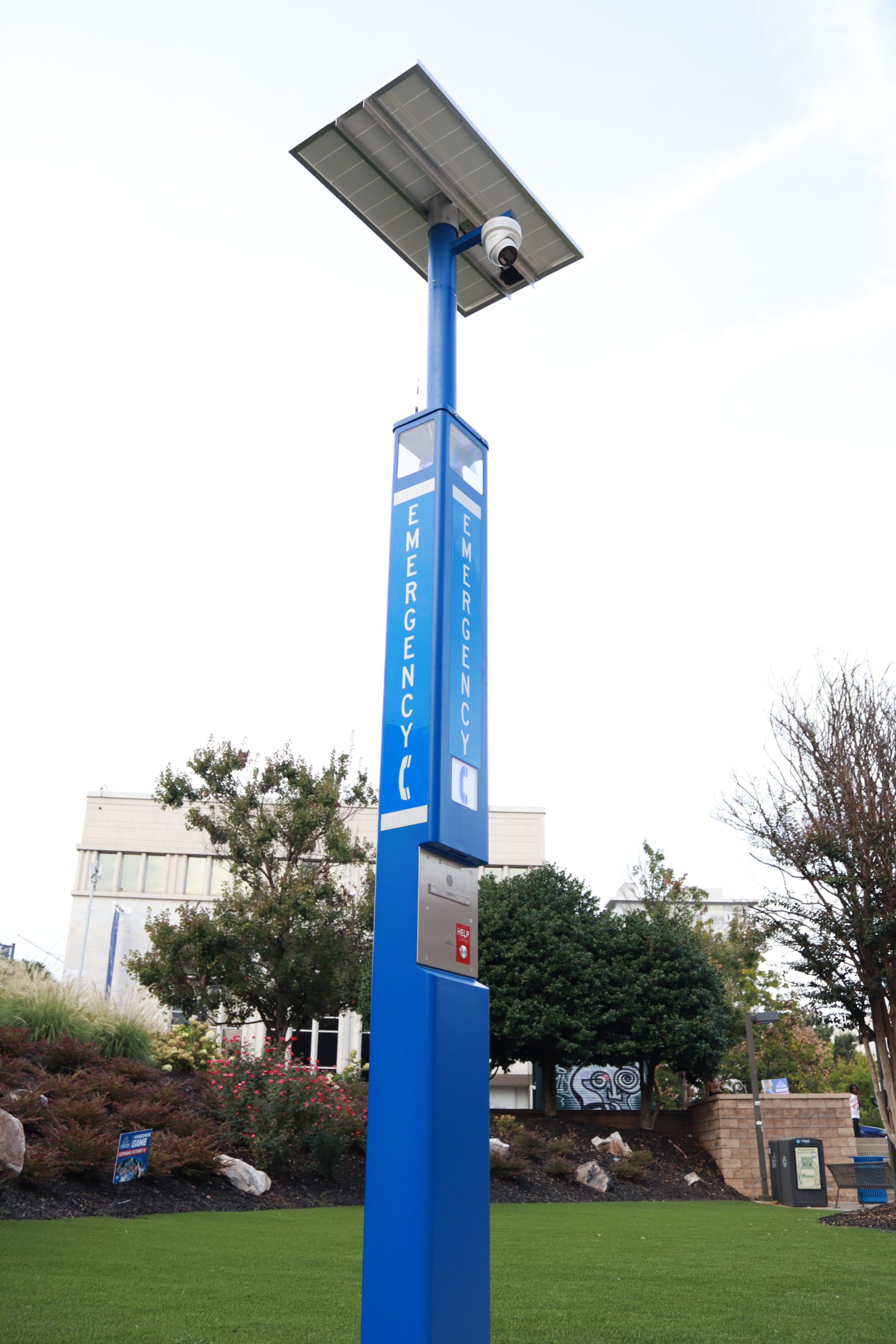 As part of its renewed effort to protect students and staff, Georgia State has introduced its blue light emergency towers.
The towers are adorned with the word "EMERGENCY" and blue lights and are located in both highly and less frequented areas of campus, including the Campus Green and parking decks. Each box has a red push button that connects directly to GSU PD through speakerphone and is located near security cameras.
Partnering with Knightscope Inc., a leading developer of emergency communication systems, the University has installed more than a dozen "Knightscope K1 Blue Light Emergency Towers and Call boxes" throughout our downtown campus.
"I don't know how much safer they make me feel, but I'm glad to see they're working to
address student issues," commented William Bulmer, a fourth-year student from Decatur on Georgia State's new blue light system.
The initial announcement released in June stated that GSU planned to introduce over 50 emergency towers at the Atlanta campus alone. The development proceeded with numerous student safety concerns following reports of shootings, robberies and drag racing near the Atlanta campus earlier this year.
The blue light system will be used as a form of crime prevention; deterring crime from
happening before it does. The towers work to minimize the number of opportunities perpetrators
would have to commit crimes against GSU students, staff or faculty members. Anyone can now easily access the GSU PD by using the towers anytime they feel unsafe or need help.
Before the latest introduction, the Blue Light towers were a staple of Georgia State's Atlanta
campus. Unfortunately, they were quickly phased out once the University partnered with the
LiveSafe mobile app.
LiveSafe is a safety tool that provides quick and discrete ways to communicate with Georgia State police. The wireless Knightscope boxes offer an alternative method of contacting on-campus security – without the need for a charged phone – with the quick press of a button.
The marriage of both security measures best protects students moving forward. Over the
last few years emergency alerts notifying students of crimes committed on the Atlanta campus
have become commonplace.
In April of 2023, 7 people were arrested and 2 others were shot after an intersection near campus was overcome by street racers. In December, a student was killed at a gas station directly across from first-year housing. In a town hall event following these events, school officials, including President Brian Blake, pledged to work on safety precautions that addressed students' concerns for their safety.
The emergency call boxes and other safety improvements were mentioned at the town halls. There was mention of more security cameras, more building restrictions during late hours and more personnel.
These increased security protocols should work to protect students' safety, as well as their perception of safety. GSUPD highly recommends that students download the LiveSafe app, make note of where emergency call boxes are set up and keep a look out for one another.
If at any point, you feel unsafe on campus or need medical attention, search for the new blue light emergency boxes to contact GSU PD for immediate help.