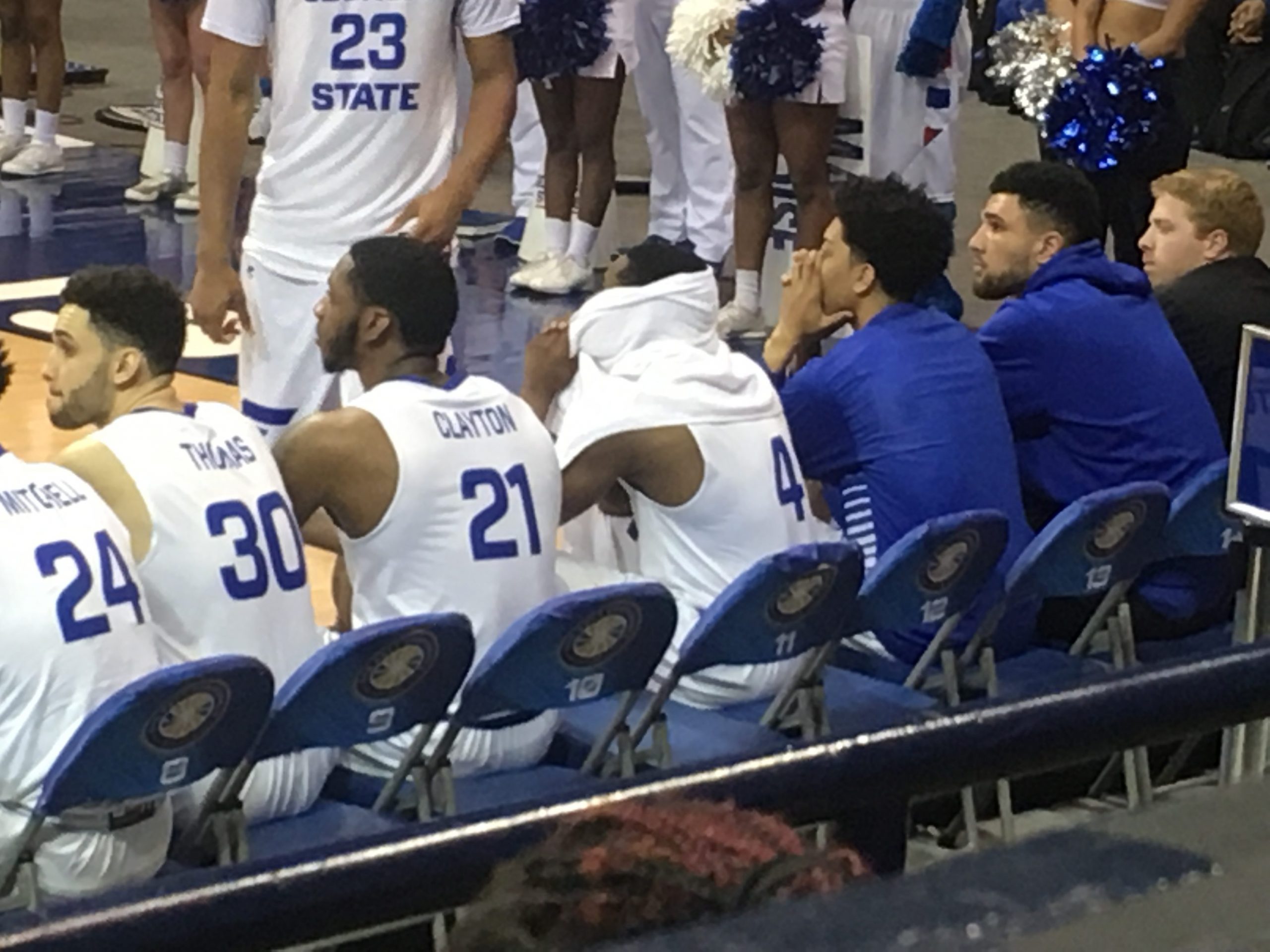 Georgia State men's basketball ended the season with back-to-back losses over spring break.
The Panthers began the Sun Belt Tournament with an 86-76 victory over Louisiana. Senior forward Jeremy Hollowell led the effort for the Panthers, with a double-double that consisted of 16 points and 14 rebounds.
"As a senior, I just want to go out and do all the little things I can do to help the team win," Hollowell said.
Freshman guard D'Marcus Simonds led the Panthers with 17 points and eight rebounds of his own in the winning effort.
"I was a little shaky at first, shaky the whole game honestly," Simonds said of his first collegiate post regular season game. "I felt like this was a good experience for me and I'll be better moving forward."
There were four total technical fouls during the game, which Head Coach Ron Hunter said was in large part due to the conference rivalry developed between the two teams these last few years.
Georgia State expected to win the tournament as overwhelming favorites after the Louisiana win, with UT Arlington losing its star player and being eliminated by No. 4 Texas State in the semifinals.
Then there was heartbreak. Smiles were all over the faces of the Panthers when members of the team watched UT Arlington loss before their matchup against Troy. The Panthers lost to the eventual Sun Belt champion Trojans, 74-63 after Georgia State built a lead as large as 15 late in the first half.
"We've been down like this before and came back and got wins," Troy guard Wesley Person said after the Trojans upset victory. "We just stayed together and believed in each other that we were going to make our run to get back in the game. Luckily, we were just able to finish it out."
Person led the Trojans with 16 points, while Georgia State guard Isaiah Williams led the Panthers with 19 points. Hollowell (15) and Simonds (13) joined Williams as the only other Panthers to finish the game by scoring in double digits.
"We just kept saying, 'If we could get just one run.' We thought we were one run from winning it, you know, we defended them. Then all of a sudden, they start hitting shots. So we let a team [stay] around and that's what happened," Coach Hunter said in regards to trying to prevent the Trojans' comeback.
The disgruntled Panthers ultimately accepted an invitation to the Collegeinsider.com Postseason Tournament (CIT), where they first faced Texas A&M- Corpus Christi.
Georgia State's Sun Belt Tournament loss carried into the program's seventh postseason appearance in history, as the Panthers lost to the Izzy Islanders, 80-64. Simonds led the Panthers with 17 points. Malik Benlevi bounced back from his conference tournament struggles by contributing 15 points and three steals in the CIT matchup. However, Texas A&M's-Corpus Christi's lone starting forward Rashaun Thomas stole the show with 31 points, nine rebounds, five assists, and two blocks in the win.
The Panthers now look to bring in signees guard Kane Williams and forward Josh Linder. Class-AAAAAA all-state first team member Williams is from South Paulding High School and first team all-region selection Linder averaged 22 points and 10 rebounds a game his senior year with Veterans High School.