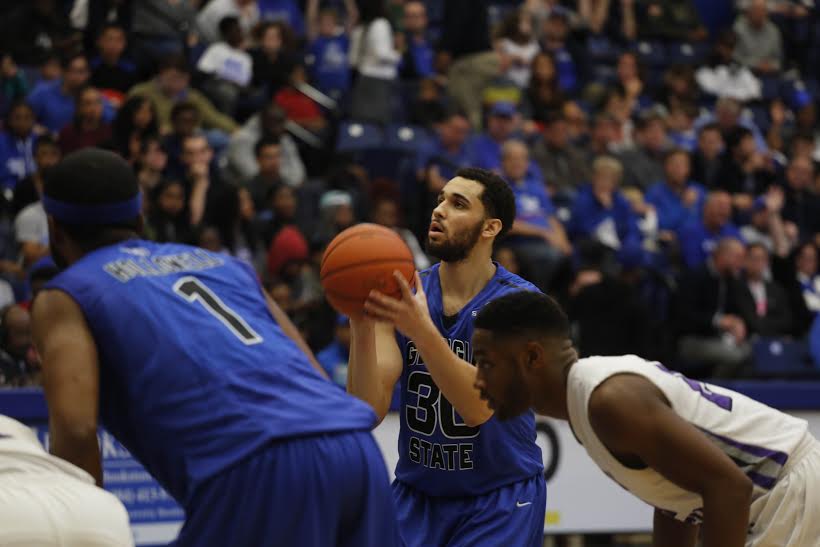 Georgia State is now 2-1 as it suffered a 68-59 loss to the Ole Miss Rebels. Jeremy Hollowell, T.J. Shipes, Markus Crider, Kevin Ware, and Isaiah Williams were the starters, while having Isaiah Dennis, Malik Benlevi and Jeff Thomas coming off of the bench.
Despite the loss, Hollowell once again led all Panther scorers with 23 points and four assists. Dennis added on with nine points and four rebounds, leading the Panthers in rebounds.
Ware scored the first two points in the first half putting Georgia State on the board. The Panthers forced 11 turnovers in the first half which resulted in a total of 13 points.
At halftime the Rebels were leading by three with the score being 35-32.
Crider scored two points in the beginning of the second half decreasing the deficit to one, 35-34. The Panthers and Rebels fought closely throughout the second half, resulting in a 49-45 lead by the Rebels with 10:00 minutes left in the second half.
With less than four minutes left in the second half, Crider fouled out of the game with six points, one rebound and one assist.
After shooting 21-51 from the field, the Panthers came up short in scoring against the Rebels who were 21-44 from the field. Georgia State also suffered from the free throw line after shooting 11-20 compared to the Rebels shooting 20-24.
Each team made six of their attempted shots from three-point range.
The Men face Indiana University- Purdue University Indianapolis next on Nov. 27 at the GSU Sports Arena.