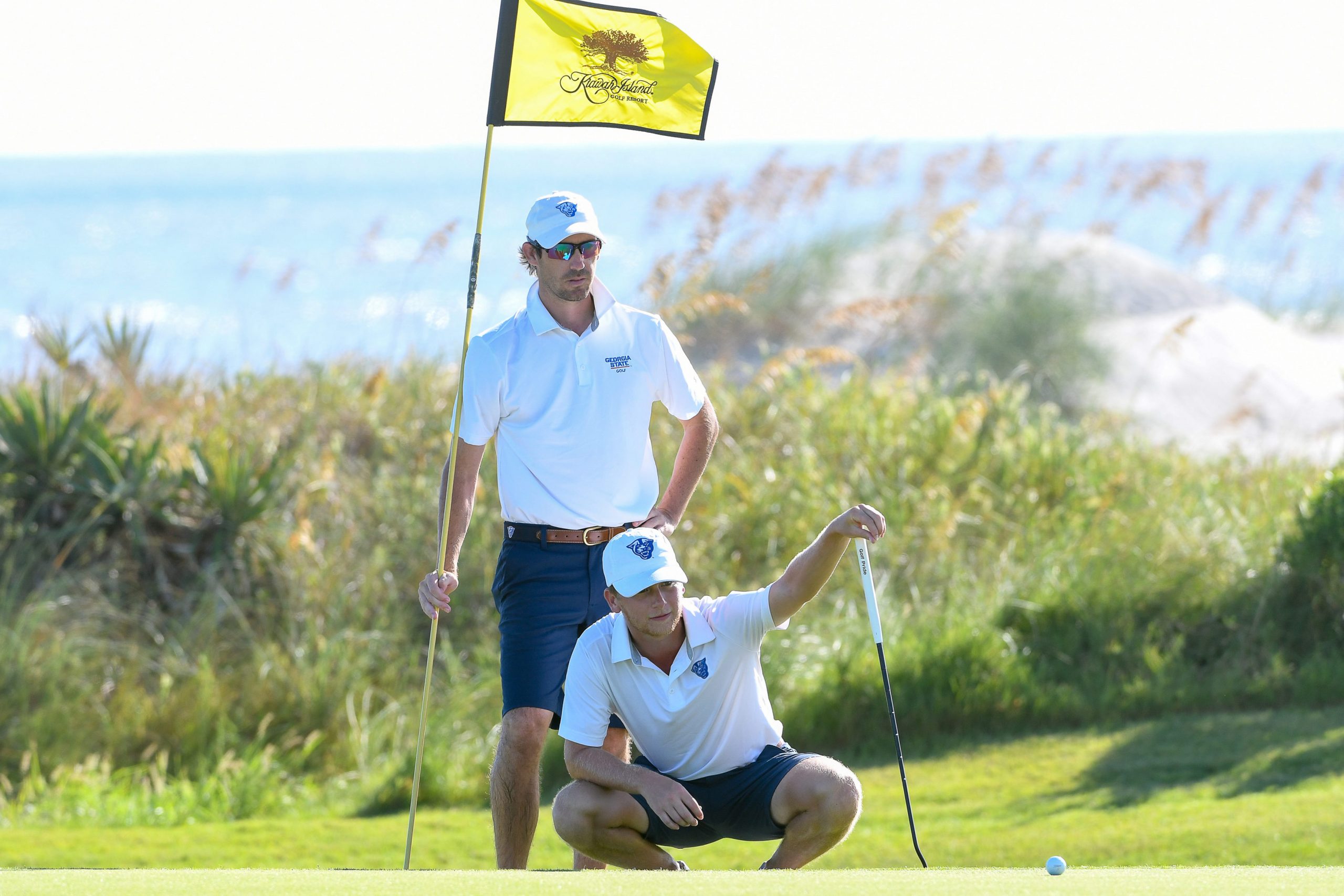 The men's and women's golf teams have both tee'd off to begin their seasons. Both teams are coming off disappointing endings from last season.
The Panthers have worked this offseason to clean up their games, and they are underway to change their fortunes this season, beginning with their brief fall schedules.
MEN'S GOLF OUTLOOK
The men's team won the Sun Belt Conference championship back in 2016, and the women finished second in the same year. Last year the men's team finished tenth out of 12 teams, a far cry from the year before.
Now they are on a track for redemption in head coach Chad Wilson's second year at the helm. The team will have to replace Alex and Max Herrmann as two of the best golfers the program has seen. With those two now gone, it will be up to seniors like Nick Budd and Severin Soller to help lead the Panthers back where they need to be.
"They definitely are going to have to step it up, their game and I think they're great young men and guys that the freshman can look up to on how to practice and how to go about their daily activities," Wilson said. "But it is hard to replace the two Herrmann brothers on the golf course. They were two great golfers for us, and the seniors now are going to have to do a little bit better than what they are used to."
In the first tournament of the year, the Panthers finished 11th out of 14 teams in The Invitational hosted by the College of Charleston. The match was shortened due to a state of emergency caused by Hurricane Florence. Budd led the Panthers on the final day with a 1-over par for 71 holes and 7-over par for the entire tournament. Freshman David Li shot 9-over for the tournament, and he was the team's second best performer at the tournament.
Wilson knows that his team is not where it needs to be, but he understands it's a work in progress. There are several things that Wilson wants his team to improve on, but one of the big ones is the mental game.
"The mental side of this team is weaker than what it needs to be, we can hit just every golf shot that they're going to see, but it comes down to the pressure of competing when it really means something," Wilson said. "We're just not there mentally to handle that, and that's why we talk about being positive. Hopefully, those things give confidence to our guys to hit shots when they really need to."
In his second year, Wilson hopes that he will be better in the first. He learned some lessons last season that will help him this year.
"The most important thing that I learned last year is just understanding the type of people that we have, and understanding that we have 10 guys on a team and that every guy practices differently," Wilson said. "And that's a challenge as a new coach, to figure out how each person practices and what areas they're good in and what areas they need more work in. All those are items that I've had to learn over this past year."
Wilson hopes that things will begin to start clicking for the team around mid-April before they prepare for the conference tournament. By then, he hopes to have his Top 5 golfers, and he will know where each player stands.
The spring schedule has not been released, but the Panthers have three more tournaments for its fall schedule.
WOMEN'S GOLF OUTLOOK
Despite the slight drop in the finish from the women's team in the conference championship, they return their best players and hope to improve. Junior Harmaprit Kaur and sophomore Chloe Howard will lead the charge for the Panthers this season.
"Our fall and spring are equally divided, and the fall tournaments count towards your rankings, which also count towards the potential of getting into the NCAA Tournament," head coach Cathy Mant said. "So we've got to start performing well right off the the bat if we want to compete in the NCAAs."
Howard had a Top 5 finish last season, and one of her biggest goals this season is to win a tournament. Mant is confident the Panthers can do that this year.
"Chloe is an amazing competitor, she has one of the best competitive minds that I've seen since I've been coaching," Mant said. "She knows that she's going, but knows that she's going to do great things as well. And what we hope this year for Chloe is to have her stroke average improve, and we think she will. She can compete with anybody in the country; she's that good."
Mant is also looking for improvements from Kaur as well. During her freshman season, Kaur played No. 1 for the Panthers, and split time as the No. 1 golfer a year later as a sophomore.
"Harman had some issues with her swing that kept her from playing really well at the end of last year," Mant said. "I think we've corrected that, and we're really excited about what can happen. Harman has a beautiful game, and is probably the hardest worker on the team."
Last season, Howard and Kaur were the team's Top 2 finishers in six tournaments and were in the Top 3 in all of them. Howard had a Top 5 and a Top 7 finish last season.
This team only has one senior, and that is Jemima Gregson, so it will have to rely on youth. Mant added four freshmen to this year's group. Two are scholarship athletes and two are walk-ons, but Mant believes that all of them can help. Two of the freshmen have qualified to play in the the team's Top 5.
One freshman in particular that Mant and the coaching staff are impressed with is Emma Berlin, who posted a 3-over par during the qualification rounds.
As of now, the women are set to play in four fall tournaments. Every habit the Panthers build right now leads up to their chief goal, winning the conference championship in late spring.