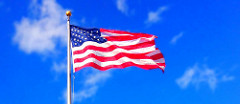 Sometimes holidays sneak up and leave us with very little time to plan anything. Memorial Day is here and whipping up a five course meal or day at the lake can be nearly impossible. So here are some cheap, easy and really fast ways to throw a Memorial Day party out of thin air.
Food: Some easy and quick treats to fill up your guests.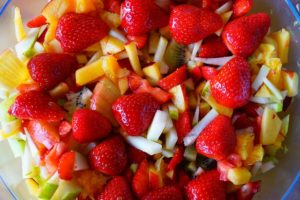 Kabobs: You will need to stack sliced cherry tomatoes, small balls of fresh mozzarella, and cooked tortellini onto a skewer. To add flavor, you can dip each kabob into a pesto sauce (you can buy easy to make packets at the grocery store).
Red, White and Blue cookies: For a simple and fast treat take sugar cookie dough and place red, white and blue M&Ms onto each cookie before baking. You can also substitute the M&Ms for sprinkle.
Finger Food: It's smart to have easy to grab snacks all over when throwing a party. So place M&Ms, Twizzlers, Chocolate dipped pretzels and anything else randomly around the party. To make it more decorative put them in mason jars.
Personal Fruit Salads: If you are having a small amount of people over make them personal sized fruit salads. Layer sliced watermelon, blueberries and cut up bananas into mason jars and top with Cool Whip before serving.
Pasta Salad: Because it is a summer staple and you can buy all the makings in a box.
Décor: Fast, cheap ways to decorate your pad.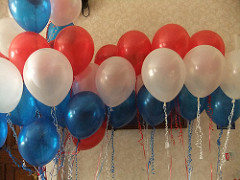 Balloons: Blow up red and blue balloons. Then take a white paint pen and cover them in white polka-dots.
Bandanas: To decorate your tables before placing your food down, place red, white and blue bandanas sporadically over the table. This will create a cute makeshift table cloth.
Baby Pool: If you are not near a lake or pool this year. Fill up a baby pool with water so that people can stick their feet in and relax. To add more fun throw some water balloons and toy boats into the mix.
Last Minute Tips:
Don't cook from scratch. It isn't time or cost effective.
The Dollar Store will be your best friend. Get everything that you can (other than food) there.
Make it a BYOB party. You've already spent money on food and décor, let your guests bring the alcohol.
In your spare time, make a playlist. Something that will make people feel like they are by the lake.
Don't panic if you haven't planned out your Memorial Day party. Use these party ideas to throw a cheap but fun party. Happy Memorial Day!