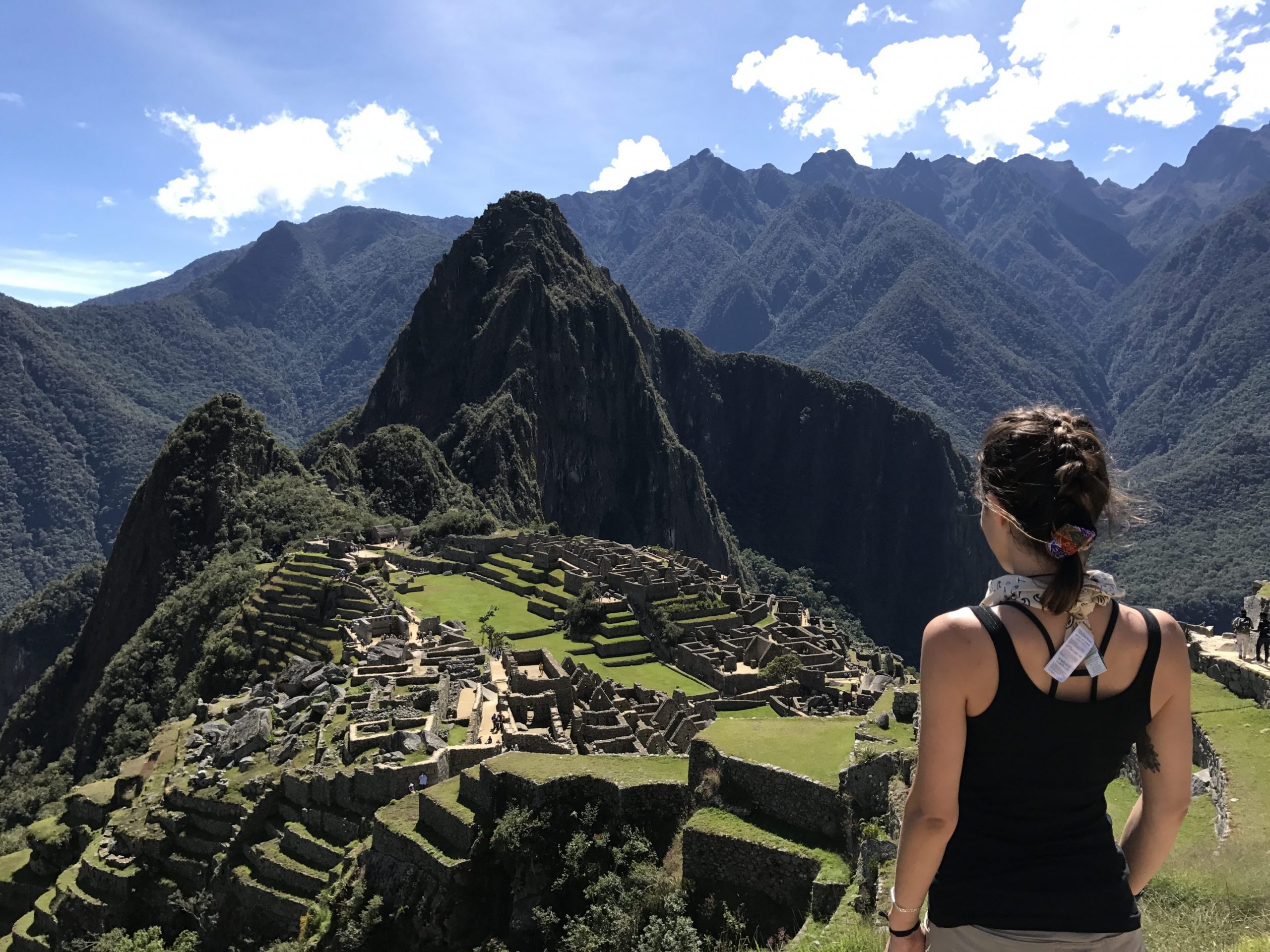 We woke to the sound of our phones battling over which had the loudest alarm clock—both set for 4:00 a.m. just in case we decided to sleep through either one.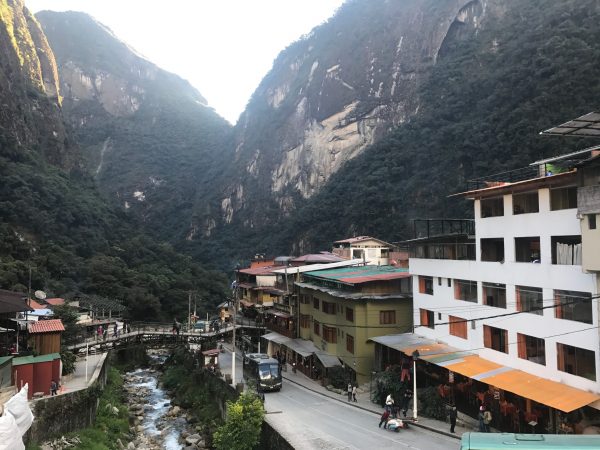 The truth was neither of us needed an alarm clock to wake up that day. I had only fallen asleep about an hour earlier, way too anxious for the day ahead to get any genuine sleep.
Eager for the day I dreamt of for many years, I was excited to finally go on the ambitious adventure I imagined since a grade school history lesson about the impressive Inca civilization of South America.
It's an experience that people around the world want to mark off their bucket list. And there I was, in Peru, about to enter the Lost City of the Inca.
I kicked off the sheets around me and hopped out of bed, singing "Machu Picchu day, it's Machu Picchu day, yeah, it's Machu Picchu day" as I quickly changed into the outfit I picked out weeks before.
My travel buddy and partner in crime, Austin, sang along with me as he loaded our day pack with snacks and a selfie stick.
The two of us arrived in Aguas Calientes ("hot springs"), also known as Machu Picchu Pueblo, after a long and scenic train ride from Cusco the evening before.
Choo! Choo! To Machu Picchu
The train had grand panoramic windows, allowing for the ultimate viewing experience as we made our way through the Andes Mountains.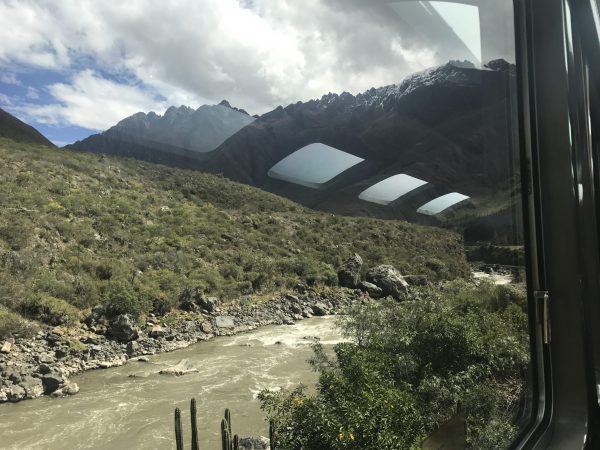 It was somewhat overwhelming but in the best way possible.
My eyes went dry because I felt that if I blinked, I would miss something incredible—a vivid memory I could hold on to for the rest of my life.
I watched as the tops of nearby mountains and their jagged lines contrasted and cut across the bright blue sky. Faint Peruvian music whistled in the background as I gazed at the river that ran along the train tracks and the tall stone walls that sandwiched our cabin.
The train made its way further into what our conductor called a "cloud land ecosystem." And rightly so, as white painted mountain peaks poked their heads into the cotton candy clouds.
The train's horn suddenly cut into the mountain silence, which signified we had reached our endpoint. The two of us stepped off the train with wide eyes, ready to explore the dream-like land of Aguas Calientes.
Hot springs and bougie hotels
Machu Picchu Pueblo is a peculiar little town straight out of a fairytale book. It's nestled in a gorge with marvelously steep rock walls and a river that runs right through the center.
Situated beneath the Inca ruins that sit on the mountains above, the town serves as the main access point to the historic site of Machu Picchu. Hence why the mountain air was buzzing with anticipation.
Everyone was there for the same reason—to make dreams a reality.
What makes the town even more dreamy is the fact that it is almost impossible to get to and from the outside world unless traveling by foot or train.
Many travelers hike the Inca Trail through Peru's Sacred Valley year round with Machu Picchu as their final destination. It's a challenging journey but very special and extremely rewarding.
Hikers usually stay overnight in Aguas Calientes once they've completed their five days of trekking, which is why the area is mostly comprised of hotels, restaurants and massage parlors.
After several long days of trekking through the depths of the forest, I would definitely opt in for a massage, but instead, we decided to opt out entirely.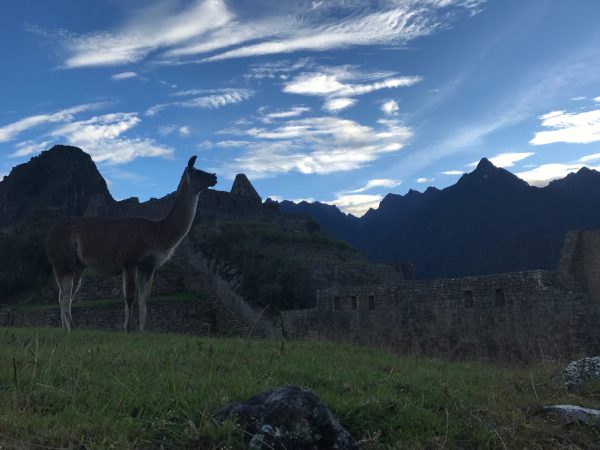 Rather than a 5-day hike, Austin and I chose the lovely two-hour train ride and a hotel room that overlooked the surrounding mountains.
We stayed up late on our patio, watching the moon glisten off the river below while it lit up the Andean sky above.
"Someday, we will come back and hike the Inca Trail," he promised.
Andean anticipation
Our two weeks throughout Peru had led up to this day. The day we had been planning for months and daydreaming about for years.
A day that would blend ancient history with the wonders of mother earth—or as the Inca called her, Pachamama. She is the origin of the earth, water, the sun, and the moon; her presence can be felt all throughout the mystical Andes Mountains.
I especially felt her presence on this day in particular, as Machu Picchu is a very divine and celestial region.
At around 5 a.m., after scarfing down a hearty breakfast provided by the hotel, we ran full speed to the bus stop.
A line of more than 500 people had already formed ahead of us. The trick is to get to there as early as possible in order to be in the first round of shuttle buses up to the citadel of Machu Picchu. Besides the fact that the sunrise over the Andes is extremely epic, only 2,500 people are allowed into the park each day, furthering the thrill of this ambitious adventure.
The dark early morning sky faded to gray, then purple, then light blue as the sun began to stretch its arms over the mountain tops.
Austin and I both fidgeted with a bittersweet mixture of excitement and frustration while we watched and waited for each round of buses to come and go.
When we finally got onto a shuttle, I took a deep breath and settled into my seat, trying to get a grip on reality. I couldn't fully believe what we were about to experience.
The two of us sat in silence, anxiously chewing on a piece of gum so our ears wouldn't pop while the bus crept higher and higher up the mountain.
After a twenty minute ride, we arrived at Machu Picchu citadel—just as the sun made its big debut for the day.
Wanna Picchu?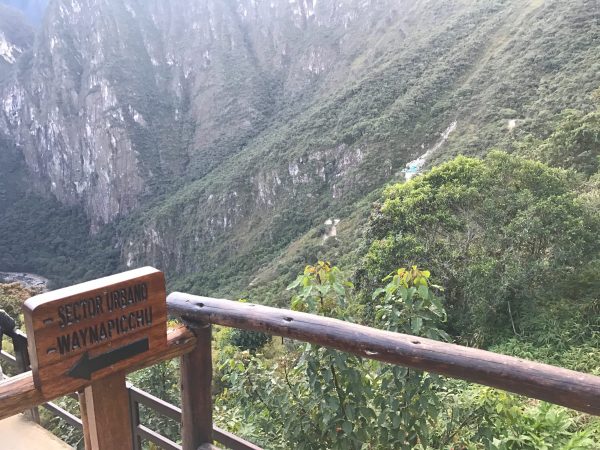 Ticket in one hand and passport in the other, Austin and I were merely two out of the thousands of restless travelers piling at the gates of the ancient sanctuary.  
Travelers varied by age, ethnicity and home country. Explorers gathered from all over the world.
Despite the diversity, we knew we had two things in common with 400 of these people: we were about to embark on an esoteric experience of a lifetime, and we were about to climb Huayna Picchu mountain.
Only two separate tiers of two hundred people were allowed access to this hiking trail, which summits the mountain that appears behind the ruins in every classic Machu Picchu photo.
We were in the first tier with the 7 a.m. crowd, so upon entering the park, we immediately made our way to the trail—trying our very best not to lose track of time gawking at the mysteriously magnificent Inca ruins that surrounded us.
Not to mention the numerous alpacas that side-eyed us as they chewed on grass damp with fresh morning dew. It was all very surreal.
My travel buddy and I were within the first ten people in line, meaning we would be among the first ten people to summit Huayna Picchu on June 7, 2017.
Again, very surreal.
The hike began as a moderate stroll and then quickly escalated into a difficult climb which ends at an elevation of almost 9,000 feet.
I immediately understood why only 200 people are permitted to enter the trail at one time. It's a steep, narrow climb that is almost completely comprised of sinister granite stairs that lead all the way up the mountain. It's certainly not for someone with a fear of heights, and a crowd of eager hikers would be dangerous.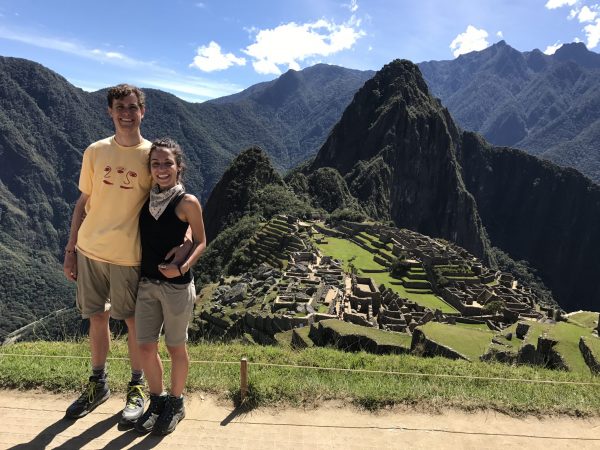 Capacity constraints are a way to keep the area unscathed by the outside world, and it fosters a very intimate experience for everyone involved.
"Young people…" older hikers said under their breath with a roll of their eyes as we passed their stride.
We huffed and puffed along the way, but eventually conquered the extremely demanding hike—sweat dripping from our brows and pride bursting from our hearts.
The journey was worth the reward. Huayna Picchu has a stunning view that will remain painted in my mind forever more. A panoramic canvas of lush green forest, winding rivers and pointy peaks encompassed us.
Overlooking the ruins of Machu Picchu below, Huayna Picchu made even the largest nearby mountains appear modest.
Austin and I most likely could have stayed on top of that mountain all day, blissfully admiring the work of the Incas from a bird's-eye view.

But we reminded each other that we were there to see the fascinating ancient accomplishments up close and personal. So we peeled ourselves off the rocks—after countless selfies and panoramas, of course—and headed back down to the citadel.
Alien assistance in the Andes
When the Spaniards conquered the Inca civilization many moons ago, they pretty much took everything they could get their hands on.
So they thought.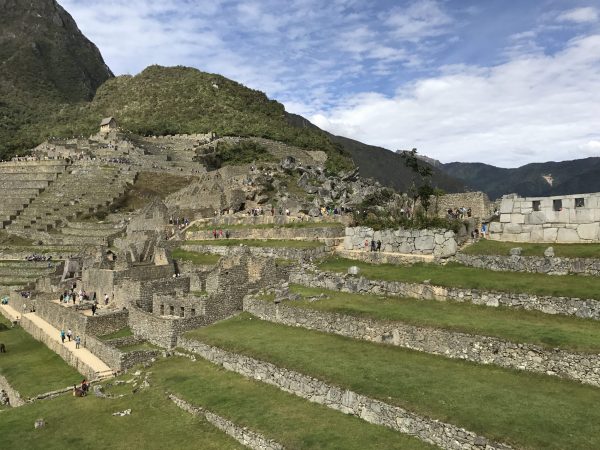 And so the rest of the colonial world thought as well, until the present-day discovery of Machu Picchu.
This little pre-Columbian ancient city remained Peru's hidden gem until the 20th century. A big loss for the Spaniards but a giant win for the rest of the world.
The fact that they never discovered the citadel—tucked away at almost 8,000 feet above sea level—means that it was never destroyed, unlike many other Inca ruins throughout South America.
The profound historical site has temples, houses, sanctuaries and roads still very much intact. Even the drainage infrastructure continues to function with an abundance of flowing water.
Unfortunately, for those not sufficiently educated in all things Inca, Machu Picchu could seem like a mere mountain top of puzzling granite structures. There are no signs or signifiers that describe the functionality of these mysterious architectural phenomena. There aren't even nameplates to identify what is what.
After wandering around aimlessly, Austin and I quickly agreed that our grade school history lesson would not suffice. We decided to hire a guide to lead us through the park.
His name was Miguel, and he was everything we needed—with a dash of humor and a whole lot of Peruvian passion.
Miguel was a delight. He did a fantastic job of interpreting the site and all of its perplexity while reminding us of how great a cold cerveza would taste on that sultry June day.
Once we knew what was what, our brain flooded with a bewildering series of questions.
Why, when, and how was any of this possible over 500 years ago?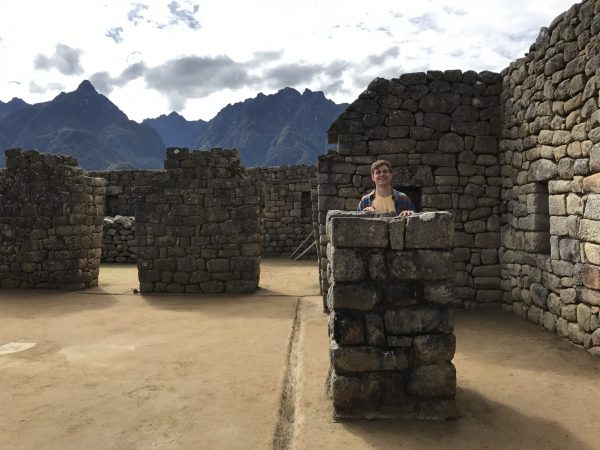 Ancient civilizations, such as the Egyptians and the Mayans, are notorious for their impressive achievements. But what makes that of the Incas so mind-boggling is the Andean terrain in which they performed their unparalleled skills.  
Throughout the roughest highlands of the Andes, the Inca persevered.
Our bus could barely even make it up the mountain, yet these ancient people built what is now one of the Seven Wonders of the World.
Without cranes. Without transportation. Without wheels, for that matter!
Miguel informed us that Machu Picchu was a sanctuary for the Inca. It was a place of worship and retreat, and everything was meticulously thought out during its construction—which wasn't even complete at the time of Spanish conquest.
To make the facts even more unbelievable, we were reminded that the citadel was completely self-sufficient. Everything they needed—food, water, supplies—was all within reach.
Remarkable architecture and engineering were driven by the ways in which the sun and the moon light up the region as well as the alignment of the stars.
One structure really stood out for both me and Austin. It's a diamond-shaped stone, with all of its points somehow aligning perfectly with the four cardinal directions. Miguel told us to place our iPhone compass atop the rock to see for ourselves.
Sure enough, the angles lined up effortlessly. At that moment, Miguel stole the thought right from out of my mind.
"Aliens," he said with a smirk.
Austin and I both smiled back, then nodded in agreement. Somehow, the only comprehensible explanation for Inca phenomenon was assistance from the cosmos.
Nevertheless, I will forever wonder about the day-to-day reality of these sun-worshipping warriors.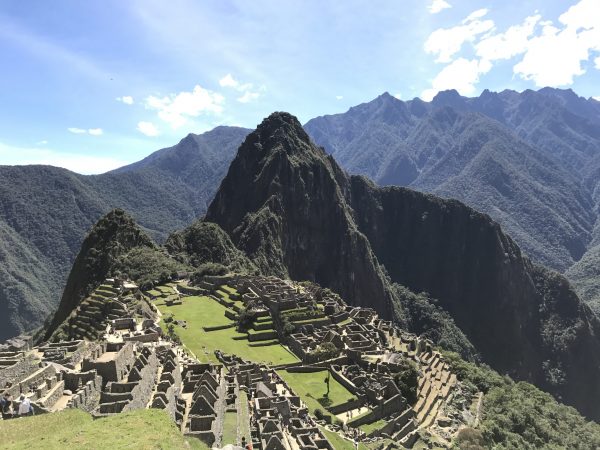 Meditating on the mountain
After we parted ways with Miguel, we wandered around the historic site with a new sense of appreciation for all that surrounded us.
The two of us walked up to a high point where the classic postcard photo of Machu Picchu is typically captured. I took that moment to meditate over what we had just experienced.
Knowledge gained, but also wonderment and appreciation.
It was all worth it. The hard work and planning, the daydreaming and wanderlust—it was all worthwhile. And my heart was completely full.
A huge smile began to form in the corners of my mouth, as I looked out at the brilliant composite of both Pachamama and Incan creation.
I broke my mountain meditation to look up at my partner in crime.
"Someday, we will be back," Austin said, confirming his promise from the night before.
Perks of being a pupil with a passion for mountain peaks…
If you're looking for an Andean adventure, but hesitant about the numerous expenses of travel—here's a perk!
Tickets to Machu Picchu are significantly less priced for students. I'm talking 50 percent less.
All you need is a handy dandy International Student Identity Card (ISIC).
The best part is that an ISIC card guarantees official student status, allowing for more than 150,000 discounts all over the world.
Check out the website here!