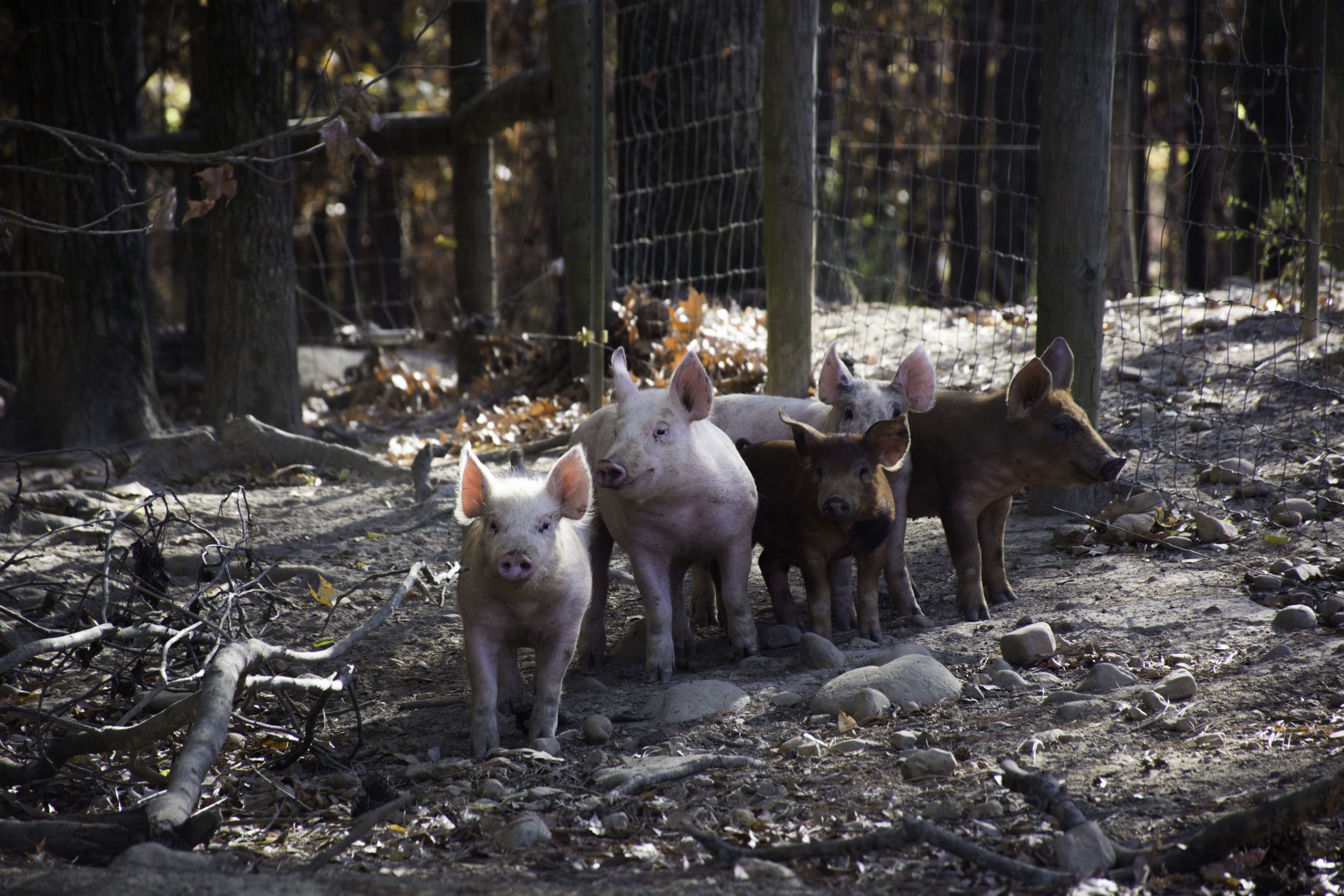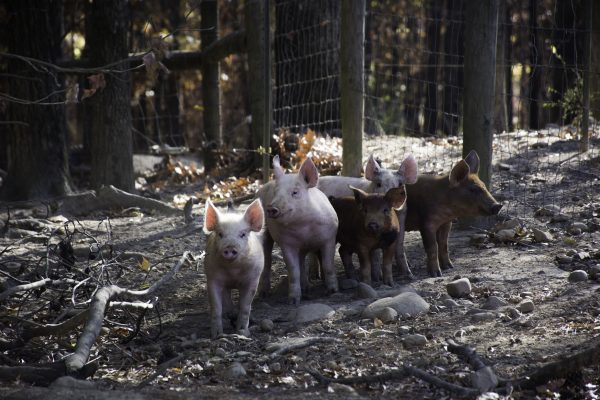 Farming communities can seem like an alien world in today's digital age, especially with the hustle and bustle of city living. But even the pepperoni that comes on a 2 a.m. pizza order has to come from somewhere, and, if it's from a local restaurant, it might also have come from a local organic farm, such as Riverview.
Riverview Farm was started in the 1970s by Carter Swancy as a hog and corn farm, but got a facelift when Swancy's son, Wes Swancy, and Wes's wife, Charlotte Swancy, helped transform Riverview back in 2000 by making production all organic. Wes's brothers, Brad and Drew Swancy, also help out around the farm and have their say in the production and decision making around the farm.
"We are a certified organic family farm," Charlotte said. "My husband and I have been doing it now for 16 years. His dad has been there since the 1970s and so we moved there to change how he markets products. We raise pigs and cows and vegetables and grain, like corn."
Currently, Riverview serves well over two dozen restaurants in Atlanta.
"We sell to a lot of different restaurants. There's about 30 different restaurants we sell to. There's 5 Seasons, Wrecking Bar…There's a ton of them," Charlotte said.
While the farm has found success selling to Atlanta natives and restaurateurs, it's been a tough road to get there. This year, especially, has stretched the farm with the lack of rain, according to Charlotte.
"It's always been hard. It's very expensive to farm. It's not cheap. And the weather's never forgiving," Charlotte said. "This year is awful. It's hard, and with the economic factors you never know what's going to happen."
Still, the Swancy's keep on trucking through. The family has worked on several projects outside the farm, including FarmMobile, a fresh produce food truck that sold produce grown and harvested on the farm to communities in Atlanta. The truck started its journey in 2009 and was put on the backburner after last year.
"It sort of died epically last year," Charlotte said. "It caught on fire. We haven't been doing that for about a year now, but we may start it back up."
While the rebirth of FarmMobile remains to be seen, the Swancys do have other plans up their sleeves. They're currently partnering with Pine Street Markets to open up a butcher shop in Atlanta, all while keeping their end goal in mind.
"We're feeding people. I mean that's what we do, we feed people good food, and we try to feed them really good, clean food year-round. We try to build community around food," Charlotte said.

Visiting farms that serve Atlanta
While farm visitors are welcome, the Swancys do make it clear that the farm is not set up for agrotourism.
"We do have visitors come but we don't have a place for anyone to stay," Charlotte said. "[We have] no petting zoo or anything like that."
The farm is located on the banks of the Coosawattee River just north of Ranger, Georgia. Though the farm rings in at about 1100 acres, making it almost twice as big as the city itself. It's about an hour's drive from Atlanta, but worth the trip for dedicated organic foodies.
Riverview Farms
954 White Graves Road
Ranger, Georgia 30734
678-910-2831
While Riverview is certainly example of old-school, big-land farming, several farmers have decided to trade their tractors for a more compact farming lifestyle, that's suited for an urban area. These urban farms might be small, but they still provide certified organic food that packs a big punch.
Serenbe Farms
Serenbe is an eight acre organic farm nestled in the outskirts of Chattahoochee Hills. The farm  practices horticulture, the art of garden cultivation and management, and uses this method for every pound of produce it generates – over 60,000 pounds a year, according to the website.
The farm offers a paid apprenticeship program, during which selected apprentices participate in harvesting and planting crops, as well as tending to livestock and running farm tours.
Farm tours are only available on Saturdays from May – November at 1:30 p.m. The tour gives visitors an inside look at farming in Georgia and explains the benefits of organic farming and eating organic food.
Visitors also get to meet the owners, and discuss how to keep a farm running without damaging the soil.
Tickets are $10.
8715 Atlanta Newnan Road
Chattahoochee Hills, Georgia 30268

Metro Atlanta Urban Farm
A certified natural farm that's focused on community building, Metro Atlanta Urban Farm hopes to "build strong and healthy communities through sustainable urban agriculture," according to their website.
Metro Atlanta Urban Farm is spread across five acres of farmland, originally founded in the 1880s by the Hearn family. Although not a certified organic, the farm does not use synthetic herbicides or pesticides, which allows them to sell organic quality produce without paying for the organic price tag. Visitors are also welcome to come join in free lessons on sustainable farming from the volunteer staff or purchase some of the 25 different crops the farm produces.
Hours:  
Monday – Friday:  9 a.m. – 5 p.m.
3271 Main Street
College Park, Georgia 30337
Farm to Table Restaurant: One Eared Stag
While the name of the restaurant might kill the appetite of those of us with weak stomachs, One Eared Stag has been awarded the honor of Top Farm-to-Table Restaurant by Travel & Leisure writer Lauren Matison, according to the AJC.
The restaurant works closely with sustainable organic farms in the area, including Woodland Gardens and GrassRoots Farms, to create a menu that matches the restaurant's quirky atmosphere – which features a wall of taxidermy animal heads and several decorative skulls, giving it a distinctly Americana-vibe.
Menu At a Glance:
Emphasis on hearty, healthy meals

Prices from $5 to $37

Desserts include: Vietnamese coffee flan, cinnamon meringue and brown butter buckwheat bar.

Extensive wine and whisky menu and

$1 beers Monday through Friday from 5 – 7 p.m.
Hours:
Lunch: Monday – Friday: 11 a.m. – 3 p.m.
Brunch: Saturday – Sunday: 11 a.m. – 3 p.m.
Dinner: Sunday – Wednesday: 5 – 10 p.m.
          Thursday – Saturday: 5 – 11  p.m.
1029 Edgewood Avenue
Atlanta, GA 30307
Atlanta Food Truck Park and Market
Making use of an abandoned hotel lot, the Atlanta Food Truck Park and Market has found itself a place to call home. The Park prides itself on being a place to join "together as a community and experience food and drink," according to the website. It also has plenty of space for picnics, and offers space to pick out Christmas trees.
Food Trucks at the AFTPM:
King of Pops

Sweet Auburn Barbecue

Crepe Suzette

Tex's Tacos (recently included in the Georgia State University International Food Truck Festival)
Check out the AFTPM Facebook page at facebook.com/atlantafoodtruckpark for daily schedule.
Other vendors:
Cake/desserts

Soups and teas

Produce from local farms, like HaydenGrove and Riverview

Jewelry and accessories
Hours:
Friday: 5 – 10 p.m.
Saturday: Noon – 10 p.m.
Sunday: Noon – 8 p.m.
1850 Howell Mill Road.
Atlanta, GA 30318