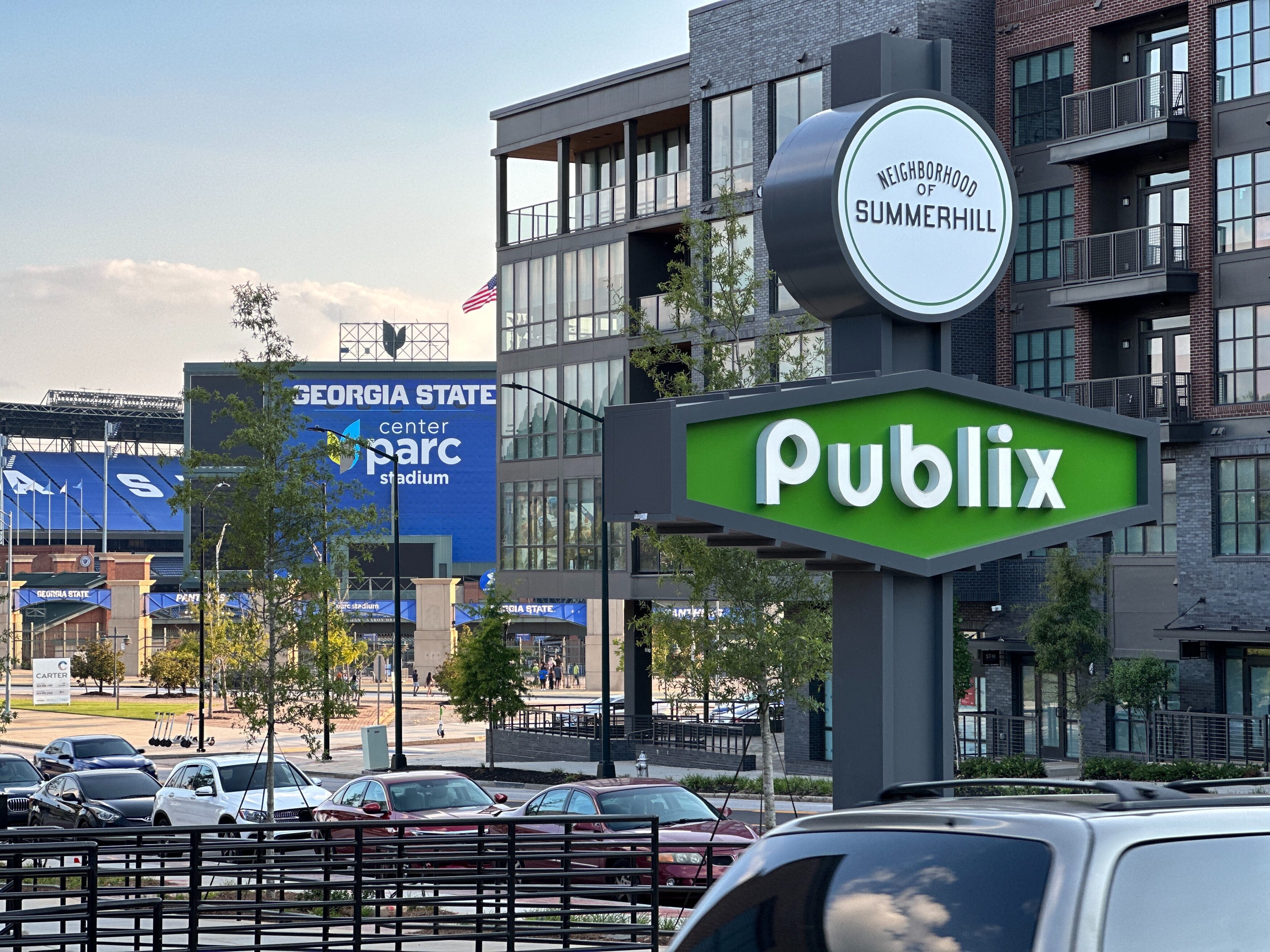 A much-awaited change for students has finally been made in the form of a brand new Publix minutes away from campus.
A new Publix location opened on June 21 at 572 Hank Aaron Drive, which is a short distance from Center Parc Stadium's blue and green parking lot. These lots are accessible for parking to all students and are stops on the university's blue and orange PantherExpress routes. 
The new storefront is open seven days a week from 7 a.m.-10 p.m. The accompanying pharmacy is open from 9 a.m.- 9 p.m. with reduced hours on the weekend. 
The Summerhill neighborhood helped welcome the new Publix location during its grand opening ceremony. Summerhill residents, Georgia State students, faculty and city officials joined the store's parking lot to commemorate the opening. The ceremony concluded with a speech by Atlanta Mayor Andre Dickens and a ribbon cutting. 
Dickens spoke in an interview with Fox 5 Atlanta about what the opening of this Publix might mean for the rest of South Atlanta. 
"The south side of the city does not have many grocery stores. We are incentivizing grocers to come, and now we want to see them taken advantage of," said Dickens."I'm looking at Campbellton Road and Martin Luther King [Drive], Cleveland Avenue, and other southside areas" 
In an Instagram post made the following day, Dickens also wrote about the impact this new Publix will have on the Summerhill neighborhood and the city. 
"This new addition will provide greater access to fresh food for our beloved residents in Summerhill and beyond," Dickens wrote. "These Summerhill redevelopments started under Keisha Bottoms and continue now."
As of now, the opening of the new Publix has received a positive response. Georgia State University President Brian Blake commented on the new Publix in a statement posted to his website.
"The opening of this grocery store marks a milestone in addressing a long-standing issue of food insecurity in the Summerhill neighborhood," wrote Blake. Blake believes that the opening of this grocery store is a great step towards addressing the "food desert crisis" in the city of Atlanta.
The opening of this new storefront also included a $2500 donation on behalf of Publix to Panther's Pantry. Panther's Pantry is a non-profit organization run at Georgia State's Atlanta, Clarkson, Decatur and Dunwoody campuses that aims to help alleviate the burden of food insecurity for students. In a statement provided by Panther's Pantry, they spoke about the benefits that this donation will bring to the pantry and students. 
"Panther's Pantry was honored to receive $2500 in support from the new Summerhill Publix location! This financial support provided by Publix allows the pantry to purchase food and hygiene items that go directly to our Georgia State community."
The opening of this Publix location marks one of the many actions being taken towards fulfilling a decade-long promise made by lawmakers to correct issues of food insecurity within communities such as Summerhill. 
Food insecurity is a prominent issue facing the city of Atlanta and the state as a whole. A report published by the U.S. Department of Agriculture (USDA) revealed that in 2021 approximately 9.9% of people in Georgia suffer from food insecurity. Atlanta has the most prominent non-profit food bank in the world the Atlanta Community Food Bank. This year, statistics published by the Atlanta Community Food Bank revealed that approximately one in nine people within the food bank's 29 county service area suffer from food insecurity. 
The Publix sits in the newly opened Summerhill Station shopping center. Development of the 85,000-square-foot shopping center is said to continue in the coming years, with more stores applying for building contracts and setting up for business. Some of these potential businesses include AT&T, Tropical Smoothie Cafe, Cava and Piedmont Urgent Care.