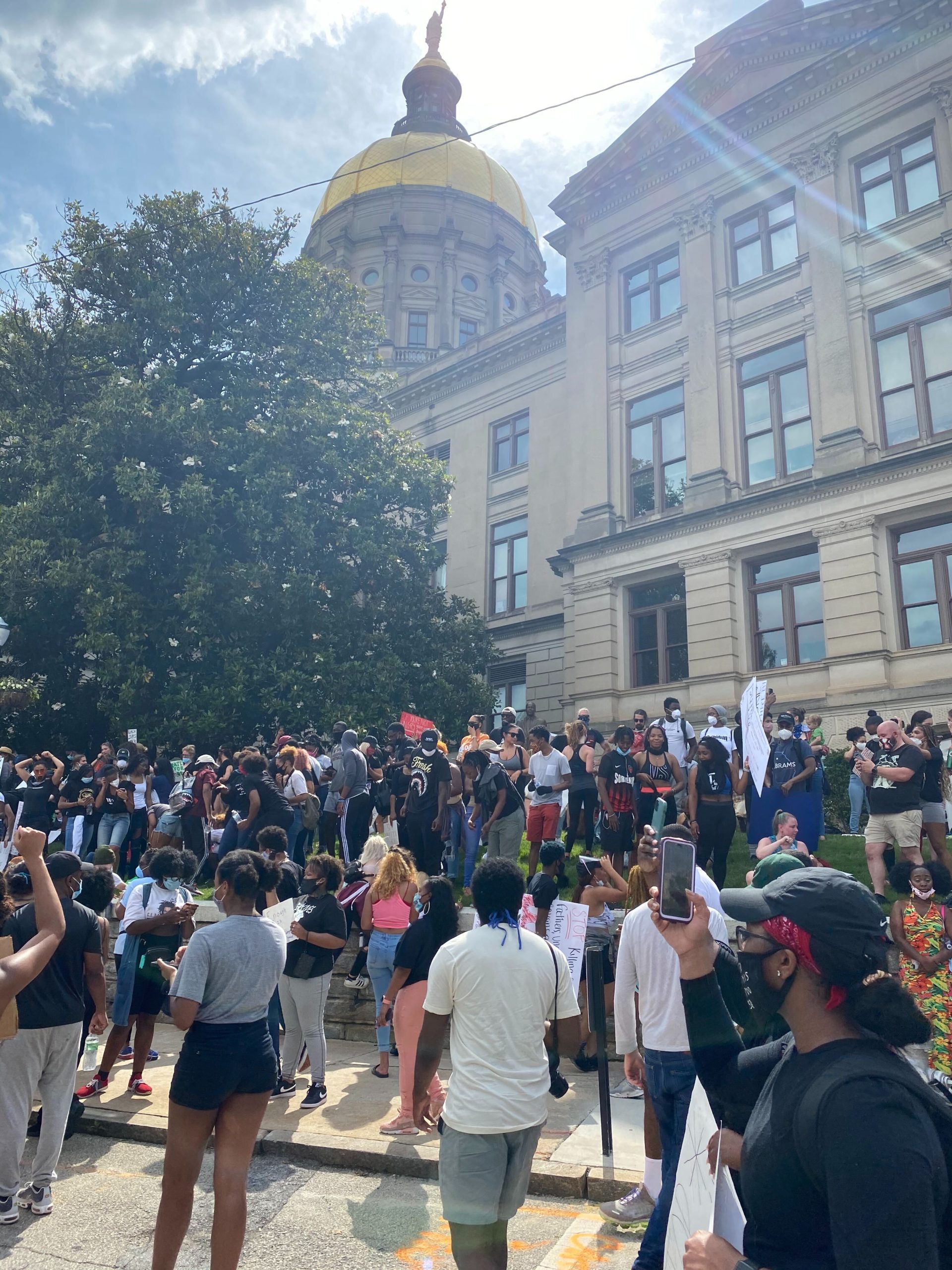 Live coverage of the protest by WSB-TV.
---
Saturday, June 6
On Saturday night, the crowd had grown smaller than previous weekend nights, despite the mayor lifting the curfew she had put in place earlier in the week.
The crowd is small and peaceful, listening in to one man on a speaker. pic.twitter.com/z5hBAZ0rdQ

— ⋆ ADA WOOD ⋆ (@Ada_Wood) June 7, 2020
The crowd began a march down the street, noticeably divided between a louder group in the front and a "silent march" in the back.
A woman who identified herself as Kim Denmark said she had already visited 16 states and made her way to Georgia in her "walk across America."
Kim Denmark speaks and says she is "walking across America" and has already been through 16 states. pic.twitter.com/Ha9YMNTYxD

— ⋆ ADA WOOD ⋆ (@Ada_Wood) June 7, 2020
---
Friday, June 5
Marches across the city took place throughout the day, through Piedmont Park, 10th Street and Auburn Avenue.
The crowd stops at the intersection of 10th and Piedmont, the historic hub of LGBTQ Atlanta. pic.twitter.com/OtfZ7fnsA2

— Scott Trubey (@FitzTrubey) June 7, 2020
Exactly a week after the first major night of protest which ended in many arrests over a week, this Friday, not even a single arrest was made.
---
Thursday, June 4
The day began with a speech from Martin Luther King Jr.'s daughter, Bernice King, the AJC reported. During the day, groups gathered at Piedmont Park to make their way down to Centennial Olympic Park.
Protesters take a knee in front of Ponce City Market.#AtlantaProtest @ajc pic.twitter.com/1EIjk1Rtad

— Shaddi Abusaid (@ShaddiAbusaid) June 4, 2020
In the evening, Mayor of Atlanta Kiesha Lance Bottoms took some time to address the protestors and walk along with them. 
Mayor @KeishaBottoms walks with protesters in downtown Atlanta to show solidarity against racism and injustice. #OneAtlanta pic.twitter.com/z0XQXnsPjo

— City of Atlanta, GA (@CityofAtlanta) June 4, 2020
Although there was a 9 p.m. curfew in place and some protestors stuck around afterward, no tear gas was released and only six arrests were made — significantly less than previous nights over the past week.
---
Wednesday, June 3
The City of Atlanta announced the curfew will extend throughout the week, into the weekend. The curfew begins at 9 p.m on Wednesday and Thursday night, but an hour earlier at 8 p.m. on Friday, Saturday and Sunday, ending at sunrise the next day.
Gov. Kemp held a press conference where he supported peaceful protests but condemned the actions of violence and vandalism.
"In what started as a peaceful protest Friday, ended in violence and destruction," Kemp said. "A powerful moment was ultimately corrupted by some with a different agenda."
---
Tuesday, June 2
Ahead of anticipated protests, some Atlanta businesses and buildings boarded up their windows to prevent potential destruction.
HAPPENING NOW: Workers reenforcing windows at the Candler Hotel ahead of a fifth night of protests in Atlanta.@ajc pic.twitter.com/4CK3n9u2Mv

— Shaddi Abusaid (@ShaddiAbusaid) June 2, 2020
On the fifth night in a row of protests, 52 arrests were made, totalling to more 350 since the first night in connection to the protest, according to the Atlanta Journal-Constitution.
At 7 p.m, the AJC reported that demonstrators gathered outside of the historic Fox Theatre to hold a moment of silence for the death of George Floyd.
HAPPENING NOW: Moment of silence for George Floyd outside the Fox. pic.twitter.com/4H3X0GGGt2

— Shaddi Abusaid (@ShaddiAbusaid) June 2, 2020
As the evening arrived, police deployed tear gas near Centennial Park. At stores in Underground Atlanta, blocks from campus, some protestors fought back looters.
The shirtless man with the gray drawstring pants in these Foot Locker videos is Isaiah Brown, 30. Watch him fight away looters. He doesn't know who owns the store, but he told me: "They make black men look bad." He thinks he blocked five or six people from stealing. @ajc pic.twitter.com/3wjOHAKFxf

— Ben Brasch (@ben_brasch) June 3, 2020
---
Monday, June 1
The main protest in Atlanta for the day began at city hall, in response to the state lawmaker's failure to pass hate crime bills in Georgia. 
MARTA began suspending all rail and bus transportation inside Atlanta at 9 p.m., suggesting that people should board their last train at 8:30 p.m.
In Gwinnett County, Lawrenceville protests grew as Atlanta Police Department police officers took a knee in solidarity.
Atlanta Police Officers kneel in solidarity with protesters in downtown Atlanta. #OneAtlanta 🎥 :@astridtv1 pic.twitter.com/5TJ8AxsKDH

— City of Atlanta, GA (@CityofAtlanta) June 1, 2020
Throughout the night, Atlanta Journal-Constitution photographer Alyssa Pointer was detained by officers while reporting. According to the AJC, Pointer said her badge was clearly displayed and she identified herself to the officials. This follows the arrest of reporter Haisten Willis the night prior.
An independent autopsy of the death of George Floyd — which sparked outrage across the nation — found that his death was a homicide caused by asphyxia "due to neck and back compression that led to a lack of blood flow to the brain."
At 6:30 p.m. in Washington, D.C. before the 7:00 p.m. curfew, non-violent, peaceful protestors remained gathered in Lafayette Park. NPR reported that suddenly, with no apparent reason, police and National Guard troops — a branch of the U.S. military — began to clear the area, using teargas. 
President Donald Trump had just finished addressing the nation and the park was cleared for him to walk through it to reach St. John's Church, where he posed for cameras, holding up a Bible.
Police in Washington, D.C. used tear gas and rubber bullets on peaceful protesters to clear them away from St. John's church, which suffered a small fire Sunday night, near the White House.

President Trump then walked to the church for a photo op. https://t.co/QrdVmtcfUA pic.twitter.com/BLjECrOYCM

— NPR Politics (@nprpolitics) June 1, 2020
---
Saturday, May 30
By Saturday morning, the CNN logo that was vandalized the night before already saw a new coat of red paint.
Already repainted red sign in front of CNN Center pic.twitter.com/6pLYX9ytTs

— Steve Gehlbach (@SteveGWSB) May 30, 2020
During the day, crowds gathered across the city again — including at the Martin Luther King Jr. Memorial site and the governor's mansion.
For the first night of several, Mayor Bottoms issued a 9 p.m. curfew across the city.
The 9pm curfew warning has been given. pic.twitter.com/8jNXaw9qMC

— Matt Johnson (@MattWSB) May 31, 2020
Although the night was more peaceful than the first, because of the curfew 11 Alive reported that 157 people were booked into the Atlanta City Detention Center by the next morning.
Gov. Kemp announced he would be deploying 3,000 National Guard troops across the state and that Georgia was officially under a state of emergency.
In the nation's capital, protestors made demonstrations in front of the White House that continued into the following day.
Barricades have fallen to the west of the White House and the crowd is surging forward, once again coming face-to-face with Secret Service who've moved into formation and raised their riot shields—a few stained yellow from eggs just thrown. pic.twitter.com/B0AMIk8aMZ

— Alejandro Alvarez (@aletweetsnews) May 30, 2020
---
Friday, May 29
The initial night began peacefully as hundreds of protestors gathered in Centennial Park in a moment of silence for George Floyd.
The is Atlanta right now. Worth a million words.#GeorgeFloydprotest pic.twitter.com/O8S5X0nvAD

— Joshua Potash (@JoshuaPotash) May 29, 2020

Groups made their way through downtown, eventually stopping in front of the CNN Center, as The Signal reported live. Some demonstrators began to vandalize the CNN logo and eventually, destruction of the building, windows and police cars. 
According to 11 Alive, a group gathered on the interstate, creating a blockade on I/75-85 at the Downtown Connector. 
As the night continued, some demonstrators continued the destruction across the city. Cars were burned, businesses were attacked and police and protestors clashed across the city, including inside the CNN building.
The last moments of @CNNValencia's live shot from the entrance of the CNN Center in Atlanta before he moved to another location. pic.twitter.com/B7ZlYyt6xz

— Oliver Darcy (@oliverdarcy) May 30, 2020
In a press conference with Mayor Keisha Lance Bottoms, rappers Killer Mike and T.I. addressed the city beside her.
"A protest has purpose," Bottoms said. "If you love this city … where more than 50% of the business owners in metro Atlanta are minority business owners, if you care about this city, then go home."
Later in the night, Governor Brian Kemp made a statement through Twitter that he was deploying up to 500 National Guard troops to Atlanta, at the request of Mayor Bottoms.
Bottoms' message continued into the night, when a billboard was lit up that said "If you love Atlanta please go home" as demonstrators continued to cause destruction and loot businesses until 2:00 a.m. 
During the night, Georgia State campus buildings — including Aderhold and the Andrew Young building — were destroyed with windows shattered.
Panther Report News, Georgia State's broadcast news station, reported on the aftermath.
---
Friday, May 29, 2020 at 5:30 p.m.
Editor's Note: Will Solomons is reporting on-scene in real time, with writing by Ada Wood. This article may be updated.
Since Monday, protests have erupted across the nation in response to the death of George Floyd while he was in police custody on Monday. And within the last month, protests have also taken place in response to the deaths of Ahmaud Arbery and Breonna Taylor. All of this occurs during the COVID-19 pandemic where social distancing is still advised.
Today, the crowd grows in Georgia, starting at the state capitol building. Hundreds have gathered together, wearing masks and holding signs with statements from "We stand together" to "Black Lives Matter" to "Why am I more afraid of the police than a pandemic?"
Before he died, Floyd's neck was pinned down by the knee of Minneapolis Department officer Derek Chauvin. In video footage of the incident, Floyd said, "Please, please, I can't breathe."
Chauvin was arrested today and charged with third-degree murder. 
The group in Atlanta has moved down through the streets, stopping at one point to protest at the statue of Henry Grady, who promoted Georgia's past white supremacist leaders.
The protest has since moved to the Atlanta CNN headquarters. Earlier this morning, four members of a CNN camera crew were arrested by Minneapolis police while reporting on the scene, without being told a reason for the arrest. The entire incident was recorded on camera as the crew was reporting live.
Minnesota police arrest CNN reporter and camera crew as they report from protests in Minneapolis https://t.co/oZdqBti776 pic.twitter.com/3QbeTjD5ed

— CNN (@CNN) May 29, 2020
At the CNN center, several protestors were hit with pepper spray, including one man named Eli Edwards.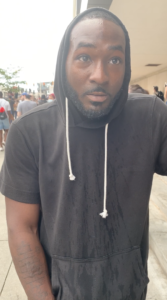 Edwards said he was observing the protest when an officer turned around and pepper-sprayed him, his wife and the people around him. 
"That's when all h— just, they started pepper spraying everybody for no reason," Edwards said.
Edwards expects things to escalate further. 
"As soon as he did that, somebody ran up and pushed the cop off the bike. And they started jumping the cop," Edwards said.
At 5:50 p.m. the crowd was warned there would be three minutes to disperse because of a code violation but after ten minutes, no one had been dispersed. A large crowd has gathered, surrounding the several police officers.
---
May 29, 7:05 p.m.
Protestors have placed spray paint at the Capitol building, on the monument to Henry Grady and on the logo outside of the CNN Center.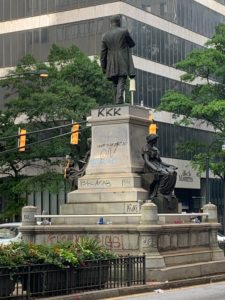 After protesting at the Capitol and the statue of Henry Grady, the crowd moved to the CNN Center. pic.twitter.com/mzbzFraIuG

— The Signal (@gsusignal) May 29, 2020