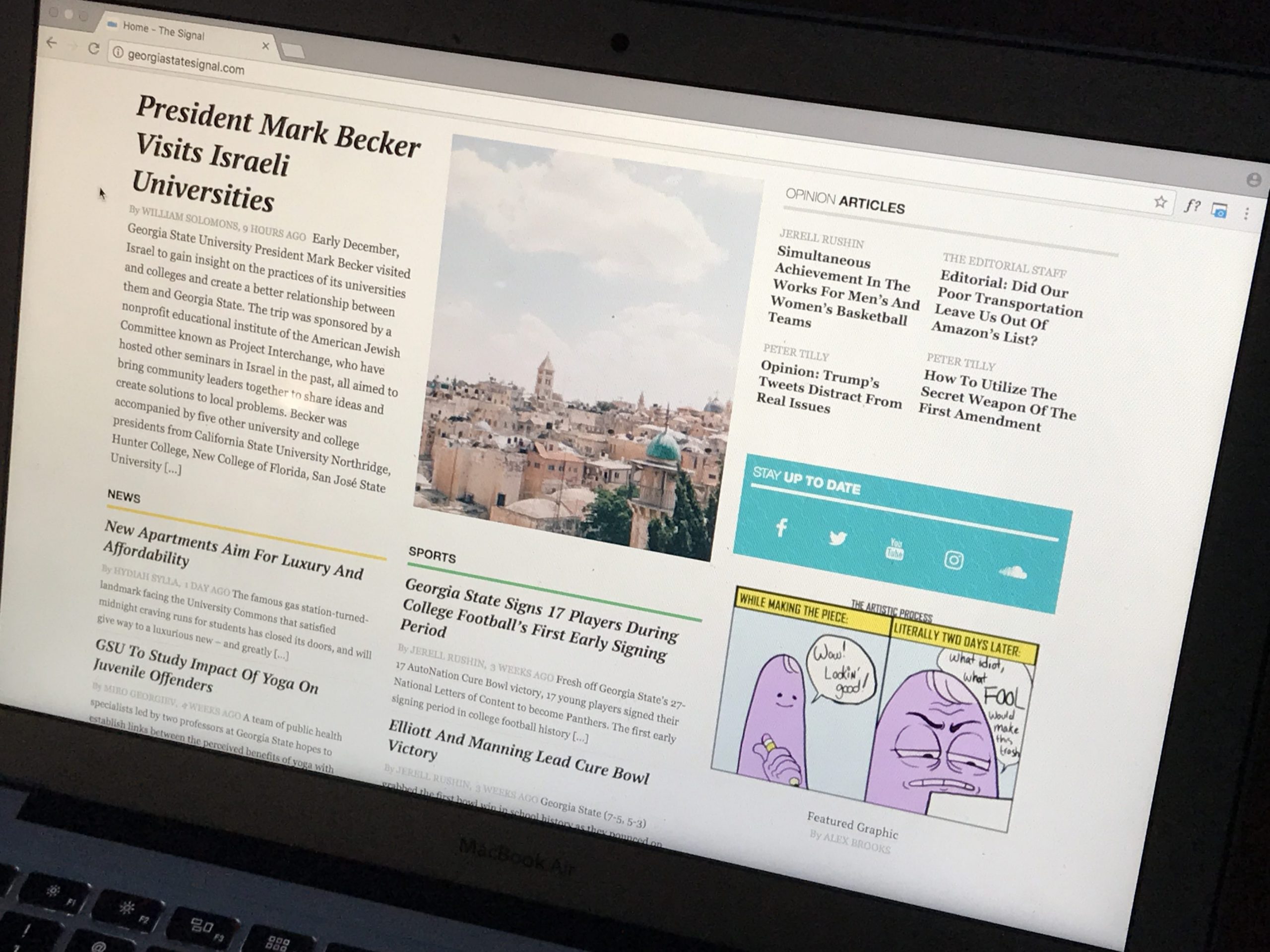 Happy New Year Georgia State! As promised, new year, new Signal, so stop what you're doing and check out our brand new website. We've (our wonderful, gloriously-talented online editor) taken the time to design a website that is easy to browse through, mobile-friendly and lets you know which are the most important and more recent stories of the day. We're all very proud of our new creation, and I hope you will give us your feedback on what we can improve on and how we can better it even more.
The new website came with The Signal's need to catch up to its age. It was one of my greatest priorities to transition the paper into a source students could easily access, trust, but also find frequently on their Twitter and Facebook feeds. The digital age has long been upon us, and even though print is not quite yet dead (despite what our journalism professors tell us), it's not news that most of us get our news from our phones. That is why we've changed not only our method of sharing news with you, but the way we work behind the scenes. Members of The Signal aren't just writers any more. We have a strong team of designers and building our video and online department with students interested in pursuing a multimedia journalism career. We are hiring students to lead marketing campaigns and interact with advertisers interested in working with the newspaper. Our writers are responsible for learning to visually represent their story, getting breaking news on social media as fast as possible, and learning to write stories that will tend to both print and online audiences. We are constantly growing and bettering our ways.
I wanted to leave the newspaper as in-touch with the digital age as I could this last semester. This will be my second semester as Editor-in-chief of this marvelous newspaper, and my third year as a writer. I've had the pleasure of working with some of the greatest people of our university's community, professors, staff, and students, and shedding light on their stories and learning about this community from you. Whether they came from enraged students or concerned professors, the stories we've worked on in the past three years have helped us learn this community, university, and city better than I ever could have hoped in this short while.
Our goal at The Signal is just that. Learning from you, and telling others about what your voice might not be loud enough to say. We reported on mothers at Georgia State and the obstacles they face, and after the unrest at Georgia Tech we examined our own university's police training, we told you about the new marijuana legislation, and followed SGA throughout their different initiatives this semester.
We said goodbye to 2017 with pride, and we are welcoming this new year with eagerness, excitement and as always, hard work.
Thank you for reading The Signal, and don't forget to tweet us your feedback on our new website!