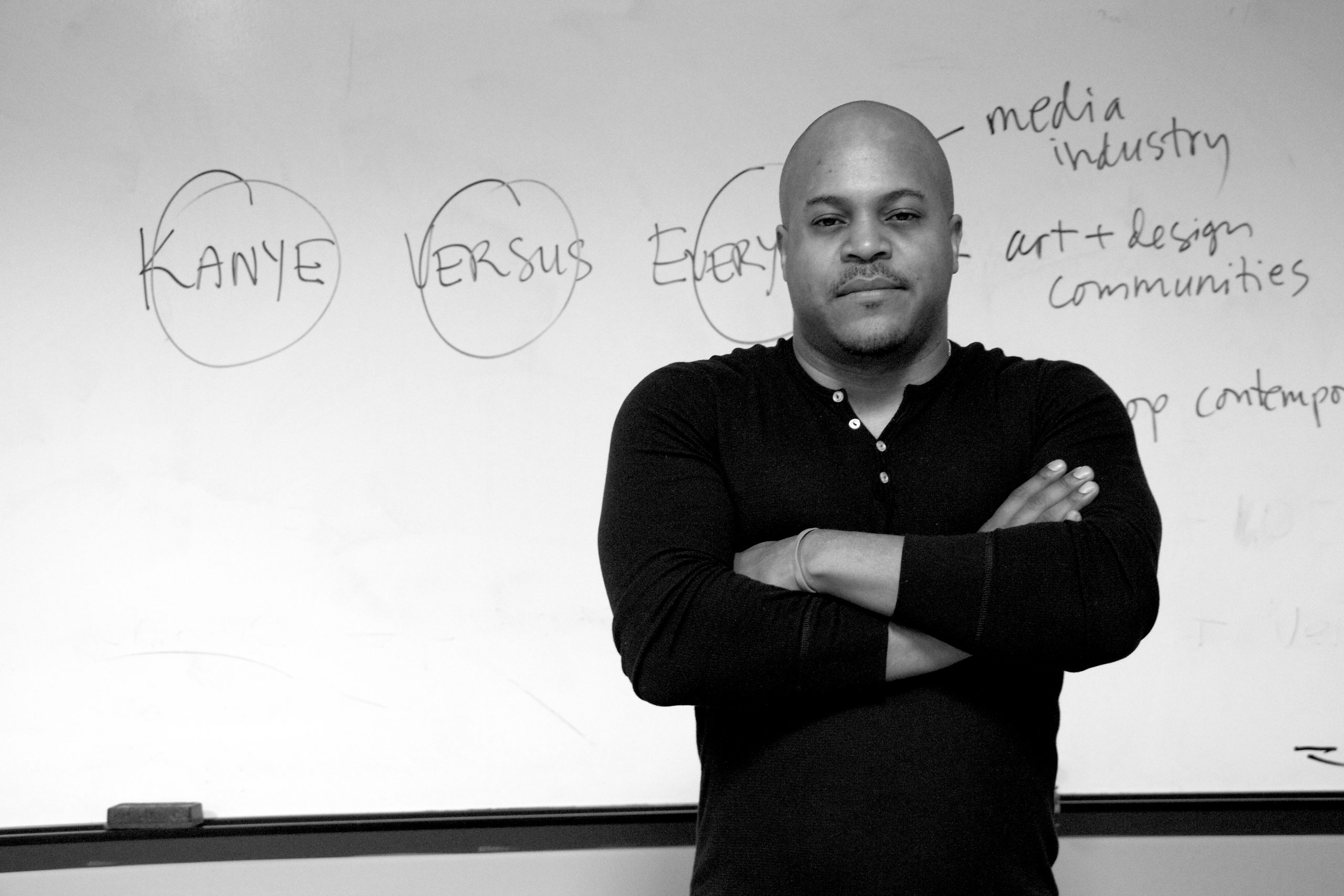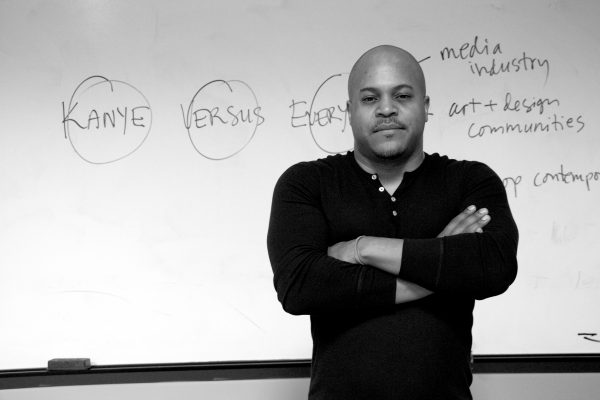 English professor R. Scott Heath is putting a fresh spin on poetry this semester by incorporating the one and only Kanye West.
Heath, who received his Ph.D in African-American literature from the University of Michigan and has been studying hip-hop for more than 10 years, has three words for those who don't think popular culture is academic enough: "But it is."
It's not just about Kanye West
"I consider this course that puts Kanye West up front as more of a synthesis, an integration of ideas that I hope is successful in communicating what I've been trying to communicate all along," Heath said. "In the humanities, not just literature, I think that if you want to be comprehensive these days, and to be relevant and useful, you have to consider what people call the popular."
It's important for people to know that Heath's course, "Kanye Versus Everybody: Black Poetry and Poetics from Langston Hughes to Kanye West," is not actually a class about Kanye West.
"At heart, it is an American poetry course and Kanye West is sort of a central character study that we come back to in the class, periodically, as we move through a whole range of African-American poetry and poetics," Heath said.
For Heath, Kanye West is more than a polarizing figure. The artist has been part of an extensive discourse about African-American art.
"[He] arguably expresses the artistic stance on the artistic temperament of a generation of people who are creating art, creating literature and generating culture right now."
In addition to the other reasons, Heath picked West because of his place in hip-hop culture.
"One of the major voices in that realm at the moment is Kanye West," Heath said.
Click the button below to read more.
A twist on traditional poetry
In fact, the official name for the course is simply "ENGL 3850: American Poetry." Heath wonders how the makeup of his class would be different if students had known that they'd be studying Kanye West to a degree.
"I like that I have this group of students who came to it genuinely wanting to take an American poetry course," Heath said. "[T]his group came for the poetry. They didn't come for Kanye West."
Although Heath's students did not anticipate studying West and popular culture, Heath says the class is going well.
"I think it was unexpected for a lot of the students, and I think it excited them. They've been really engaged so far."
As for the work that students do in Heath's class, the assignments range from traditional poem explication to the compilation of their own mini anthologies of four poems and one rap song and justification of their choices. The students will also be analyzing and comparing a traditional poem with a Kanye West composition.
Heath generally teaches around what he calls "Black culture movements." Black culture movements include the abolitionist movement, the Harlem renaissance, the civil rights/Black power movement and, more recently, the hip-hop movement. The most prominent artists during these periods of cultural change share similarities with Kanye West, according to Heath.
"If you look at these time periods and these, sort of, moments of prolific creativity," Heath said, "you will find periodically vocalized a sense of frustration about a need for expression and articulation."
Publicity from coast to coast
Some students may be surprised to learn that this isn't the first time that Heath has taught poetry using Kanye West at Georgia State. He taught the course for the first time during the spring 2014 semester. However, this time around, word about a "Yeezus-centric" college course spread like wildfire.
"I did an interview on the 'All Out Show' on Sirius XM [two weeks ago]. I [had] a person from Atlanta's [National Public Radio] station [last week]–actually visiting my classroom. Georgia Public Broadcast[ing] wants to talk [this] week. I have been in touch with a guy from 'The Steve Harvey Show,'" Heath said. "It's crazy, right?"
Heath realized that his class would be a big deal after his interview with FADER magazine was published online.
"I noticed that day, actually, within hours, that article had been…I daresay hijacked."
Within 24 hours, the story had been picked up by several other websites, including MTV.com. Before a week had passed, even Seventeen magazine had published something about the professor on its website.
With all of the press has come an overwhelming response from students from all over.
"I'm hearing from students around the country at universities in California and Tennessee and Montréal, Québec who want to know about this and who want to talk about it," Heath said.
"This is to show that outside of our institution, the interest is clearly there."
Of course, students at Georgia State have wanted to know more about Heath's innovative poetry class, too. Heath is constantly receiving inquiries from students wondering if and when he'll be teaching the course again.
Hip-hop as African-American poetry
When Heath was initially assigned to teach American Poetry last spring, he wasn't sure how to approach such a broad subject. He had previously taught creative writing and other courses around poetry, but this was his first full-blown poetry class.
"That's just a huge idea — American poetry in general… That could last forever," Heath said.
Heath's colleagues encouraged him to specialize the course, so he decided to cover not just contemporary American poetry, but, specifically, contemporary African-American poetry.
"I decided that if I'm going to do more contemporary American poetry, I'm going to do African-American poetry, because that's my area of expertise," Heath said. "And I believe that if you're going to do African-American poetry–African-American literature in general–and you want to do it comprehensively, then you've got to move in the direction of hip-hop and rap."
Heath sees a similar state of frustration in Kanye West; one born out of the artist feeling that he's not allowed to do the things he wants to do. As Heath put it, West is "trying to carve out a space for expression and understanding."
"The writers that we're studying, most all of them have met resistance similar to what Kanye West has met," Heath said.
Heath is curious to see how his course will ultimately be received at the university level, but he hopes to see more courses similar to his own in the near future.
"I have some wonderful colleagues with a lot of great ideas up their sleeves; so, hopefully this course is an encouragement also for some of them to try some things that might be considered a little alternative or interventionist, even," he said.
Heath has his fingers crossed for a surprise visit from Mr. West before the end of the semester.