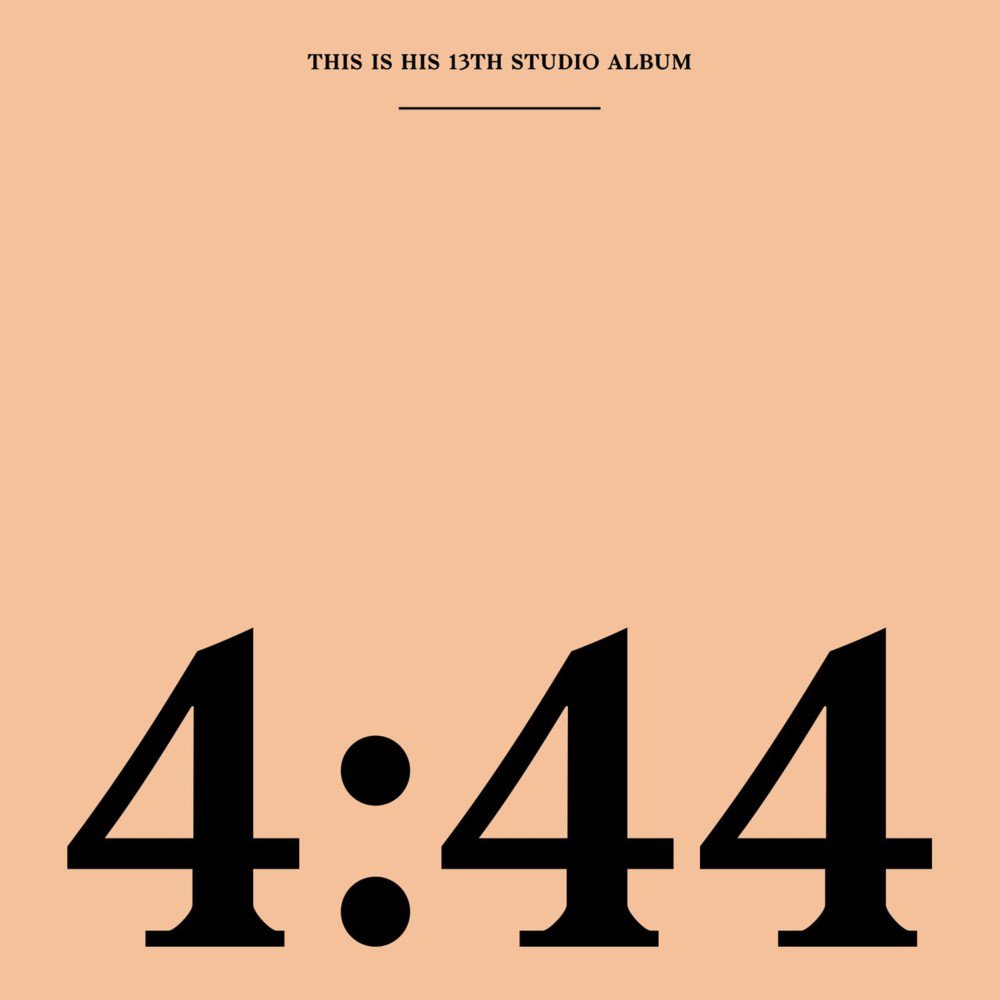 Jay-Z has undoubtedly been in the legend category for some time. From selling CDs out of his car in the mid-90's to having 21 Grammys, 100 million+ sold albums, owning Roc-A-Fella records and being an inspiration to musicians and rappers for periods to come. Not to mention, he is married to the female musical giant and icon Beyonce. Jay-Z could have stopped rapping a while ago and lived comfortably, so any musical outputs at this point in his life are rarities, spread years apart.
On 4:44 Jay-Z tackles a variety of topics from the perspective of a watchful mentor, a husband, an African American male and a father. A good amount of the lyrical content has to deal with money, a big part of Jay-Z's life, and how to use it properly in the entertainment business. Songs like "The Story of OJ" specifically target the use of money among African American rappers and youth and how they might not be utilizing it. Potent lines like, "You know what's more important than throwing away money at a strip club? Credit." And "You're on the Gram holding money to your ear. There's a disconnect, we don't call that money over here" show Jay-Z not criticizing the younger generation, but offering advice on how to make lasting income.
As for the actual rapping on this album, it's best described as confident. Jay-Z sounds relaxed while still getting his message across in an effective way. He doesn't have to be flashy and rap fast or use crazy metaphors. For the most part, Jay-Z's rapping is straightforward, covering topics that have affected his life over the past four years in a deep, calm voice.
For such a big figure in hip hop, and based on age, it's almost expected for an album of his to have a fair amount of fluff. The fluff on this album is in the production of a couple of songs, but where there is fluff in the production Jay-Z always has a couple good lines to redeem it a bit. Features fit right in, with appearances from Frank Ocean, Damian Marley, James Blake and Gloria Carter (Jay-Z's mother).
Production wise, there are a lot of samples and soulful, straightforward beats. Jay-Z uses these to his advantage and dances with them—his lines putting them right where they need to be. A good example is on "4:44" with a sample that has enough soul to belong in the 70's, but in actuality comes from a 2016 song by Hannah Williams and The Affirmations. This sets the perfect background for Jay-Z discussing his very publicly covered cheating scandal
Verdict: 4:44 delivers as a hip hop album. Minimal fluff with Jay-Z's unique perspective, his internal look on his feelings with the cheating scandal and his response to new jacks in hip hop. His raps have a purpose and a time and place within the songs, and no wiggle room for anything else. It is great to see that an artist already so developed keeps on progressing.
Grade: B+
Best Songs: "4:44", "Smile", "The Story of OJ"