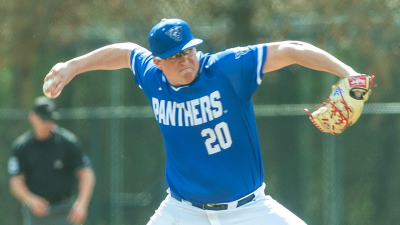 After spending two years at Cleveland State, Jake Rogers has taken his talents to the Georgia State Panthers baseball team where he has seemingly positioned himself to pitch in the weekend rotation, which is by no means an easy task.
During his last year as a pitcher at Cleveland State, Rogers posted a 9-2 record with an ERA of 3.38. Rogers is off to a promising start as a Georgia State Panther due to the experience he gained before transferring downtown.
"I think at Cleveland State being able to go there for my first two years and being able to play in a great conference up there [helped prepare me for the opportunity at Georgia State," Rogers said. "I pitched against a lot of great teams, and being able just to take that and take it up another notch here and do what I've been able to do so far. But I've got a little ways to go."
Rogers may not be content with what he's been able to accomplish thus far as a Panther, but his record of 3-2 surely isn't a lackadaisical start with his new team.
However, being that Rogers typically pitches the day after Hunter Gaddis, who is the team's ace pitcher, Rogers is just as confident that he can produce strikes and wins for this ball club. He mentioned that he isn't phased by having to pitch behind a high-caliber pitcher such as Gaddis.
"No pressure at all," Rogers said without hesitation. "The thing I have learned is I had to throw behind two great guys in junior college, so I'm just here to be me, and that's a big thing I had to learn. I'm not here to top him or anything. I'm here to win, and that's a big deal for me."
As for the mindset Rogers has, he isn't concerned about competing with the other pitchers on the roster. Instead, he is focused on overpowering opposing batters and giving his team the best chance to win every time he takes the mound.
"My mindset is just to go out there and throw strikes," Rogers said. "Go out there and throw strikes and mix speeds."
Although Rogers is a Panther, he likes to refer to himself on the mound as a different breed.
"Go out there and be a bulldog on the mound. That's who I am, and that's how I've always played this game, and that's how I'm gonna keep playing it."
Rogers has over 20 strikeouts on the year thus far. He's been able to work batters early in the pitch count, which allows him to throw a variety of different pitches to produce strikeouts.
"The fastball has been there, changeup, mix and then we get to big breaking ball counts that I've thrown really well in, and that's a big thing at this level. You have to be able to throw breaking balls for strikes, and if you don't, you can't pitch at this level," Rogers said.
Since joining the Panthers, Rogers has received considerable support from the fans. He says, "It has been really awesome, and it's been a blessing to be here."
Rogers has indeed found a new home at Georgia State.