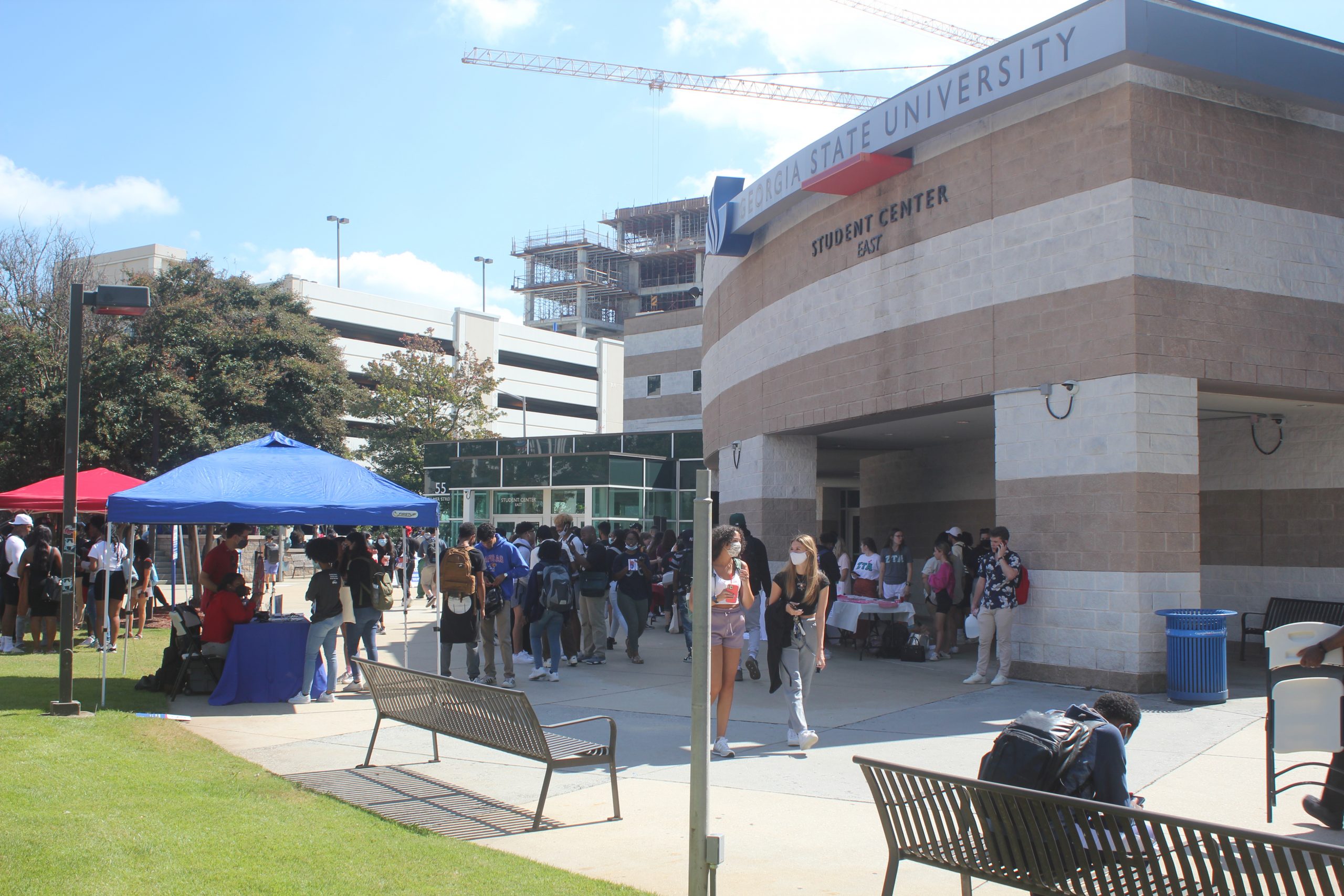 The SGA hosted its first induction ceremony for the United Student Organization last Monday. The United Student Organization, or USO, is a collaborative group of student-led organizations that aims to provide aid for student organizations where it's needed and encourage cross-collaboration between groups.
 Various groups, clubs, teams, organizations, honor societies, alliances and members of Greek life were among the inducted. Inductees were informed about students' impact when they are brought together by a common goal. Speaker and Student Engagement Coordinator Kirk Johnson spoke with the crowd about the story of seven students during the height of the pandemic. Johnson spoke about the power that those students had, sharing the encouraging message "I am a person of influence; you will know my name" with attendees.
 The USO hopes to help student organizations process GSU's confusing systems and methods. Whether that be by providing help finding a venue to host meetings or finding a local restaurant to cater events. If a certain group knows a specific procedure, that information can be shared to help countless other organizations that are facing the same issue. This is what the USO is aiming to achieve.
 The USO also shares great networking experiences with those involved. It is often difficult for organizations to navigate the complex bureaucracy that exists at GSU. The knowledge of knowing whom to email about issues, when to speak up and how to make sure you're not being left out of the loop is extremely valuable. In addition, the networking opportunities between student organizations themselves are also extremely beneficial to have. Collaboration between multiple groups increases student engagement and helps with campus life at GSU.
 Another goal of the USO is to give student-run organizations more help when it comes to funding. All students attending GSU contribute to the funding of student organizations with their student fees. However, these funds are rarely taken advantage of. Only a small amount of what is dedicated to these organizations is received. Ira Livnat, the Executive Vice President of the SGA spoke at the induction ceremony sharing his previous experience of getting funding for his organization Panther Hackers which he ran his freshman year in 2018.
 Livnat discussed his struggle with getting the funding that he requested and how despite the school having six million dollars worth of funding for student organizations that year, his organization was only getting twenty percent of what they asked for. "Either we don't know how to ask for it or what we're asking for we can't get funded. When you start to look at it from a bird's eye view you start to see that all of these organizations are doing similar things and that they could benefit from their collaboration you start to understand why there is a need for the USO."
 Moments like the one Livnat faced are what led to the USO's founding last year. The need for a governing student body that prevents student organizations from drowning is huge.
The USO plans on meeting no less than three times a year. At these meetings, organizations can come and pitch their events to other organizations that might have a common interest. They then can work together and collaborate on the event, as well as split the cost of funding between the SGA and the collaborating organizations. Representatives at these meetings can also lay out and explain the issues that their organization is facing. The USO can then coordinate with the representative on how to solve their issue and get whatever they need.
 Senator Tanjanae Walker, chair of the Student Engagement Committee and organizer of the ceremony, spoke to us about the next steps for the USO. As someone working heavily to bring the USO to life, Senator Walker plans to appoint officers and complete the USO's governing documents so that the organization can implement the changes they have been preaching. They also discussed how the USO plans on growing and expanding to include more student-led organizations, "There are fifteen of us and we are going to hopefully encourage the other four hundred plus registered student organizations to join as well. We want to get all of them in a room at least once before the end of the school year".
 The USO has its first formal meeting scheduled for November 29. Organizations that have yet to come forth with a representative for their group are heavily encouraged to attend the meeting or speak with the SGA. Their office is located on the second floor of Student Center West.