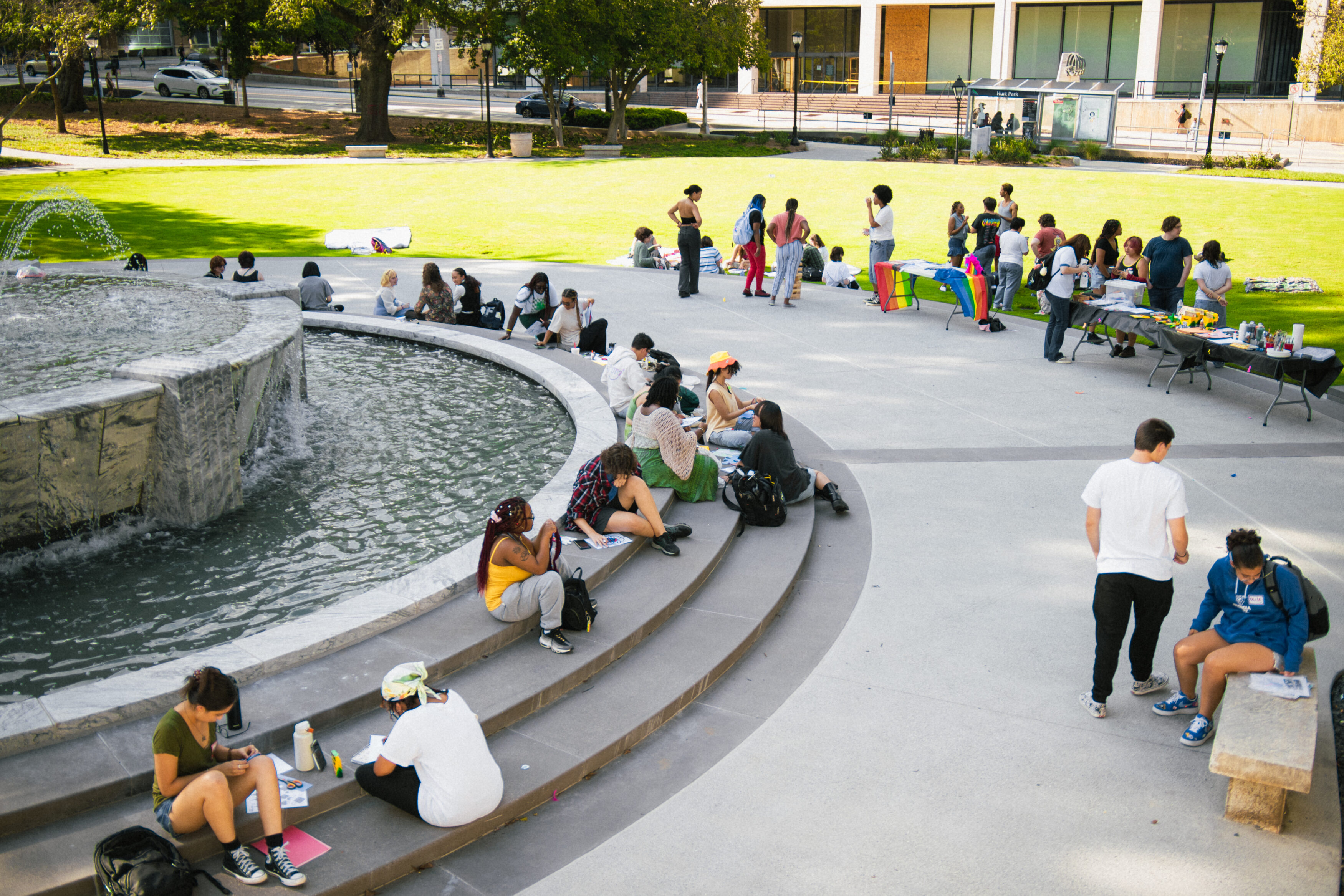 Hurt Park, located at the heart of Georgia State's campus, is not just a green space but a symbol of the university's rich history and unwavering commitment to creating a vibrant campus environment. As a part of Georgia State's Campus, it has a long history dating back to the 1940s when it was first established. Since then, it has served as a gathering place for generations of students, faculty and staff attending Georgia State.
When it opened in 1940, it was the city's first downtown park since 1860 and remained one of Atlanta's main attractions throughout the 40s and 50s, playing a prominent role in the area's development into a thriving city center. "The Fountain of Light" was a notable feature of Hurt Park that showcased an electric water display with a stunning array of lights and waterspouts.
The park was created as part of a larger effort to beautify the city and create more green space for its residents. A. Ten Eyck Brown, an architect from Atlanta, also created the Candler Building and Rhodes Memorial Hall at Emory University, two other notable structures in the city. The park features a large fountain, walking paths and a variety of trees and plants, providing a peaceful oasis amid downtown Atlanta's busy streets.
Joel Hurt was an influential figure in Atlanta's development, responsible for the construction of many of the city's prominent buildings and infrastructure, such as the Hurt Building, the Terminal Station and the first streetcar suburb, Inman Park. He was also instrumental in the creation of the Atlanta City Planning Commission, which helped shape the city's growth and development in the early 20th century.
Over the years, Hurt Park has been used for various purposes, including as a site for student protests and rallies in the early days of the university. However, as the years passed, it also faced safety and homelessness challenges, leading to recent efforts to revitalize and improve the park. The City of Atlanta has implemented various initiatives to address these issues, including increased police presence, community outreach programs and park improvements such as new lighting, benches and landscaping.
Today, it's a popular spot for outdoor concerts, festivals and other campus events. The park's location in the heart of the university's campus makes it an ideal location for students and faculty to take a break from their busy schedules and enjoy some fresh air.
Since the beginning, Georgia State officials have wanted to eventually renovate Hurt Park to keep students safe. As the Georgia State student population surged to over 52,000 across six Atlanta campuses and contributed $2.8 billion to the economy, the need for renovations became an even higher priority. Recently, that goal became a reality. 
Hurt Park underwent a major renovation project that transformed it into a modern and vibrant gathering place for the Georgia State community. The newly renovated park was unveiled in Aug. 2022. The renovation included installing new seating areas, improved lighting and a new stage for performances. The park is now a welcoming space where Georgia State students, faculty and staff can come together to relax, socialize and celebrate. 
It has been quite the journey, seeing how Hurt Park has been completely revamped after sitting empty on campus for some time. 
The impact of Hurt Park on Georgia State's campus is truly immeasurable. This park provides everyone with a peaceful gathering place to study, relax and socialize with peers. Faculty and staff can be seen taking breaks from their busy work days to enjoy the serene surroundings and engage in casual conversation with one another. Hurt Park serves as a powerful symbol of Georgia State's unwavering commitment to creating a vibrant, inclusive and welcoming campus environment for all members of its community.
As Georgia State continues to grow and evolve, Hurt Park will undoubtedly remain a centerpiece of campus life for generations to come. The park's rich history, recent renovations and ongoing importance to the Georgia State community make it a true treasure of the university.