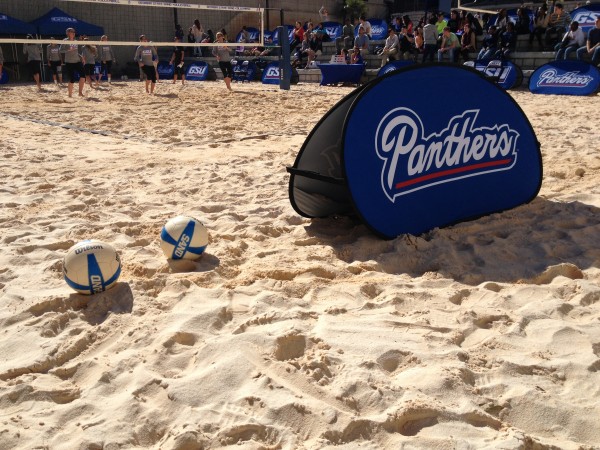 The inaugural home match for the Georgia State Sand Volleyball team is in the books as the Panthers defeated the Mercer Bears, 3-2.
Hundreds of fans, students, faculty and alumni crowded into the GSU Sand Volleyball Complex to witness the historic match.
The Panthers' No. 4 and 5 teams lost in straight sets, but then things quickly turned around.
The No.1 team for the Panthers, Lane Carico and Katie Madewell, handled Mercer's No. 1.
In the first set they sneaked by 21-16, but in the second set it was all Georgia State.
Carico's crisp serves, along with Madewell's spikes, allowed the duo to breeze through the second set, 21-4.
They are now 4-0 on the season.
Milani Pickering and Katelyn Rawls, the No. 3 team, won, 22-20, 21-7.
The No. 2 team, Sara Olivova and Jansen Button, were able to defeat their opponents 21-16, 21-14.
It was Oliviva and Button's victory that secured the team's overall win.
Georgia State's record is now 3-1 on the young season.
The Panthers' next match is on the road at the College of Charleston Tournament March 23 and 24.
Be sure to pick up the March 26 issue of The Signal for a complete recap of this match, with player quotes and photos, and a recap of the team's play in Charleston on March 23-24.