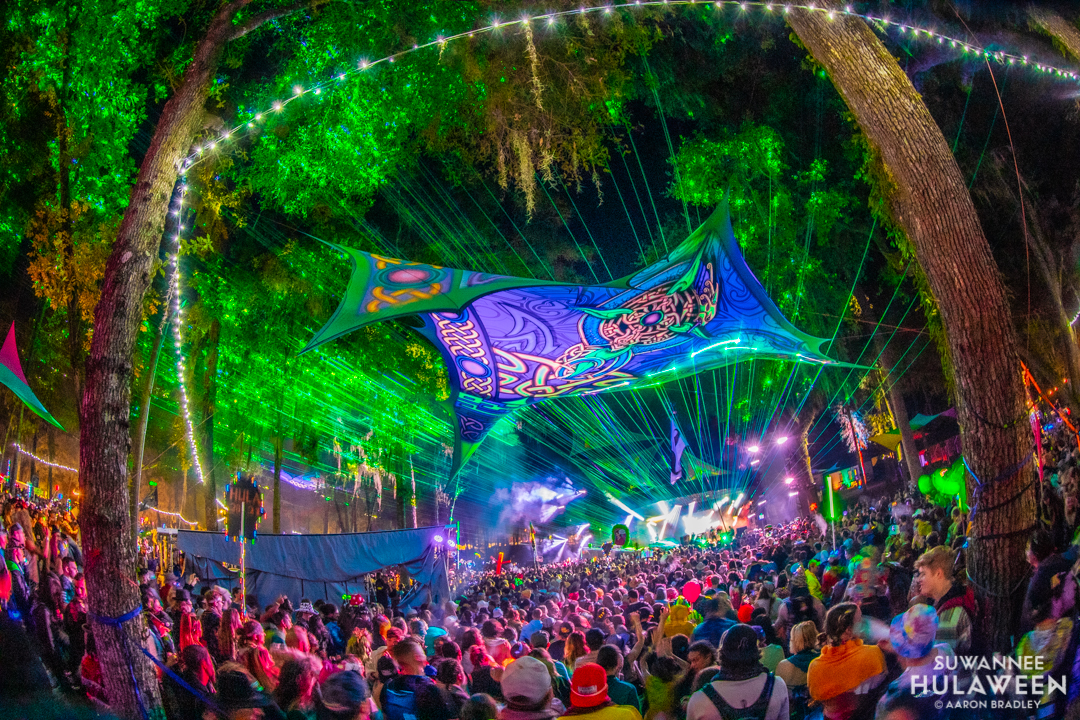 For lovers of jam bands, eccentric EDM artists and an overall spectacular vibe, Suwannee's Hulaween festival is the only place to celebrate your Halloweekend. With mind-blowing sets, psychedelic art installations and thousands of festival-goers dressed in costumes ranging from funky fairies to Colonel Sanders in a pageant dress with a bedazzled bucket of Kentucky Fried Chicken, the weekend was nothing short of weird, wild and wonderful. 
As one of the last independent large-scale music festivals in the country currently, Hulaween continues to find success. The past five years, they have sold out the venue, which holds 20,000 people. This year, Hulaween celebrates their 10th anniversary, which was commemorated with a lineup that featured a plethora of well-respected artists, both old and new.  
For many, this festival has become much more than just a four day party, but a home for travelers from all over the country that gather together to experience the magic on the grounds of Suwannee every Halloween weekend. As people dance, sing and groove together in this adult playground, strangers become friends, and friends become family. Hulaween is a truly phenomenal festival, and it is such a rare and wonderful experience to make so many genuine connections within one weekend. 
As for the lineup, artists such as Pretty Lights, The String Cheese Incident, Smino, Apashe, Goose and so many more made for an unforgettable musical experience for attendees. The festival leans toward ravers and acid rock fans, so a majority of the acts that performed were either jam bands or EDM artists, cultivating a truly unique vibe. 
At Hulaween, it is highly encouraged to tap into your most true, authentic selves. Whether that be dancing like nobody's watching, wearing your craziest outfit or letting the energy at Hulaween allow you to tap into your best version of yourself, Hulaween is the place to let yourself be free, which is a concept that society oftentimes looks down upon. 
"Hulaween was super special. I would say that the overall experience is hard to even put into words," said Georgia State senior Lily Bruce-Ritchie. "All of these people come together with a shared love for music and celebrate at this beautiful and magical venue. It's such a fun time, and you just feel this insane sense of community and acceptance while also being able to celebrate halloween."
The fashion at Hulaween is unmatched. Whether it be group costumes or individual attire, these costumes are some of the most elaborate in the country. From stilt walking jellyfish to woodland creatures, to handmade elaborate monster masks, there is no such thing as a costume that's too elaborate. 
"One of the things I love most about festivals is the fashion. Festival culture is all about expression and acceptance and creativity, and I think that fashion is a big part of that. Hulaween is special because there's this extra push to get creative with it, and it really makes the experience much more engaging and exciting," Bruce-Ritchie said. 
Overall, this year at Hulaween was unforgettable. From the people to the art installations to the music, every single aspect of this festival allowed space for positivity, growth and love. In a world where it is often hard to fit in or find a genuinely accepting community, Hulaween is the perfect place to find a sense of belonging.