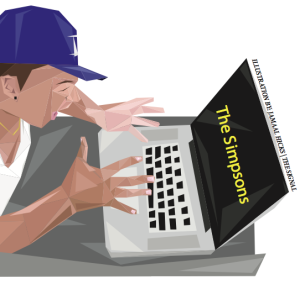 Binge-watching isn't something I do very often. In fact, I've only binged a handful of the dozens of shows I've watched over the years out of an old-fashioned reverence for week-to-week viewing. But each time I've binged on a show, I've had a uniquely positive experience.
That's because there's nothing quite like losing yourself in your favorite programming. Whether you're submerged in the lunacy of Bikini Bottom's waters with Spongebob Squarepants or lost down the neck of a bottle alongside Mad Men's Don Draper, binging can often be the best way to enjoy television.
Choosing the Right Show
One key element to ensuring a rewarding binge-watching experience is to make sure that you've chosen the right program to start with. Sure, any program can be watched without pause, but there's no fun in it if the show just isn't any good—or any fun.
Picking the right program is as easy as acknowledging your interests. If you're into drama, research popular or critically-acclaimed shows in that genre. You're likely to find numerous suggestions ranging from the iconic Breaking Bad to the cult classic Twin Peaks.
Best TV Dramas to Binge via HBO & Netflix
The Sopranos; Seasons: 6- HBO, show completed
The Wire: Seasons: 5- HBO, show completed
Sons of Anarchy: Seasons: 6- FX and on Netflix
Boardwalk Empire: Seasons 4- HBO, Season 5 underway
Mad Men: Seasons 6- on Netflix, Season 7's second half premieres 2015
Fargo: Seasons 1- on Netflix, Season 2 currently in development
Best TV Comedies to Binge via Netflix
Futurama: Seasons: 7- Comedy Central, on Netflix
Archer: Seasons: 5- FX, on Netflix
Bob's Burgers: Seasons: 4, FOX
Louie: Seasons: 4- FX, on Netflix
South Park: Seasons: 17, Hulu / South Park Studios
Arrested Development: Seasons: 4- on Netflix
Even programs that does not live up to your expectations can be surprisingly thrilling if you find the right characters. Finding a familiar actor or actress in a program's cast before you start watching can help anchor your viewing to something, even if the show surrounding that person's presence seems to be falling apart at the seams whenever they're absent.
Fox's smash hit show 24, one of the most binged programs of all time, suffered from this perhaps more than any other show in its later seasons but remained uniquely compelling through the power of Kiefer Sutherland's performance. Despite the tired politicking, watching Jack Bauer race against time to save the day rarely became boring time after time.
While no one would accuse The Sopranos of being a show falling apart at the seams, James Gandolfini's performance as the iconic Tony Sopranos kept viewers hooked on the program for years. Following Tony's journey through two families – the mob and his wife and kids – wasn't just compelling because of intricate plotting and great writing. Its brilliance also came from Gandolfini's consistently stunning performances.
Actors to watch for
Jon Hamm: Mad Men, Always comes across charming, cool and collected
Kiefer Sutherland: 24, Impeccable action hero
Aaron Paul: Breaking Bad, Charming, humorous
Michael Williams: The Wire, Excellent dramatic performances
Steve Buscemi: Boardwalk Empire Underrated all-around actor
Benedict Cumberbatch: Sherlock, Radiates peerless intelligence
Committing to the Binge
Of course, binging isn't all about the program – it's also about commitment. Before you begin, it's critical to make sure that you actually have the free time to spend on your latest obsession. There's little worse than making it halfway through the latest season of your favorite show at the cost of your academic career, your health or your hygiene.
One of my most frightening binge-watching experiences came from problems with commitment. The FX original series Sons of Anarchy was the culprit and my grade was the victim. Sure, it was an undeniably thrilling, suspenseful ride to watch Jax Teller and his gang of gun-running motorcycle enthusiasts navigate various hurdles and enact vigilante justice, but neglecting my homework assignment that night surely didn't help my life overall.
Of course, this isn't to say that procrastination is always a bad thing. Some students actually perform better under the pressure of strict deadlines. If that's you, you may find binge-watching a show before starting on your work to be a desirable habit.
Tips to Commit
Take care of your academics; if not first, then at least before deadlines.
Don't neglect your hygiene, even if you have to get off the couch.
It is acceptable to pause the program to respond to your significant other.
Finding the Right Fuel
Once you've squared away any issues with committing to your new television fix, it's time to find the proper supplements. Food and drink are essential to the binge and it's critical to find the right snacks.
Personally, I opt for a classic combination of milk and Oreos. If I'm missing either of those two items, then I'll settle for Doritos and a soda as a pleasant substitute. Bear in mind that it's perfectly acceptable to put more effort into your snacking. There's no foul in cooking a pizza before catching up with Heisenberg and his methscapades.
Key Steps to Binge-Watching
Of course, you'll want to just how to binge your program. Sure, that may sound a little pedantic, but there are key steps to ensuring a quality binge experience. Failure to follow these steps could lead to poor viewing.
1) You'll want to make sure you've found the proper seating arrangement. It's ultimately up to you whether the proper cushion constitutes an office chair or a lounge sofa. Binging isn't going to be any fun if you aren't comfortable enough to enjoy it.
2) Find the right time to binge. Sure, watching your show late at night may evoke that classic movie experience, but no matter how experienced of a binge-watcher you are, you're going to drift to sleep eventually.
3) Know your limitations. While it might seem like a cool idea to blaze through the entire first season of your new fix, bear in mind that you may not be able to make it all the way through in one sitting – regardless of time. Binge-watching is also about pace.