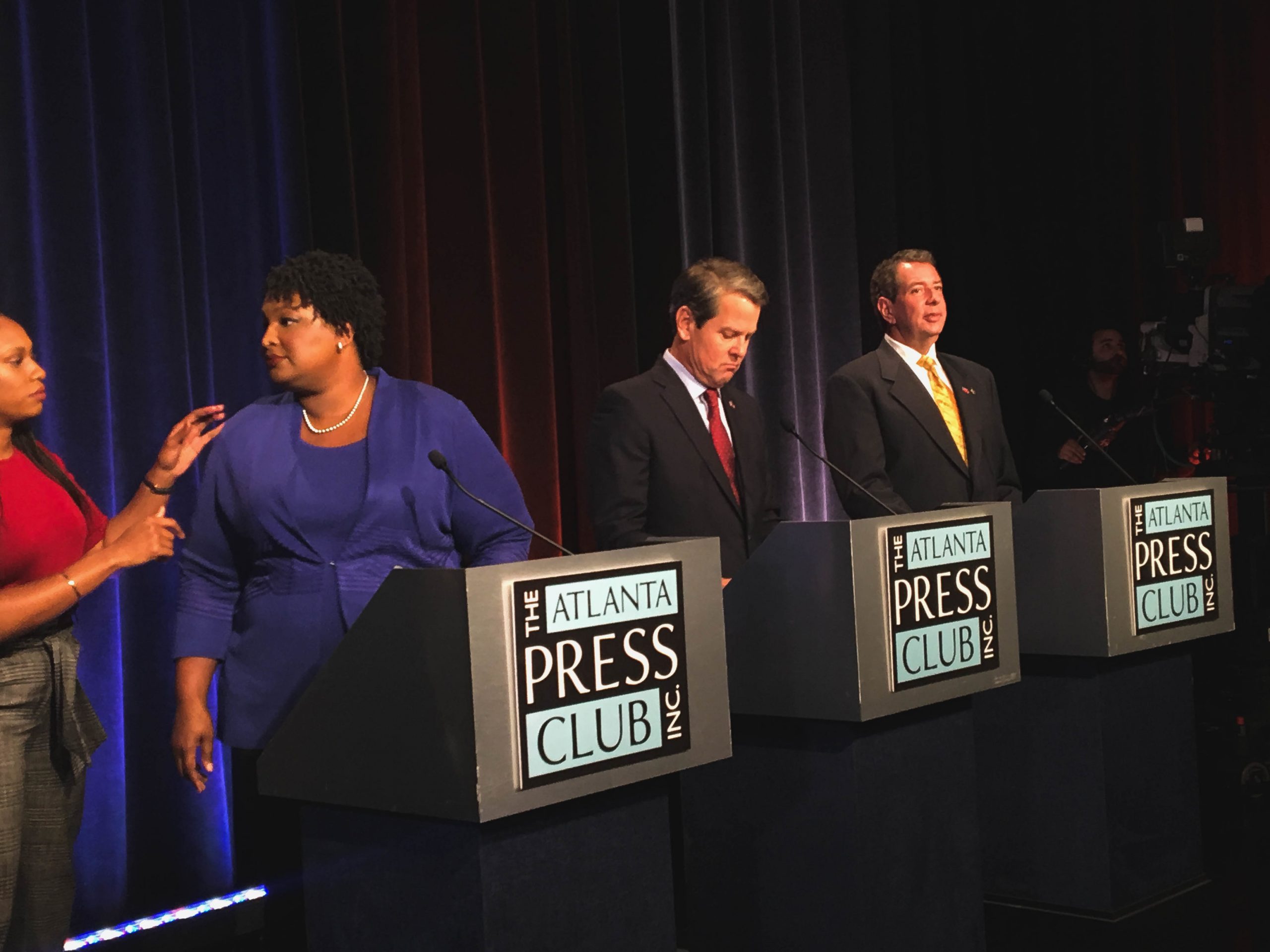 THE HIGHLIGHTS
On Oct. 23, a live debate between the three candidates for governor of Georgia was held at the Georgia Public Broadcasting (GPB) studio through the Atlanta Press Club Young-Loudermilk Debate Series.
Prior to the debate, reporters were given opportunity for photos of the candidates. Abrams was not present for this, as she was seemingly late on set, arriving just three minutes before the debate.
At 7 p.m., the debate began between Democratic candidate Stacey Abrams, Republican candidate Brian Kemp and Libertarian candidate Ted Metz.
Only minutes into the debate, Metz received his second question right as a fire alarm sounded in the studio.
"What is that noise?" Metz said as the moderator quickly improvised on the live broadcast.
Lisa Rayam, the moderator from GPB, elected to take a short break in order to keep the debate fair and allow Metz's response to be heard. In the media room, the pool of reporters sat in awe of the situation, some laughing at the fortuity of the event.
After the interruption, Abrams was questioned on news that broke just today of her burning a Georgia flag during a protest in 1992.
The debate ran heated between Abrams and Kemp, who repeatedly fired remarks between each other, often ignoring Metz entirely. When they were given a chance to question Metz, Abrams and Kemp both almost always used their questions as a chance to challenge each other rather than truly inquire into Metz's political vision.
A heated discussion about Deferred Action for Childhood Arrivals (DACA) program recipients' eligibility for in-state tuition and the Georgia HOPE scholarship developed between Abrams and Kemp.
"I must have missed the question, I suppose," Metz said when given a chance to join the discussion.
Kemp twice raised a concern to the moderator directly about having the opportunity to rebut his opponents' remarks. When Kemp said he should be allowed to rebut, the moderator said she would only allow him 20 seconds.
"I don't think that's correct," Kemp said.
Following a discussion between Abrams and Metz, the moderator moved to the next question when Kemp spoke up.
"Don't I get a response?" Kemp said. "Because [of] the rebuttal to the question I answered (sic)?"
Concerns of voter suppression by Kemp's office were routinely raised throughout the debate.
Following several rounds of questions, each candidate delivered a closing statement.
"This is a state that needs to move forward. I'm the only candidate with a strong record in bipartisan leadership and with a clear, comprehensive plan about what to do next," Abrams said.
She said she wants to educate Georgia's children, invest in small businesses, create new jobs through advanced industry and agriculture and protect local law enforcement.
"I've learned the values of family, faith, service and responsibility from my parents and those are the values I take when I lead Georgia, and I humbly ask for your vote," Abrams said.
Metz asked for the vote of the viewers who are tired of the two-party system, as a protest vote. He said he wants to hold the government accountable and provide an equal playing field.
"Basically being a libertarian is: Leave me alone, don't tell me what to do and don't steal my stuff," Metz said.
Kemp began his remarks with attacks against Abrams, in which he said she is lying about his record, wants to raise taxes, create a bigger government and a radical government takeover of healthcare.
"This election is a fight for our future," Kemp said. "My opponent is running the most dishonest campaign Georgian's have ever seen."
Kemp called for Georgia to vote for him so he can fight for conservative values and the second amendment, raise teacher pay and protect the HOPE scholarship.
"This race is about the soul of our future, and I'd be honored to have your vote," Kemp said.
Following the debate, Metz was the only candidate to stay behind to take reporters' questions.
Given the opportunity, The Signal asked Metz about his plan for the college-aged demographic and Georgia State students specifically.
"What we need to address is what sort of fields we need to be studying, we need more people in technology and innovative chemistry," Metz said.
He acknowledged the large amount of debt many students are in today and the hope to ensure them of a job after college.
"I want Georgia State students' vote because I'm sure one party or the other doesn't really represent your values," Metz said. "But I'm sure the Libertarian party does."
Abrams and Kemp both declined to participate in press questioning, and left the room as reporters entered.
"I may only have one ear," Metz said. "But that means I listen twice as hard as all of the other candidates."
THE DETAIL
The first round of questions was brought by a panel of journalists, Greg Bluestein, Elwyn Lopez and Frank Malloy.
Metz was the first recipient of a question: How does he propose to eliminate income and property tax and raise sales tax, and how he will sell that to low income individuals?
"It's really because we have an electronic system, where we can use a card as a discount on taxation, right at the checkout counter," Metz said.
Abrams was questioned next on the news of her burning a Georgia flag during a protest in 1992.
"Twenty-six years ago as a college freshman, I, along with many other Georgians and the governor of Georgia, was deeply disturbed with the racial divisiveness that was embedded in the state flag with that confederate symbol," Abrams said. "I took an action of peaceful protest, and ten years later my opponent, Brian Kemp, actually voted to remove that symbol."
Kemp was questioned on demands by Abrams and her allies to resign as the state's top election overseer. He was asked if he believes he can impartially oversee the state's election while also running for governor himself. Bluestein also asked if he would recuse himself if a vote recount is deemed necessary.
"I took an oath of office to serve as secretary of state and that's exactly what I'm going to continue to do," Kemp said. "It's the county election officials that hold the election and their local bipartisan election boards tally the votes … In the instance of a recount, that's automatic by state law if at lower than one percent, that again is something that the counties do."
Kemp said that local bipartisan election boards tally the votes and in the instance of a recount, that, too, is done on the local level.
Metz was given the question of how he plans to cut spending through elimination of what he calls obsolete, unconstitutional agencies. He responded, following the fire alarm incident, that the services he wants to eliminate will not be going away; rather, they would be absorbed into other departments to improve efficiency.
Abrams was next asked about expanding Medicaid and how possible it will be working with a Republican-controlled legislature. Abrams said she knows how to work across the aisle.
"With the expansion of Medicaid, we can save rural hospitals, cover more than 500,000 Georgians, including the creation of 56,000 jobs," Abrams said. "Unless we expand Medicaid, draw down the $3 billion to which we are entitled and invest it in Georgia, we will not be able to build the strongest Georgia we need."
Kemp was questioned next on if the over 20,000 DACA recipients in Georgia, who pay state taxes, should be allowed to go to colleges at in-state tuition rates.
"No, I do not," Kemp said. "I've been running my whole campaign on putting Georgia first. Unlike Mrs. Abrams, who wants to give HOPE scholarship and in-state tuition to those who are here illegally, I think we need to continue to fight for our own people."
Abrams requested to rebut his statement, in which she said that any graduate of high school in Georgia should have access to HOPE, regardless of DACA status.
"On immigration, I think we should have some sort of program where people can register and be here legally," Metz also responded, though he seemed visibly confused about the topic.
In the second round, the candidates were each given an opportunity to ask one question to each other.
Kemp posed a question to Metz on Abrams' healthcare plan, Metz turned the question around to his own plan.
"[With a healthcare membership,] the Band-Aids and sniffles coverage is much more affordable, and the expensive stuff we can cover through a Georgia pool for all people in Georgia," Metz said.
Abrams chimed in and said that she is the only candidate with a comprehensive solution to a healthcare plan.
Kemp said that Abrams' healthcare plan would cause a rise in taxes whereas his healthcare plan would help save rural hospitals and protect those with pre-existing conditions.
Metz next asked Abrams if Kemp's track record as the state's election official qualifies him for a higher office. Abrams said that his record as secretary of state, as a business owner and as a legislator demonstrate he does not deserve a promotion. Metz rebutted, mentioning Abrams' own debt.
"I will never walk away from my responsibilities," Abrams said, acknowledging her payment plan to pay off her debt.
Kemp argued at this time for a rebuttal and responded saying the specific claims made by Abrams were false.
Abrams said that over 3,000 local law enforcement are on food stamps due to low pay, and she asked Kemp why he believes the responsibility belongs to counties and local government to address that, not to the governor.
"Your taxes would go up $13,000 per person to pay for that," Kemp said.
"Once again my candidate is being misleading and cherry-picking data," Abrams said.
Kemp next asked Abrams about a video that surfaced earlier this week in which Kemp said Abrams requested illegal immigrants to vote for her. Abrams denied Kemp's claims.
"What I have asked for is that you allow those who are able to legally to vote to cast their ballots," Abrams said.
"Your tendency is to blame everyone else for the mistakes that you make. My responsibility as a leader is to a see a problem and try to solve it," she said. "When I saw people unlawfully denied the right to vote, I worked to make certain that we held you accountable."
Metz weighed in next and said that Abrams takes money from donors to be used for the New Georgia Project. Abrams responded and said she is no longer involved with the New Georgia Project and her campaign operates as a separate organization.
Metz asked Kemp about Abrams' qualification as governor and Kemp targeted Abrams' debt in his response. She responded that her debt is due to Hurricane Katrina's destruction of her parents' church and her payment for her father's cancer treatment.
Following these questions, the panel of journalists asked an assortment of questions to various candidates before the debate ran out of time.
In this time, Metz gave firm support for the use of industrial hemp, especially for the purposes of drawing carbon dioxide out of the atmosphere and creating better baby food.
"The drug epidemic is facing all of our state," Kemp said. "It doesn't matter what demographic. I'm planning to go after drug cartels and street gangs."
Abrams was then asked about the elimination of cash-bond requirements for some offenders in the city of Atlanta.
"[Governor Nathan Deal and I] recognize that [cash bail] criminalizes being poor," Abrams said.
The moderator then proposed a question for Kemp directly.
"Can you stand here tonight and say, as overseer of our state's elections, there is no attempt on your part or your campaign's to suppress the minority vote, that would likely benefit a minority candidate, who you are in a statistical dead heat according to recent polls?" Rayam said.
"Absolutely not," Kemp said. "Voters should look at the numbers and know that this is all a distraction to take away from Mrs. Abrams' extreme agenda."
Abrams rebutted, pointing out several actions of Kemp's that she believes demonstrates voter suppression.
"Voter suppression isn't only about blocking the vote, it's about creating an atmosphere of fear, making people worry that their votes may not count," Abrams said.
Kemp said that Abrams is to blame for the issue of 53,000 voter applicants holding a 'pending' status due to her campaign's use of paper registrations, and that President Barack Obama's justice department pre-cleared the removal of registrations from pending lists because of mismatched information.
"If you want blame someone, blame Obama," Kemp said.
Metz jumped in to the conversation, in which he said voter turnout is a greater issue than voter suppression.
"It's much ado about nothing," Metz said.