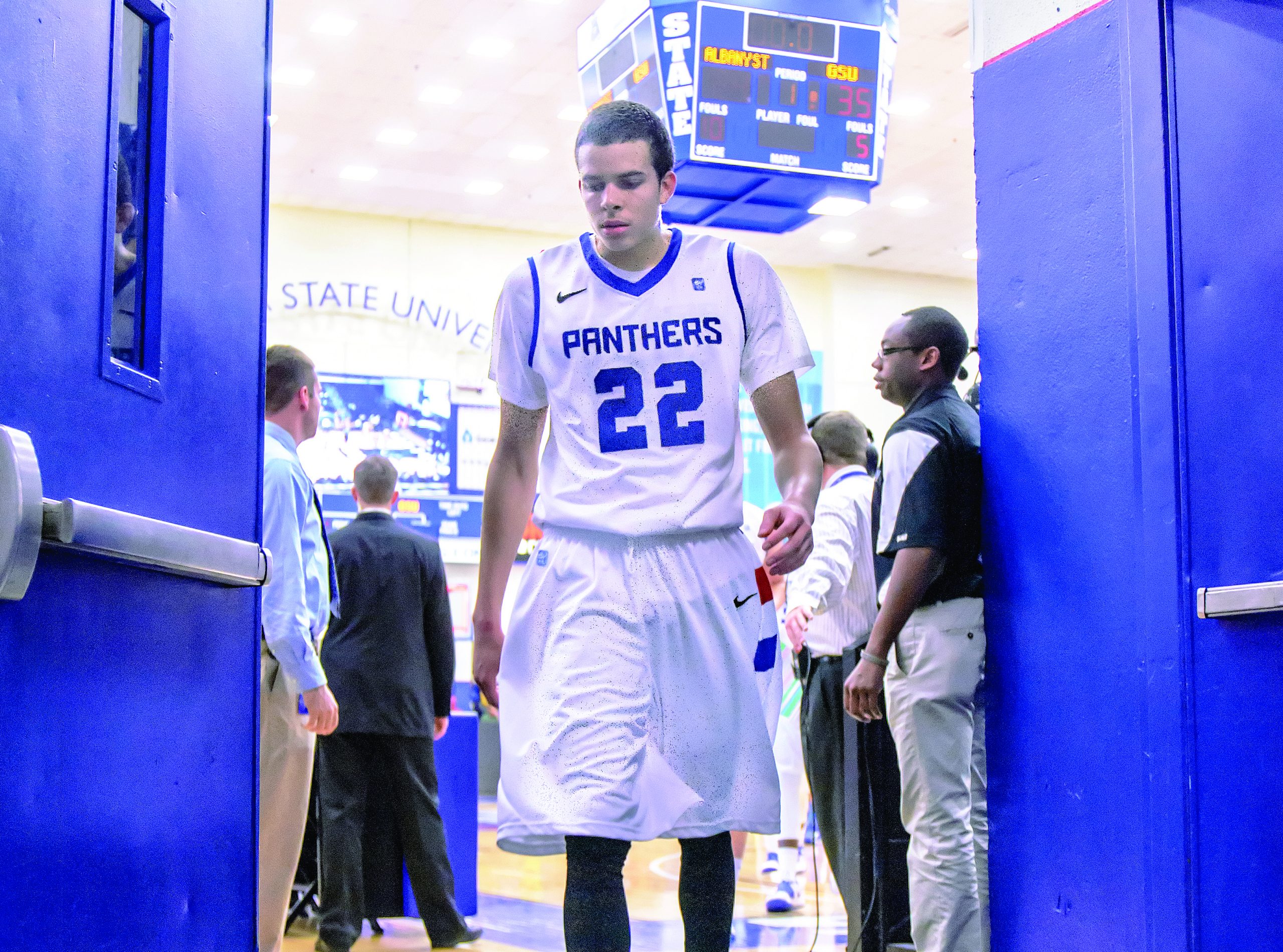 Let's dream chase. Thank you GSU for everything!! I'm blessed man

— RJ Hunter (@RJH_22) March 30, 2015
After weeks of speculation, Georgia State junior point guard R.J. Hunter has made it official — he intends to declare for the NBA Draft. On the morning of Monday, March 30, Yahoo Sports' Adrian Wojnarowski tweeted that Hunter intended to declare for the Draft. Hunter confirmed it in a report from the Atlanta Journal-Constitution (AJC).
I'm really happy for my son RJ on his decision to turn Pro. He is a great son and to see my sons dreams come true is every fathers wish.

— Ron Hunter (@coachrhunter) March 30, 2015
He said that he called a meeting of his teammates this morning in the team locker room and announced that he was turning pro. Hunter also says that he plans to sign with an agent within the next two weeks.
"I'm excited for him. He's one of my great friends," Devonta White, a teammate of Hunter's from 2012-2014 said. "Very happy for him and his family and Coach [Ron] Hunter. I wish him nothing but the best of luck. He'll go down as the best player in Georgia State history."
Given Hunter's status within the realm of Georgia State Athletics, a question remains on the possibility that his number 22 will be retired and hung at the top of the Sports Arena.
"They should get to that 'tomorrow,'" White said.
The Panthers' junior point guard also said he talked to his former teammates when contemplating whether or not to join the league. One in particular gave him a lot of advice.
"Actually, while I was thinking, I was with Devonta [White] the whole time," R.J. Hunter said. "Devonta's the guy that's going to keep it real with you. So, he just told me to 'do what's in your heart and do what's in your mind.'"
At a media availability session at the Sports Arena today, Ron Hunter said he wanted to ensure that if his son made the leap to enter the Draft, he was completely committed.
"If we hadn't have made the NCAA tournament, R.J. probably would've came back," he said. "Because that's something we wanted to do together, and we would've gave that one more try."
Hunter was projected to be a first-round draft pick prior to the season if he were to declare for the draft. His pro prospects were also said to be on the rise after having impressive performances at skills camps last year hosted by NBA superstars LeBron James and Kevin Durant.
Various Draft boards have him listed as anywhere from a mid-to-late first round pick to a second-round pick.
The Panthers' star guard rose to national prominence in this season's NCAA tournament when he made a game-winning three-pointer to defeat the three-seeded Baylor Bears in the second round.
"NBA scouts have been looking at him for a while," former teammate Devonta White said. "It may be a surprise to the rest of the country, but his name was already well-known."
According to a Georgia State press release, scouts from 26 NBA teams made their way to the Sports Arena this year. The ones that did not send scouts were the Denver Nuggets, Chicago Bulls, Boston Celtics and Golden State Warriors.
He finished the 2014-15 season averaging nearly 20 points a game for the Panthers.
Hunter will depart as the Panthers' all-time leading scorer. He broke former Panther Rodney Hamilton's all-time scoring mark on Jan. 24 at the Sports Arena in a 75-64 victory over Sun Belt rival Louisiana-Lafayette.
The record was previously held by Rodney Hamilton who played for the Panthers from 1994 to 1998.
The NBA holds its annual combine for potential draftees this May in Chicago.