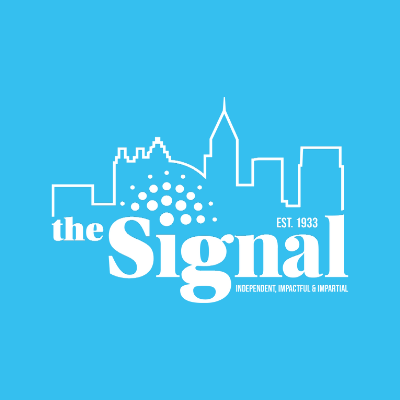 The Sun Belt Indoor Track and Field Championships from Birmingham, Alabama concluded with Georgia State track and field placing fifth as a team with 82.50 points. Junior Panthers sprinter Ravin Gilbert won an individual Sun Belt championship in the 60 meter dash with a time of 7.48 seconds.
Gilbert also notched a 7.48 second effort in the prelims of the 60 meters. Brewer had a 7.68 second effort for 11th while Randolph placed 14th at 7.73. Gilbert was the only Panther to qualify for the finals and finished .03 seconds ahead of second-place Kristina Knott (Arkansas State) to claim victory.
Gilbert, Brewer and Randolph also were part of the women's 200 meter dash. Both Gilbert and Brewer qualified for the finals after finishing in the top eight for the prelims. Gilbert timed in at 24.62 seconds for fifth and Brewer finished at 24.64 for sixth. Randolph's 26.84 outing had her at 28th.
In the finals, Gilbert placed fourth with a 24.31 second performance. Brewer's 25.02 earned her fifth. The event was won by the Red Wolves' Knott at 24.04 seconds.
The women's shot  featured LaPorscha Wells, Alysiah Whittaker, Sharonda Bryant and Carresa Reeves representing the Panthers. Wells' 15.32 meter effort earned her second place. Whittaker went 14.63 meters to earn her a sixth place outing. Bryant's 13.34 meter performance placed her in 11th and Reeves would end up at 14th [12.88 meters]. Talore Kelly of Texas State won the shot at 15.69 meters.
Wells also finished second in the weight throw at 19.01 meters. Tracy Dorcemont's 17.55 meter performance placed her in seventh. Reeves claimed eighth place with a throw of 17.42 meters and a 16.29 meter effort by Whittaker earned her 14th. The Bobcats' Kelly bested Wells by .04 meters at 19.05.
Georgia State would be represented by Jasmyne Robinson and Carole Idolphine in the women's 400 meters. Robinson took 11th place with a 57.56 second outing. Idolphine timed in at 58.75 seconds for 15th. Erika Chastain of Arkansas State had a 55.81 second outing for first in the prelims, but Texas State's Sydni Willis took home the top spot in the finals with a 55.32.
Both Georgia State participants in the women's 800 meters would qualify for the finals. The Panthers' Stella Christoforou placed fifth as she completed her course in 2:14.02 minutes. Nuria Ramirez had a 2:14.13 minute performance for sixth. Ashly Wright of UT-Arlington placed first at 2:13.07 minutes.
In the finals of the event, Christoforou's 2:15.13 earned her fourth place. Ramirez's 2:20.50 had her in eighth place out of the eight participants. Kelci Lyons of Louisiana-Lafayette won the women's 400 meters at 2:11.08 minutes.
Christoforou, along with Niamh Kearney and Hannah Stefanoff would wear the Georgia State participated in the  women's one mile run. Kearney's 4:58.01 timing earned her fourth. Stefanoff finished behind Kearney at fifth with a 4:58.54 minute performance. Christoforou finished in 5:12.18, but it would be University of Arkansas-Little Rock [UALR] representative Emma Dahl's 4:57.00 minute effort to win first for the Trojans.
Stefanoff also made appearances in the women's 3,000 and 5,000 meters. Stefanoff placed fourth in the 3,000 at 9:51.85 an third in the 5,000 at 17:04.28 minutes.
UALR's Dahl claimed the top spot in the 3,000 at 9:41.76 while Appalachian State's Tristan Van Ord would be victorious in the 5,000 with a 16:39.75 minute outing.
In the preliminaries of the women's 60 meter hurdles, Georgia State's Allyson Goff tied for first [with Arkansas State's Emenderlyn Iwuji] at 8.64 seconds to qualify for the finals. Danielle Livingstone completed her course in 9.20 seconds for 14th place.
Goff placed fourth in the finals at 8.71 seconds. Texas State's Antonisha Stewart placed first with an 8.57 time.
The Panthers finished fifth in both the 4×400 meter relay [3:53.51 minutes] and in the distance medley relay [12:05.22 minutes]. UT-Arlington won both events, claiming the 4×400 in 3:47.65 minutes and the medley in 11:51.50.
Nylah Chavis, in the women's high jump, placed fifth at 1.72 meters as Chelsie Decoud of Texas State won at 1.75 meters.
Randolph and Livingstone participated for Georgia State in the women's long jump. Randolph went 5.34 meters for fifteenth while Livingstone's 5.04 meter outing placed her at 23rd. Another Texas State Bobcat, Allie Saunders, won the event with a distance of 5.95 meters.
Texas State won the team event with 147.50 points.
With the indoor track and field slate in the books, the outdoor track and field season for the Panthers will begin Mar. 14 with the Jacksonville State Invitational.