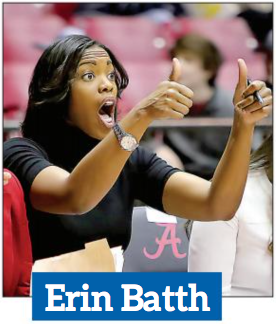 Georgia State's assistant coaches have all taken a unique path before becoming an assistant for the Panthers. Assistant coaches Erin Batth, Kelly Mathis and Latricia Trammell are experienced coaches and players, so they all bring something different to the table. See how their basketball experiences helped them with this unique opportunity.
Erin Batth
Coach Erin Batth is from Marietta, Georgia  where she  graduated from Lassiter High School. Batth went on to play for Clemson University, and she was eventually drafted by the Cleveland Rockers. She also played overseas in Greece and Turkey.
Being a native of Georgia, how is it being able to coach in your home state?
Batth: It's awesome! I love it here. I've been living here since I was five, so it's huge. Plus there's so much talent here in Georgia, so it's great for recruiting. And then it's easy to stay at home.
How do you think your play career has helped you as a coach?
Batth: I've been coached by so many different types of coaches so that helps too with the offensive and defensive schemes, even playing overseas, learning the language through basketball too. But it's definitely me as a coach just knowing how it feels, when to run and knowing when your coach asks for more knowing that you're not going to die, it's going to be alright. Being able to relate to players too because I actually played myself that's helped me with understanding the post moves, all kinds of things. If you teach what you've done before it's just so easy.
What's your favorite position to coach?
Batth: Center, post player because that's the position that I've always really played. When I went overseas, I got a chance to play the three, so I worked on shooting threes, but that would never happen at Clemson, my coach would blow up if he knew. Definitely the post position, I love the power of the game, the footwork that it takes the physicality of the game, I love it.
I see that you worked with a WNBA team, how was that?
Batth: It was great! I worked for the Sacramento Kings and the Monarchs and that's a totally different world, too. The elite players all coming together it's ridiculous. Responsibilities are a bit different because it's their jobs. I learned so much from the business side of it as well.  
Kelly Mathis
Coach Kelly Mathis is a native of Maryville, Tennessee where she graduated from Maryville High School. Mathis played her college ball at Pfeiffer. Mathis has also worked on staff at the University of Georgia and Florida State.
How is your first year at Georgia State going?
Mathis: I love it, I really do. It's been a great transition with the people that I'm surrounded by, the people that I work with. It's been a very easy transition.
You've had some experience at some major D-I schools, how did that go and how do you think that's helping you here?
Mathis: I was able to observe a lot, so now when I'm out here teaching I'm able to put what I've observed to work, being able to coach and motivate and also how you speak to the players, that's very, very important. How you explain it where they understand but also being able to listen to when they need to speak up as well, that's very helpful. Especially learning under some of the best in the business.
Which do you like more playing or coaching?
Mathis: I loved playing, but I tore three ACL's and I had two other knee surgeries so I was sidelined a lot and I knew my calling was to coach. I was able to help a lot of my teammates when I was sitting out, they looked to me more as someone they could ask questions to.
What's your favorite thing about coaching?
Mathis: I love the interaction with our players and I love being able to just motivate and pushing them to somewhere they thought they could never go.
Who is the best athlete you've coached or been around?
Mathis: I wasn't around him a lot but every year I would work Davidson basketball camps. So I saw the work ethic that Steph Curry put in before he became what he is now. He was phenomenal at Davidson, but the work that he put in. He was in there before camp at 6 or 7 a.m., he came in during lunch break, and he would come back afterward. Most of us that were college players we would play pickup afterward, but he would always be in the gym.
Latricia Trammell
Coach Trammell is a native of Claremore, Oklahoma. She attended Seminole High School in Texas where she scored 46 points in a game, which at the time was a Texas state record. Trammell coached at Western State, Denton, North Texas and Oklahoma City (OKC). While at OKC, she led her team to a National Championship during the 2013-14 season.
How do you think your experiences at OKC have helped you here at Georgia State?
Trammell: I think the past 23 years has helped me for this experience, but anytime you have head coaching experience come in and be in an assistant position, definitely I have a better understanding of what Coach [Sharon Baldwin] BT wants and why she has to make some of the tough decisions that she does and so I can help deliver that to the team in more of a positive light.
Was it tough for you to take a role as an assistant coach after being a head coach?
Trammell: If you think about learning, one of the big steps into that is to stretch yourself. So I knew that this would be a new challenge for me, it would be a way for me to stretch and grow and especially at this level and so at times you struggle but Coach [Sharon Baldwin] BT is so easy to work with and she gives us a lot of responsibilities so it really has been a positive experience for me.
What's your favorite thing about coaching?
Trammell: Honestly, the biggest thing I love about coaching is that when you teach something on the floor and you see the players be successful and carry that over. I think that says a lot about what we do, we're teachers of the game. So when your student basically applies those things that you taught them it really is a rewarding experience.
I saw when you were in high school you scored 46 points in a game?
Trammell: I was one of those gym rats. My brother was the head boys basketball coach at my high school. So I would practice two hours with my team and he would have me stay and go two hours with his boy's team, so I was always used to going against the guys. It's interesting because now as a coach, I'm more defensive-minded but as a player, I was offensive-minded.