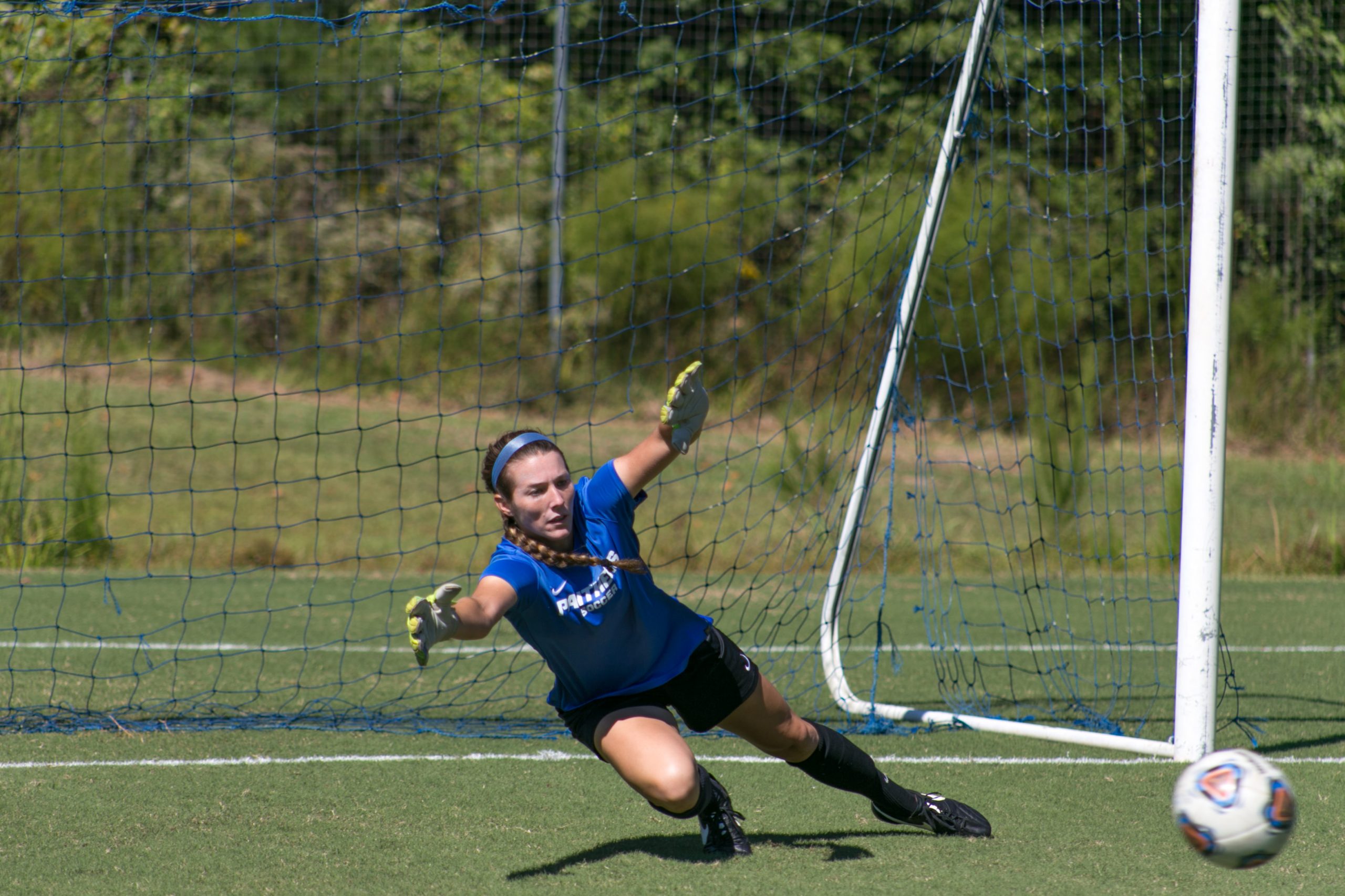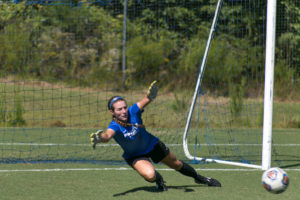 Coming off an injury last season, Georgia State's goalkeeper Brie Haynes is having a comeback player of the year caliber season so far. In just 11 games this season, the redshirt junior has 62 saves on the season and seven shutout games. She is averaging a save percentage of 83 percent. The Panthers are currently 4-3-4 on the season and are 1-1-2 in conference play after forcing their seventh shutout of the season in a draw against Appalachian State.
Haynes doesn't think she is the sole contributor to her success; rather it's her teammates and coaches that helped her become so successful this season.
"I think that the coaching staff has done a great job of organizing practices and communicating expectations of the girls this season," Haynes said. "The team has overcome the adversity and managed to pull off seven shutouts, which is awesome."
It is not easy coming back from an injury and playing at such a high level. However, Haynes seems to have found a way to come back even stronger.
"It was extremely tough when I received the news that my injury would keep me from seeing another game that fall," Haynes said. "In the offseason,  I used that as motivation mentally and physically in practice and in the weight room to comeback focused and prepared for this season."
Haynes was more than prepared for this season and was probably the Panthers' missing link last season. Last season, Haynes suffered an injury after the second game and Christa Fox took over. Fox finished the season with 69 saves and had five shutout games. In just 11 games this season, Haynes is only seven saves behind Fox's total last season, and she already has more shutout games. With Haynes and Fox working together, the outcome of the Sun Belt Championship might have turned out differently last year.
The potential for Haynes was already high after her freshman year. She started in 17 games and led the Sun Belt Conference in saves with 105 and saves per game with six. Her sophomore season was just as good, having had six shutouts on the year, including four games in a row. In fact, she set a school record for not allowing a goal in 496 minutes straight. It is no surprise that despite having a year off due to injury, she hasn't lost a step as she continues to improve each year.
Leader of the backline
The Panthers came into this season with eight newcomers, seven of which are freshmen. Five of the seven freshmen have already seen playing time, especially Erin Rhodes and Brooke Shank who have played in all 11 games this season.
With so many freshmen on the team, Haynes feels like her role on the team is to be a leader just like her other upper-class teammates.  
"This year we happen to have a large amount of young players many of which see a large amount of game time," Haynes said. "I think that it's important that the newcomers have other girls' to look up to for guidance and help when needed. I think myself along with the other girls do a good job of this."
Haynes has done a good job of protecting her backline and being the leader for them despite the numerous injuries they've had back there.
"My back line has been different almost every game due to injuries which is very unusual," Haynes said.
Despite having so many different lineups in front of her, she has managed to lead the team to seven shutouts which are incredible for just 11 games. Haynes and her teammates have also been using last year's success as motivation for their newcomers.
"After making to the conference championship last season, the girls that were here have been showing the newcomers what it takes to get there," Haynes said. "I think the motivation and work ethic from the entire team has been outstanding so far."
With so many injuries and freshman getting so much playing time this early, having a positive record and tied for first in the conference for shutouts is remarkable. Still, despite the success, Haynes feels the team still has more goals to reach for the rest of the season.
"I'd like to see the team make it to the conference championship again this year, and obviously along with my backline get a few more shutouts as we continue into conference play," Haynes said.
Haynes already leads the Sun Belt Conference in shutouts and the fact that she still wants to get more shutouts proves why she is a player that is constantly improving no matter what is thrown her way.
Family is her backline
In soccer, Haynes will always be the leader of her backline at Georgia State, but at home, her family is her true backline in life.
"I grew up north of Atlanta in Forsyth County," Haynes said. "There was always something going on in my house as I had four other siblings. My parents were always super supportive throughout grade school both academically and in athletics. I wouldn't be where I am today without them."
Haynes' parents had her doing sports ever since she was a little girl. If it weren't for her parents having Haynes playing different sports, perhaps she wouldn't have found her true talent in soccer.
"My parents suited me up for soccer practice and games since I was 3-years-old," Haynes said. "I played basketball and volleyball growing up as well, but soccer ended up sticking."
Growing up just north of Atlanta, it is no surprise why it was easy for Haynes to
"I've always dreamed of playing soccer in college and was given the opportunity to play at Georgia State," Haynes said. "I liked that it was a great university close to home. After being here for some time,  I've fallen in love with the team, coaches and everything Georgia State has to offer."