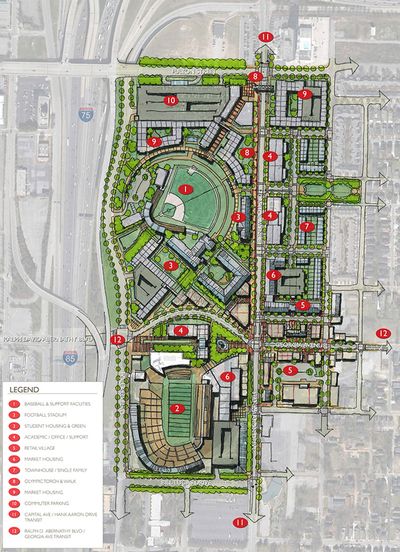 Georgia State University President Dr. Mark Becker said everyone involved with Georgia State's proposal on Turner Field will begin working now to prepare for a proposal that could happen at any given day.

Becker released plans Wednesday to buy Turner Field and the surrounding 77 acres of land along with developer Carter and Associates to build a new 30,000-seat football stadium, baseball stadium, on-campus housing and other Georgia State facilities along with private market places and residencies.

"Turner Field presents an opportunity that I don't see any other way we could have, which is to bring baseball downtown, bring soccer, track and field, and, with soccer, you might as well do football," Becker said.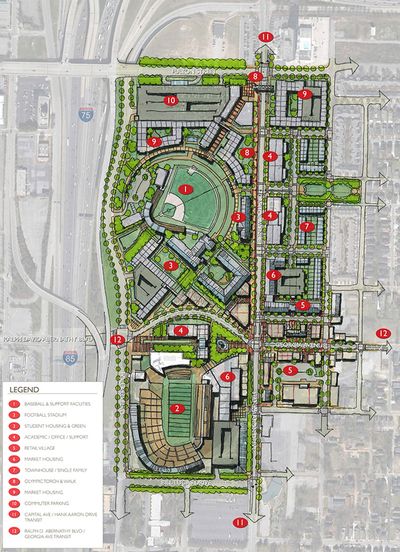 Becker said Carter called him in January saying they had ideas for a development of Turner Field that could involve Georgia State. Becker said he immediately was interested, and had been since the day the Braves announced they were leaving the stadium last November.
"The first thing at the top of my mind was move athletics out of Panthersville to Downtown," Becker said when he received the call.
The University released the development plans Wednesday because it signed the agreement with Carter Wednesday, according to Becker. Up to that point, the two sides had only been discussing what could be done with the land.
Carter, a national development firm headquartered in Atlanta, said the project would total roughly $300 million.
Becker said he estimates 30 to 40 percent of that cost to involve Georgia State's facilities, but he called those numbers "intelligent guesses" and cannot be sure of the price tag until the University Foundation conducts its feasible study.
Of the 77 acres to be developed, Becker said Georgia State's portion would roughly total 30 acres.
The University Foundation will begin work to figure out how much land Georgia State actually needs, how many seats the stadiums need, how much student parking is needed, as well as other components of the project such as creating a timeline and a budget.

Becker said everyone working on the project now needs to get their "ducks in a row" as there is no telling when the recreational authority selling Turner Field will announce a date for selling the land.
There are three to four other developers interested in Turner Field, according to Atlanta Mayor Kasim Reed.
The AJC reported Thursday evening that at least three other developers have made proposals including Majestic Realty and an Abu Dhabi-based investment fund.
A spokesperson for Reed confirmed Friday the mayor is not ready to commit to a plan on developing Turner Field.
"I'm confident that whatever we plan we commit to will be one that is good for the City of Atlanta, and the future of this important, historic area," Reed said.
The mayor's office told The Signal Friday that there is no timeline for submitting proposals or when they will decide on a proposal.
"We have to be ready…for that day because we'll have to make a proposal presumably to buy it," Becker said.

Where will the money come from?

It is too early in the process to determine how the University would pay for the proposed addition to the campus, according to Becker.
"We got people who will be working on that. Without a price tag, we don't know what the best approach is at this point," Becker said refusing to speculate.

11 Alive quoted Atlanta Mayor Kasim Reed Thursday saying he and the city of Atlanta will not be opening the checkbook for Georgia State.
"The taxpayers in the city of Atlanta would not be coming out-of-pocket anything," Reed said to 11 Alive.

Reed did say, however, that Georgia State's planned proposal would "represent a major step towards strengthening Georgia State University's position as one of the leading universities in the nation" and "the benefits to our city and to the university would be substantial."
Becker said the University has not ruled out the consideration of tax-payer money or public funds to go towards Georgia State's portion of the project.
"It's early in the game," Becker said not seeming to mind the Mayor's earlier statement.
The mayor's office neglected to comment on Becker's statement.
Wednesday's press release from the University announcing the proposal said the development "would be funded by public and private sources."
Becker does not expect student fees to pay for this, and said he will do everything he can to keep student fees from increasing, but cannot guarantee it if the proposal goes forward.
Convincing the neighborhood

The neighborhoods surrounding Turner Field have an invested interest in who develops Turner Field's 77 acres.
Becker said Georgia State's credibility in not only building structures, but also maintaining them while creating a safe environment, should help convince residents of neighborhoods such as Summerhill and Mecahnicsville that they can trust Georgia State.
"A very important part of the proposal that people shouldn't overlook is the bringing of retail in because retail really anchors all the housing in the Summerhill neighborhood [and] the Mechanicsville neighborhood," Becker said.

Becker also said that, unlike the Braves, Georgia State will likely be around in 100 years and will not leave Downtown thus continuing to develop the area and not abandon it.
"That's what we bring to the project. That credibility and long-term viability, and I think that makes our part of the project extremely attractive to the other partners of the project," he said.
Georgia State does not currently have a plan for meeting with residents of the surrounding neighborhoods, but will participate with Carter as appropriate, who has already begun the process, according to Becker.
"[Carter had] an initial meeting with neighborhood planning units as well as with the council person who represents that part of the state," Becker said.

Other sports not included

The University's proposal failed to mention other athletic sports who compete outside of Downtown, such as softball and tennis.
Becker said the land does not support a softball stadium to be build along with the proposed football and baseball stadiums, but the University is busy looking for land for it to have a stadium closer to Downtown.
"Softball is a smaller footprint then baseball or soccer, but we're working on that too," Becker said adding he does not know how long it will take.

When asked about the possibility of tennis being moved closer to campus, Becker seemed started, as if he had not thought about the program being moved closer.
He said they will now think about tennis' facilities and moving them closer to campus, especially with the success both the men's and women's tennis programs have been having.
The men's team won the 2013 Sun Belt championship, and the women's team won the 2014 Sun Belt championship. Both programs compete at Atlanta Athletic Club in Johns Creek, Georgia.
Panthersville

Panthersville is not suitable for an intercollegiate athletic program, according to Becker.
He made it clear that the point of the proposal was to get athletics out of Panthersville, Georgia, which is roughly 10 miles away from Downtown and is home to Georgia State baseball, softball and soccer.
"To my knowledge, I didn't know anybody that thought Panthersville was a great location," Becker said.
"We've been looking for a place to get baseball out of Panthersville for years. This did not just happen."

There has never been any land large enough to actually consider a move until now, according to Becker, and he said if baseball can be moved, why not move soccer and track and field out with it.
Becker did not say the University's future plans for Panthersville if all sports were to be removed from there.
The University along with the University System of Regents own Panthersville.
No Plan B

No land with this magnitude has been available in Downtown Atlanta in a long time, and Becker knows the situation is rare calling it a "once in a lifetime opportunity" for the University.
"Hopefully something works out," he said.

Becker said there is no Plan B with something of this magnitude that would open the gateway to expand the University's Downtown presence.
If the proposal falls through and the University does not get to develop the land, Becker said the University will still actively look for other places for Georgia State sports.
"It's just a lot harder," he said.

If Georgia State does not get the land, the University's priority will be parking as they will have to find a replacement for the thousands of commuter-students who park at Turner Field daily during the semester.
"We'd have to figure out how to deal with [parking] straight away," he said.
Athletics' Involvement
Georgia State Athletics had little involvement in the initial conversation between Carter and Georgia State, but now that the agreement between the two sides has been signed, Becker said Athletics with be "front and center from here on forward."
Athletic Director Cheryl Levick said she talked to Becker the day the Braves announced they were leaving Turner Field about possibly pursuing the land because of all that people who had reached out to her about it. She said Becker said he would look into it, and she backed off of it for a while.
Then, she began to learn of the University's proposals close to them being announced Wednesday.
Levick likes that the proposal is centered around the idea of a mixed-use development.
"That's what we need down here," Levick said "That's what will attract people to come, people to stay, people to spend money, people to come to campus, so I love that part."
"The opportunity to walk out of a dorm and walk over to watch a baseball game, how great is that?"
Levick called the proposed stadiums "benchmarks" for now, and, moving forward, Athletics will be involved at looking at precisely what it needs and can build.
Levick has talked to Georgia State's coaches such as football head coach Trent Miles and baseball head coach Greg Frady about the idea of moving their programs to Turner Field, and she said they were elated to hear about the proposals.
How Carter got involved

Becker said many developers came to the University about developing Turner Field, but he liked Carter's proposal the best because it connects the existing campus and is realistic.
Becker said Carter has a good track record of building developments of this magnitude and complexity like the plans released Wednesday.
Carter and Associates is the main developer of the project and drew up the plans that were released Wednesday.
They will be in charge of the private residencies, such as single-family residencies and town homes, and markets that are included on the plan. Georgia State will have little to no involvement in that part of the plan.