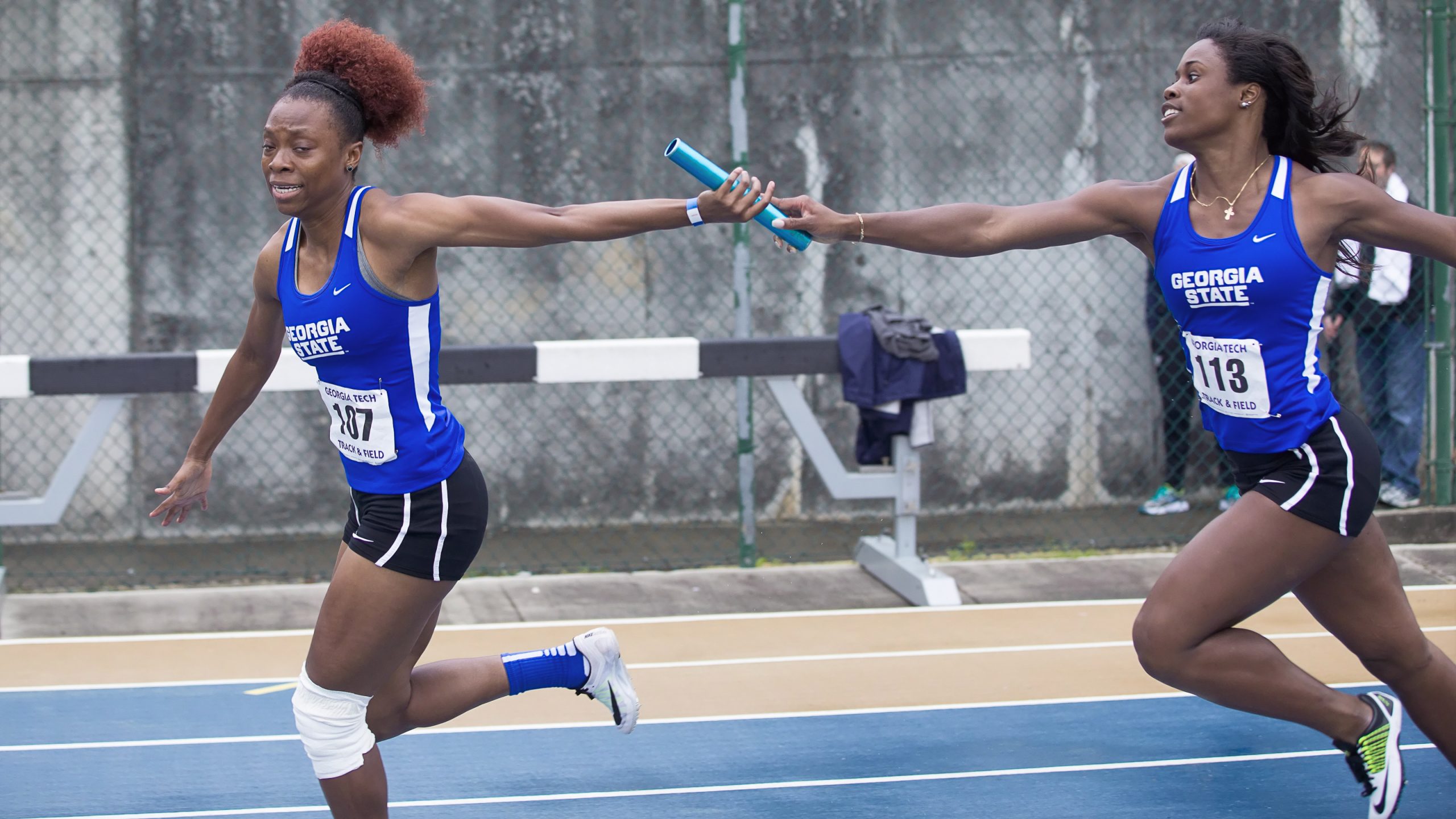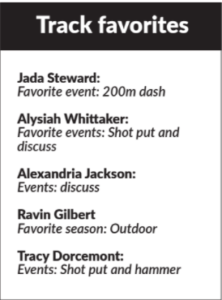 The Georgia State women's track and field team is now starting to hit its stride in competition, as they finish their indoor track season, and prepare for their outdoor season. They have several seniors preparing to take their last lap or make their last throws in competitions. Those seniors are Jada Stewart, Alysiah Whittaker, Alexandria Jackson, Ravin Gilbert and Tracy Dorcemont,
Steward is a transfer student from ADA college in Brooklyn. She is a native of Philadelphia, Pennsylvania. She decided to transfer to Georgia State for academic reasons.
"I would say the school, I like the surroundings. I like the city life and they had a really good business program, I had to change it to sociology, but the sociology program was good as well," Steward said.
Steward has been running track since she was four years old, and she gets her love for the sport from her mother who was also a track runner. She is a sprinter that runs the  60m, 100m, and 200m dashes along with the 4x100m relay.
"I like the 200 best because it takes me time to get my speed back up, so  I have enough time to get the ground reaction and finish my race," Steward said.
The start of a race is one of the more important parts so Steward makes sure that she focuses on that.
"My coach always tells me to count for six. Keep my head down for six steps and always attack the ground," Steward said.  "For a sprinter, you always have to be cocky, you have to be able to know your body, you have to be able to move fast if you don't have that in your body you just won't win your race. So start off we great speed hold it in the middle and just give it all you got."
Steward doesn't plan on running track after she graduates, she plans to start on her career.
Whittaker is a native of St. Louis, Missouri, where she attended Northwest High School. Whittaker actually didn't start participating in track until her freshman year of high school, where she was a four-time school record holder.
"I had three other offers from other schools and I came here my sophomore year of high school just for a visit because I didn't think I was going to run track in college," Whittaker said. "I came on a visit and it was my highest offer so I decided to take it since I wanted to come to Georgia State beforehand."
Now in college, she throws the shot put and the discuss. During the 2016 Sun Belt conference outdoor track finals, she placed second in the shot put.
Jackson is one of the throwers on the team and she throws the discuss. She is a Florida native and was a state finalist several times during her career. She started her track career during middle school and didn't like it at the start.
"At first I didn't like it my dad would force me to do it all of the time and then I ended up in high school and it just clicked. I started getting good at it and I basically fell in love with the sport," Jackson said.
Jackson has thrown shot put while in college, she recorded a personal best of (11.77) meters at the BSC Icebreaker during the 2015 indoor track season. She has a personal best of 41.80 meters in her primary even the discuss. The discuss is driven more by technique than actual strength.
"It deals with a lot of technique anybody can be strong and throw a discuss but it probably won't go far if you don't have technique," Jackson said.
Gilbert is a sprinter from Wesley Chapel, Florida. She is not eligible to run in the 2017 indoor season, but she can run during the 2017 outdoor season. She has been running track for eight years when she started running just for fun.
"Basically basketball season was over with, I was bored at home and all of my friends were on the track team, and for two years straight the track coach had been talking to me and telling me to come out, so one day I just went out there and I really enjoyed it so after that the rest is history," Gilbert said.
Gilbert runs the 55m, 60m, 100m and 200m dashes along with the 4×100 and 4×200 meter dashes. During her college career, she has qualified for the NCAA East preliminaries several times. During the 2016 indoor track season, she won the Sun Belt 60m title with a personal best time of( 7.36) seconds. She is also set the school record for the 4×100 meter dash with a time of (44.64).
Gilbert doesn't plan on running track after college, but she won't completely pass up an opportunity should one be provided to her. She wants to get started on her career and being a part of a non-profit to help the youth.
"Helping kids develop into a young adult, help them get into college because where I'm from not many people have that many resources so I want to help kids get to the next level," Gilbert said.
Dorcemont is a hometown girl. She is from Roswell, Georgia. She started track when she was a sophomore in high school. She currently throws the hammer and weight but has thrown discuss and shot put before.
She has set personal marks in the discuss and the hammer during her time at Georgia State. She threw (37.77m) during the Lady gamecock quad meet, and threw (53.72m) in the hammer during the the Georgia Tech invitational. Dorcemont doesn't like to think much when she gets ready to throw.
"Just clear your mind," Dorcemont said." You say whatever motivational thing you have to say to yourself before you get in the circle and once you get in the circle you just clear your mind and throw."