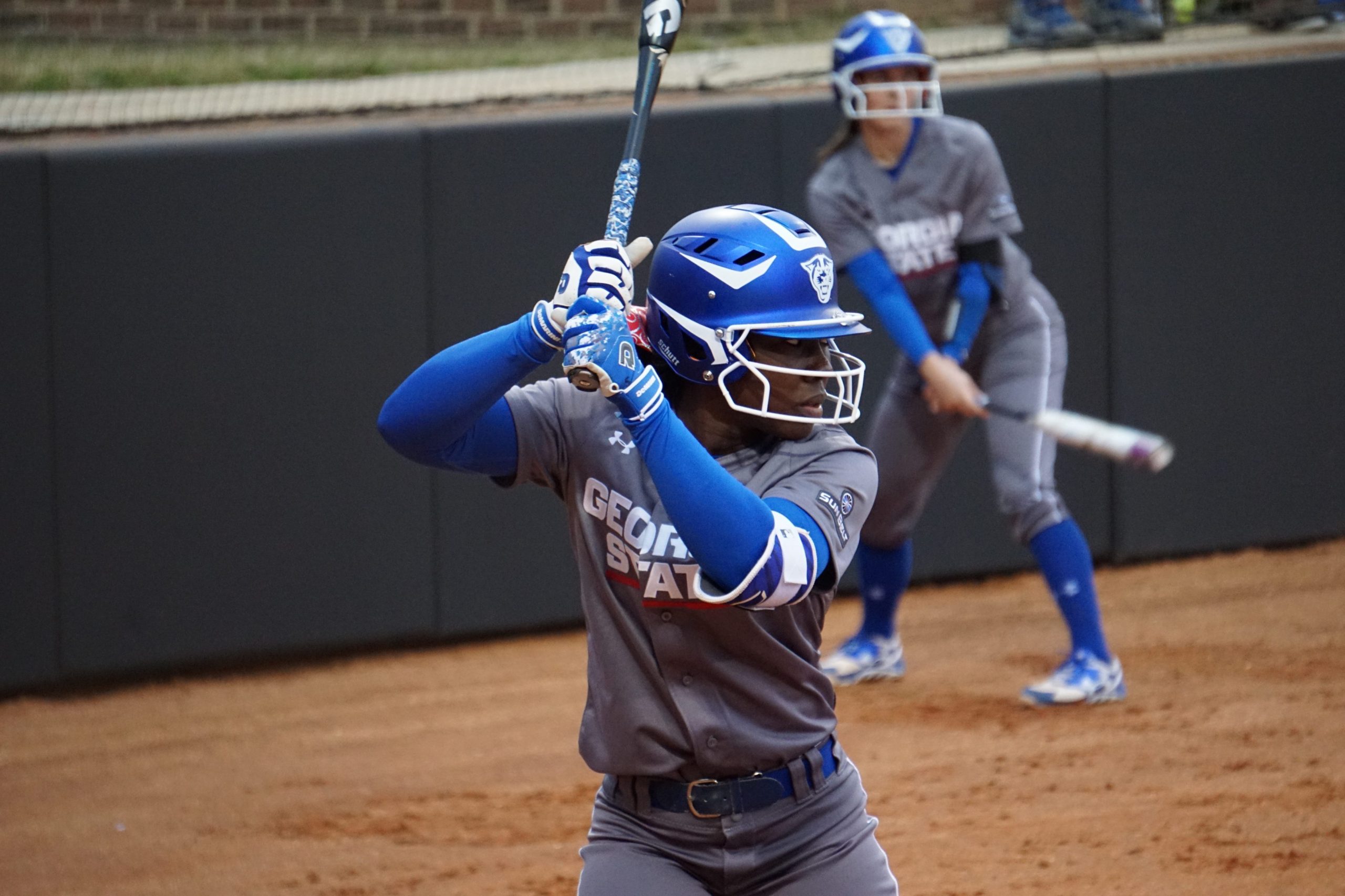 Megan Litumbe wrapped up two stellar seasons, and was on her way to having a strong junior season when she tore her ACL after just four games. During her freshman season, Litumbe had a .255 batting average, with nine home runs, and 26 RBIs. During her sophomore season is when she really took off, she started all 60 games and had a .357 batting average. On top of that she added 61 hits, nine of which were doubles, 21 home runs and 60 RBIs. She had a .1000 percent fielding percentage. Litumbe's 21 home runs were second in team history, and one shy of the record for homeruns in a single season. Now almost back to full strength, Litumbe has picked up where she left off, she has three home runs on the season.
How long have you been playing softball and what got you interested in softball?
Litumbe: I've been playing softball since I was about five years old. My parents introduced it to me, when my dad came here he turned into a Braves fan, so I guess I kind of liked it.
Who is your inspiration?
Litumbe: My parents inspire me to be a good person on and off the field so I think they would be a pretty big inspiration to me.
What was your initial reaction when you got injured?
Litumbe: I've never been injured before like this so my initial reaction was, 'Am I going to be able to play softball again'? And how the rehab process would affect me mentally and physically. Will I ever be as good as I was the year before? I'm still working on overcoming the mental aspect of it, but I'm just trying to work hard and help my team win a few games.
What's been the bigger hurdle? The mental aspect or the physical aspect?
Litumbe: Mental for sure. Physical it just takes time, and the doctors said they weren't going to clear me until nine months, so I thought that I had nine months to get back right physically but mentally I'm still working on it and it's almost been 12 months on March 14. So I think mental is the hardest thing to overcome.
What is the hardest part to get over mentally?
Litumbe: I think just trusting my body and trusting my knee knowing that I can actually perform like I know that I can and trusting myself to do things that I haven't done in over a year. Yesterday at practice I had to slide and I still was a little scared, and I didn't do it, so I'm still working on trusting myself knowing that I can do it.
Was there ever a point where you thought that you couldn't do it?
Litumbe: I don't think so. I  think my thing was being patient and waiting for my knee to heal physically, like me thinking that I'm ready and knowing that I physically and mentally wasn't ready. I don't think I couldn't do it, it's just me waiting for nine, ten months was the hardest part for me.
What was the biggest physical hurdle that you had to overcome?
Litumbe: The biggest physical hurdle was losing muscle. I did lose ten pounds after surgery, and I guess gaining a lot of my quad muscle back because it was substantially smaller than my right and that kind of brought me down a little bit.
Were you excited to be able to do leg day again?
Litumbe: Yes! Pumped, I still have to do modified squats, but I'm still trying to get big in the weight room, so I'm very excited and thankful to be able to do leg day again.
What is the one thing that you want to improve on?
Litumbe: Taking it serious enough, but not taking it too serious and not got getting so down on myself.  I put a lot of pressure on myself because I was hurt, I have to do better, I need to step back and say that I'm a good player and don't get too hard on myself when I'm not doing well.
What's accomplishment are you most proud of?
Litumbe: My sophomore year, I guess I was on a bit of a roll because I hit about 21 home runs, which was unexpected for me and everyone else because I wasn't really expecting that, and it was one short of the season record.
What is your favorite food?
Litumbe: My mom's meatballs. They are a secret recipe so I couldn't tell you how to make hem, but they are amazing.