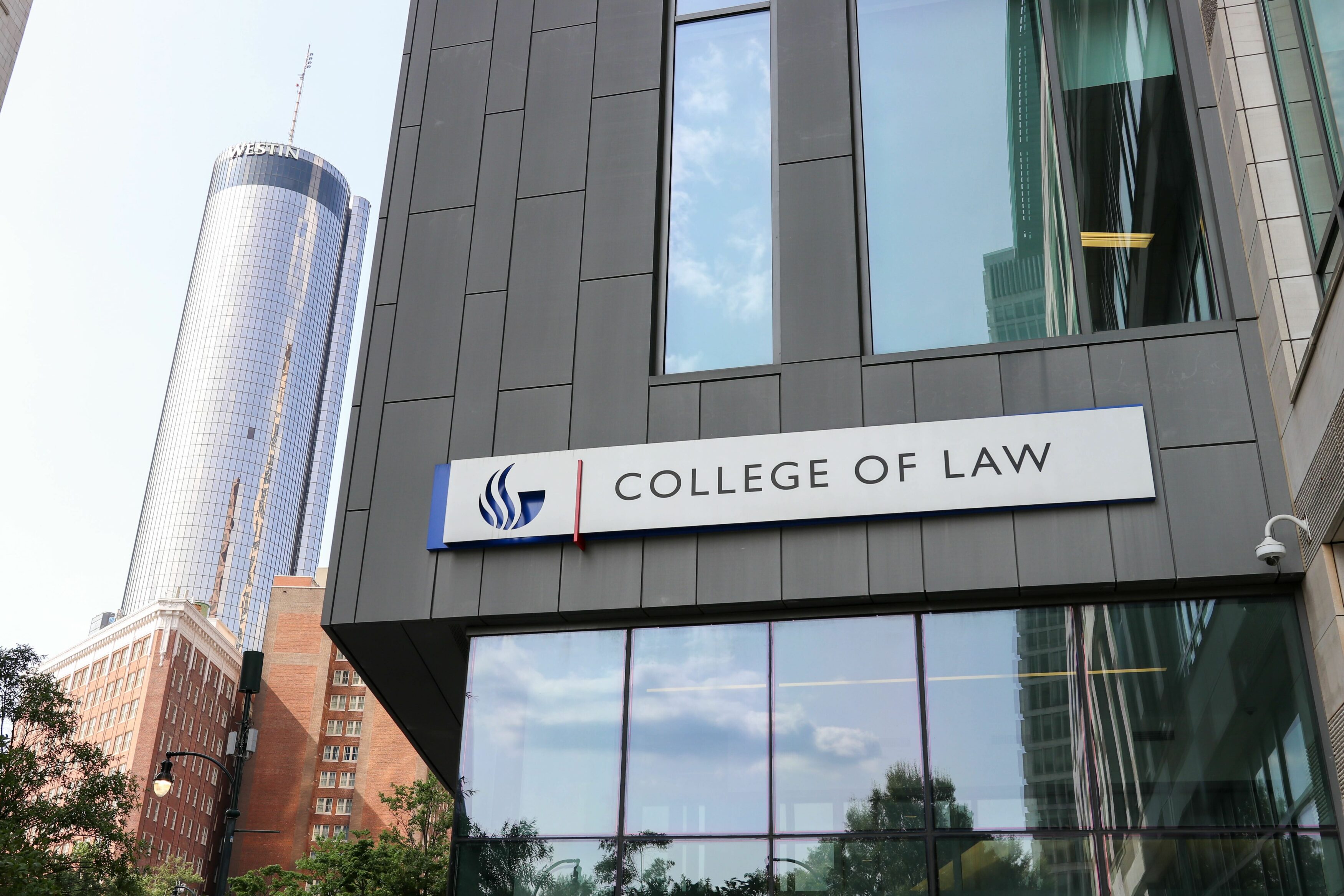 A College of Law student's troubling history of antisemitism, racism and white supremacy has recently come to light, sparking outrage and concern among students and calls for action from The College of Law. 
Jared Alexander Huggins, who has a problematic past dating back to 2016,is a student studying at Georgia State's Law School. In late September, his political history was discovered by other students in the College of Law, primarily from a continuing report he has with the Atlanta branch of ANTIFA. This discovery led to several students calling for his expulsion. 
Huggins was an active member of the American Identity Movement (AIM), a white nationalist group known more commonly by its previous name Identity Evropa. 
Identity Evropa is an "alt-right" group that the Anti-Defamation League identifies as a white supremacist association. The name reflects the group's emphasis on promoting a specific racial and cultural identity associated with white Europeans. The organization changed its name to AIM following the infamous "Unite the Right" rallies in Charlottesville, VA to distance itself from its own tarnished reputation.
Huggins was reported to have attended multiple AIM and other white supremacist events including the Charlottesville riots in 2017 and AIM's inaugural protest at Nashville's Capitol in 2019. 
In 2016, Huggins was actively involved in the Libertarian Party of Dekalb County, where he held a leadership position as Vice Chair of Dekalb Libertarians. During his time as vice chair, he publicly advocated for Donald Trump's Republican presidential candidacy and collaborated with prominent figures associated with white supremacist ideologies. 
This has led some individuals to argue that the LPDC's association with these controversial white power leaders transformed the organization into a space that harbored racist sentiments.
Around this same time, Huggins met with Patrick Sharp, a well-known white supremacist at Georgia State University who had tried to establish a white student union. They were photographed together at an Atlanta cigar shop in mid-2016.
Huggin's social media was also uncovered as being filled with insensitive remarks. Huggins posted under the Twitter handle @FashyScience, with "fashy" being an alleged play on words to fascism. Huggins retweeted a post responding to a mosque shooting in Christchurch, NZ where a white supremacist killed 51 worshipers. 
The post wrote, "my heart goes out to the white community of Christchurch NZ who will no doubt face bigotry and anti-white backlash in the wake of a horrible event perpetuated by a lone, self-radicalized individual." 
During a right-wing conference in 2016, a speech was delivered that concluded with the controversial slogan "Hail Trump! Hail our people! Hail victory!" These remarks were met with Nazi salutes from the audience, sparking widespread controversy and condemnation. 
Huggins defended the speech on social media, claiming that the speaker's words were "unserious" and that the reports on the issue were an "obvious instance of deception." Additionally, Huggins used the word Lügenpresse, which translates from German to "lying press," to refer to the news outlets covering the story.
Huggins also shared his involvement in the Charlottesville riots on social media. The day after the violence, he posted on Facebook "this weekend was fucking metal."
Tragically, Heather Heyer, a counter-protester, lost her life when she was struck by a vehicle during the unrest. Huggins later made light of Heyer's death by sharing an image of a Dodge Challenger, the vehicle used in her death, about a week after her passing.
Huggins' online presence died down slightly after 2017. He attended two other white-nationalist rallies in Salt Lake City, Utah and Nashville, Tennessee.
In 2021, he made a residential move to North Atlanta, and at some point during this period, he undertook a two-year mission trip in Denver, Colorado.
This brings us back to current events. Huggins' was accepted into the College of Law for the Fall 2023 semester. His online history was discovered a month later.
The College of Law hosted an impromptu town hall with members of its community on Sept. 21st in response to the issue, allowing students a chance to air out their grievances about the situation. 
The Signal reached out to Lavonda Reed, the Dean of the College of Law, for answers to a few questions we and the student body had about the issue. Jaya Franklin, Director of Communication for the College of Law, responded with a lackluster response. 
The Signal was forwarded the same statement put out by the College of Law on Sept. 21st, the same day as the town hall, to all of its students. We were told this would be their official media statement.
In regards to both The Signal's and other students' questions on how Huggins' past was not discovered during the admissions process, here's what the CoL had to say,
"Our admissions office works diligently each cycle to recruit and yield our 1L and LLM classes. They follow standards set forth by the Law School Admission Council (LSAC). LSAC is a not-for-profit organization that supports law school admissions nationwide. All students are expected to be honest and forthright in their admission materials. With an overwhelming number of applications each cycle, application materials submitted by students serve as the primary basis for admission decisions."
The statement also addressed the University's Code of Conduct. Concerning Huggins, here's what they had to say,
"As the university Code of Conduct states, "Membership in the community of scholars known as Georgia State University is a privilege and carries with it obligations to participate in and contribute to the educational mission of the institution. Concurrent with these obligations are rights and freedoms for each individual as guaranteed by the United States Constitution, including, but not limited to, the right to inquire, to learn, to communicate by speech and action, to assemble peaceably and the right to due process."
Furthermore, when looking specifically at the College of Law honor code, Section 3.6 states,
"It shall be a violation of the Code for any student to engage in any conduct in connection with any activities of the College of Law which raises a substantial question as to that student's honesty, trustworthiness, or moral fitness to practice law or become a member of the legal profession."
It is unclear to what degree this part of the code reaches. It is unclear if Huggins intentionally left out this part of his history during the admissions process, and if that potential concealment would violate other areas of the Code of Conduct. 
The College of Law's response leaves a lot of questions unanswered.
Questions such as what steps they would take in the future for situations like these, or how they would address any concerns as to how the circumstances of this event would affect the culture within the College of Law. 
As of the publication of this story, after several attempts to reach out, Huggins has not provided any comments on the situation. 
As far as we know, no disciplinary actions have been taken towards Huggins. 
While the buzz around this incident has died down over the past couple of weeks, it is an event that sits with other instances of negligence leading toward prejudice occurring across the university. It shows that Georiga State's long-documented battle with prejudice is still ongoing.