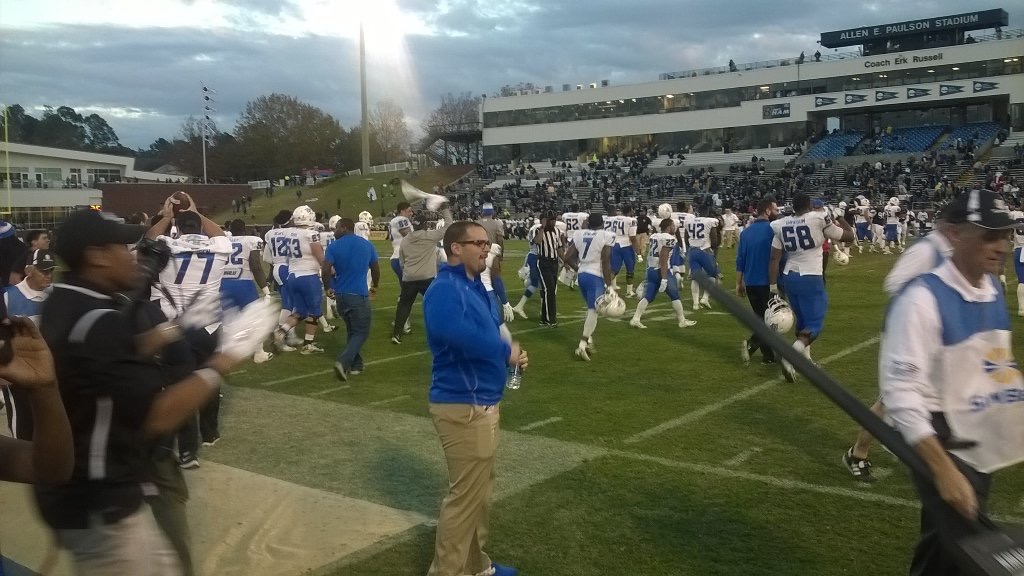 Last updated: Dec. 5, 2015 at 9:03 p.m.
FINAL: 34 Georgia State 7 Georgia Southern. #GoinBowlin #GSUvsGSU pic.twitter.com/dBgarNpLEQ

— GSU Signal Sports (@GSUSignalSports) December 5, 2015
Georgia State ends Georgia Southern's undefeated record at home with a 34-7 score in Allen E. Paulson Stadium. With the sixth win, the Panthers became bowl eligible for the first time in school history.
The triumph marks the fourth consecutive win for Georgia State after beginning the season with a 2-6 record.
The Panthers were led by Nick Arbuckle, who threw for a total of 346 yards, which included three touchdown passes to Penny Hart, Keith Rucker and Robert Davis. Penny Hart had a total of seven receptions for a combination of 129 yards including a 63 yard touchdown, leading the Panthers receivers.
Kyler Neal, a redshirt sophomore, extended the Georgia State lead in the fourth quarter with two touchdown runs. Therefore closing the game for the Panthers. Neal had six carries for a total of 37 yards.
Tarris Batiste, a redshirt senior, caught two interceptions totaling 34 yards. Arbuckle threw one interception, resulting in a Georgia State turnover as well.
The Panthers ended the game with a total of 489 yards compared to the Eagles with 203 total yards.
During the rivals previous meetup at the Georgia Dome in 2014, the Eagles won big over the Panthers resulting in a 69-31 score.
The victory tonight leaves the Panthers with a 6-6 season record and 5-3 standing in the Sun Belt Conference.
The teams are now tied 1-1 in the rivalry matchup.