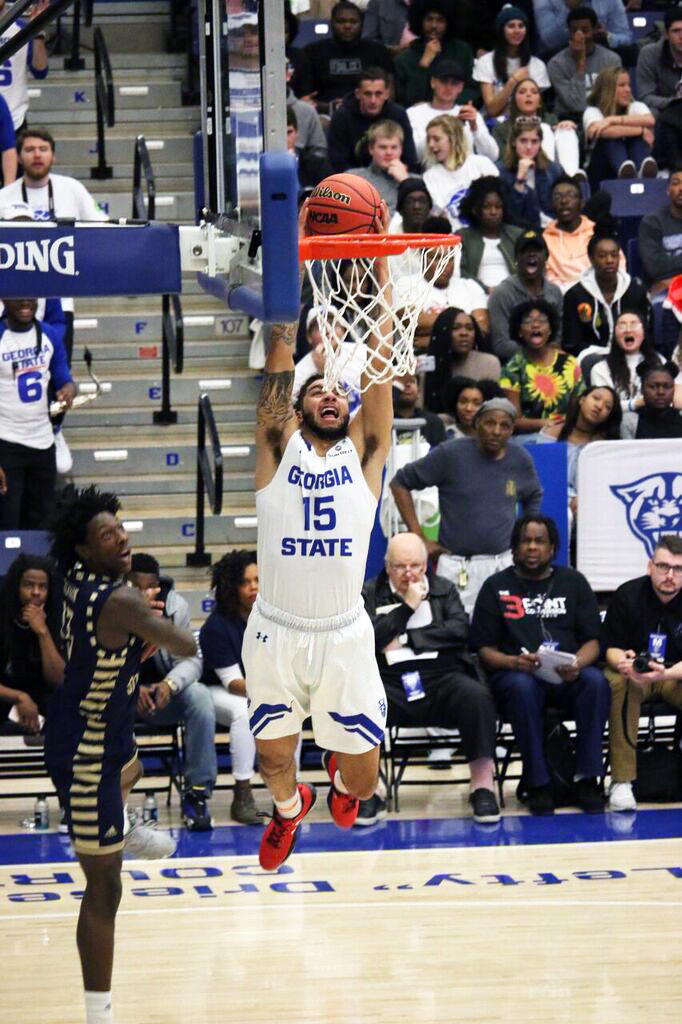 Basketball is a simple sport. Watch a game for 30 seconds and the objective is clear as day— put the ball in the basket. The ease of the game is why newbies embrace it and veterans stick around, including the Georgia State men's and women's basketball teams.
Unlike fans who file into GSU Sports Arena on Thursdays and Saturdays, the student-athletes watch for both leisure and to learn a thing or two.
"You can never get enough of basketball," Malik Benlevi of the men's basketball team said as he cracked a smile.
As if they don't spend plenty of time on the court, Benlevi, Devin Mitchell, Jeff Thomas and D'Marcus Simonds all engulf themselves with basketball during free time.
D'marcus Simonds
"That's pretty much all I do everyday," Simonds said. "I come to the [GSU Sports Arena], practice, do film and then after that, I just go back and watch some old games or anything on TV about ball. You know, that's what I love."
Old games for Simonds include games the Panthers played this season and Hardwood Classics, a series of the NBA's greatest games. One of the best games he saw on the series is when Michael Jordan threw down 69 points against the Cleveland Cavaliers.
That does not influence his opinion that Lebron James is the best player to ever pick up a basketball. Simonds studies James' highlights twice a week. Russell Westbrook holds the title of Simonds favorite player, citing his aggression. He's a homer when it comes to his top team, the Atlanta Hawks.
Devin Mitchell
Mitchell says he watches basketball on WatchESPN pretty much 24/7, if he isn't playing. Accompanying him is usually Thomas and big man Jordan Sessions. He catches his brother Jalen play in person at nearby Clark Atlanta, and his cousin Jordan Goldwire on TV at Duke.
Devin Mitchell has worn No. 24 on his jersey since the seventh grade in honor of the recently retired Kobe Bryant. Mitchell began wearing 24 in a golden time for Bryant fans, as the Los Angeles Lakers began a streak of two straight NBA championships.
"Since he's left the league, I'd have to say Bradley Beal is my favorite player. I feel like we play alike. We're kind of the same size, so he's somebody I watch and try to emulate my game after a little bit," Mitchell said at 6'4" and 195 lbs.
Mitchell singled out Tookie Brown of Georgia Southern and Wesley Person from Troy as a few standouts in the Sun Belt Conference.
Jeff Thomas
Thomas' gravitates to Kevin Durant, the tall and silky smooth small forward because of a similarity.
"I liked Kevin Durant ever since he came into the league. I used to be tall and people used to underestimate my shooting, and he can shoot like the top. I feel like it's one of my best features."
Klay Thompson is just as impressive to Thomas because of his legendary quick releasing jumpshot. Yet another Golden State Warrior is on Thomas' list of top players, but you find him cheering for them. His name is Stephen Curry.
"When I was younger and Steph Curry just came in [the NBA], he shot with a very high arch and every time it just goes— scoop, scoop," Thomas said. "I watched that and studied it a little bit. Now I feel like my jump shot has the same arch as his because every time it has a better chance of going in.
Malik Benlevi
Mr. Versatility, Malik Benlevi, is a big time LeBron James fan. Whatever team James plays for, Malik roots for them. Benlevi's father bought him a blue James jersey when he was a kid and he wore it all the time.
"He knows every spot, point guard through center for each play that they have. I took that from him. So every play that we run, I know all five positions," Benlevi said.
This unusual versatility and knowledge pays off. Benlevi ranks either first or second on the team in six major categories. Kevin Durant is also a favorite because of his unrivaled shooting ability.
"In high school I used to watch his [basketball] mixtape with 'All of the Above', the T-Pain song. I used watch that like every day on the bus," Benlevi reminisced.
Francesca Minali
Francesca Minali, women's basketball forward from Stezzano, Italy has a vastly different sports spectrum. Catching the NBA was difficult in Italy because games usually don't tipoff until 1:00 a.m.
Instead, she grew up watching much more soccer, which she says is a must back home. Familia Schio is the best basketball team in Italy, according to Minali.
"They play in the EuroLeague. They have a lot of players who play on the national team in Italy. So if you want to see good games [in Italy], watch their games," Minali said.
NCAA games were not even an option because they were not broadcasted on Sky Sport, who Minali compared to ESPN. Now Minali's favorite women's basketball programs are Georgia Tech and Wake Forest, because of the Italian connection. Georgia Tech has three Italians on their roster and Wake Forest has one.
She's grown to love Curry and Danilo Gallinari, one of Italy's most successful NBA talents.
Janessa Murphy
Janessa Murphy watches the Cleveland Cavaliers a lot, but her fandom for Dwayne Wade dates back to his championship days with the Miami Heat.
"He's my favorite player. Three is my favorite number. That's why I got '3' because of Dwayne Wade. I look up to him. I love his game. Everybody says how he's so old, but I think he's still good. He's actually doing really well right now."
Wade's leadership and ability to play point guard, shooting guard and small forward stand out to Murphy. Murphy even mimics her layups after the two-time NBA champion. The San Antonio Spurs' Gregg Popovich is by far her favorite coach. Murphy loves his "spicy side" and how focused he is on his team during in-game interviews.
Madison Newby
When 2016 Sun Belt Freshman of the Year Madison Newby watches basketball, she looks at how fellow point guards hold command over their teams.
"People look to you to know where to go, because the point guard has to know all of the plays," Newby said. "So you have to tell people where to go sometimes if they're not sure. That's just the role of being a point guard."
Newby liked Morgan William's leadership of Mississippi State during their early season matchup. Nonetheless, her favorites stay in-house.
"My favorite women's basketball player is my sister, Autumn Newby, who goes to Vanderbilt and also Kierra [Henry]. Kierra is really good. I look up to her, and she's my best friend."
Kierra Henry
While the leading scorer for the Panthers doesn't watch basketball during her down time, she is as locked in as they come during her games. She looks at who goes hard to the basket for rebounds and how opponents play offensively and defensively so she doesn't get exposed.
Who do the Panthers cheer for?
Men's basketball
D'Marcus Simonds favorite player is Oklahoma City guard Russell Westbrook.

Devin Mitchell favorite player was Kobe Bryant, but is now Bradley Beal.

Jeff Thomas' top guy is Kevin Durant, but he refuses to cheer for the Golden State Warriors.

Malik Benlevi is a huge of both LeBron James and Durant.
Women's basketball
Francesca Minali likes Steph Curry and Danilo Gallinari, a fellow Italian player.

Janessa Murphy loves Dwyane Wade and Spurs head coach, Gregg Popovich.

Madison Newby favorite players are her sister who plays at Vanderbilt and teammate Kierra Henry.

Kierra Henry says she watches college football more than basketball.