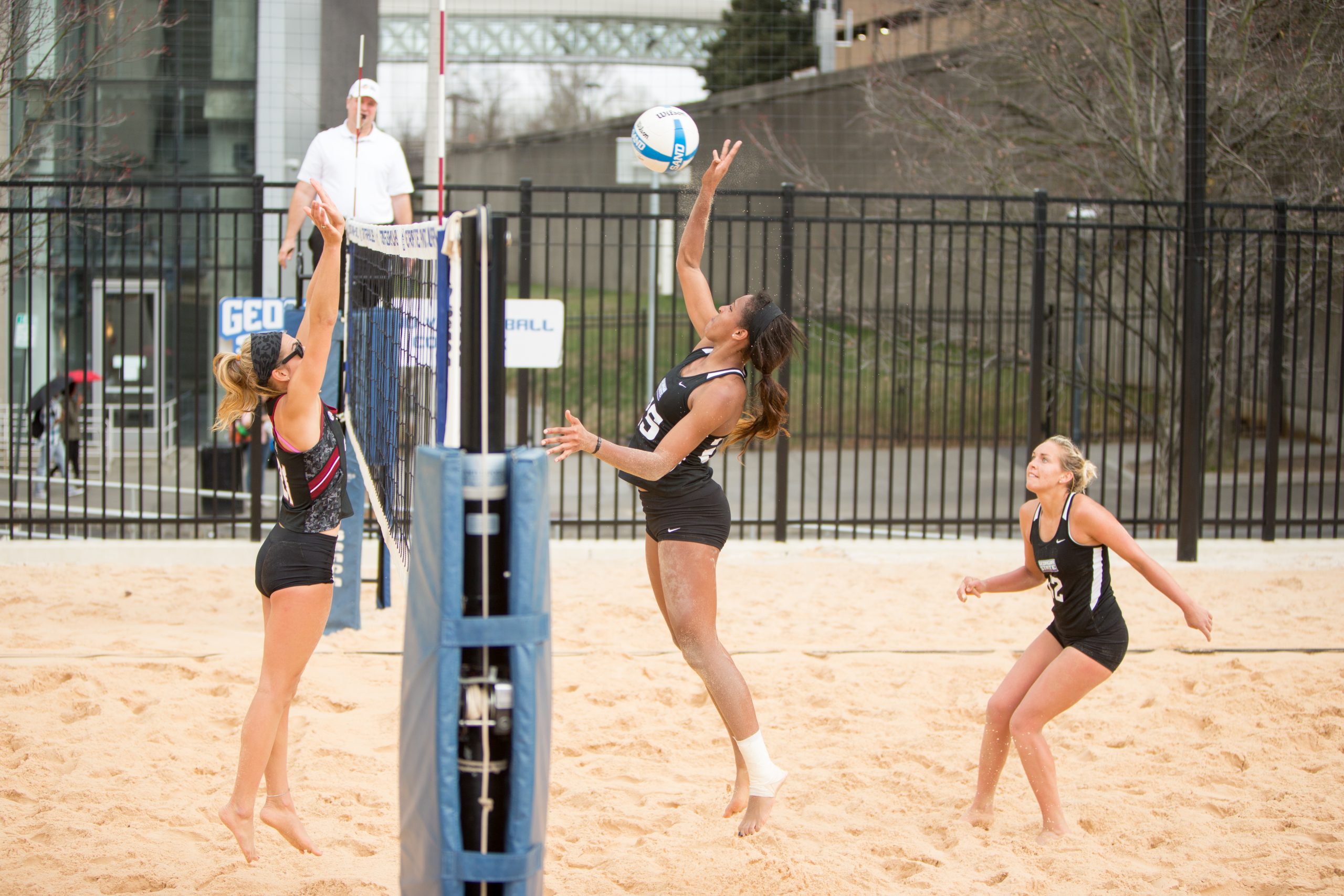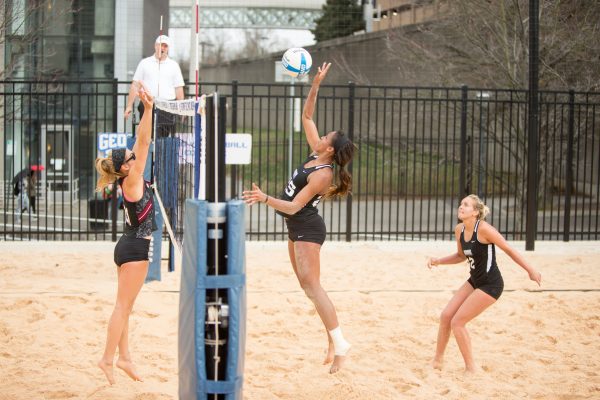 Junior volleyball player Deidra Bohannon is spending her indoor volleyball offseason on the sand — not the never ending sands of some exotic beach or endless desert — Bohannon is playing on Georgia State's sand volleyball team.
In doing so, Bohannon is the first player to do the court-to-sand transition since Georgia State add- ed the sand volleyball program in 2012.
Bohannon had a solid season in the indoor volleyball campaign for the Panthers in 2014. She was the team leader in kills this season with 432, was second on the team in digs with 303, and also led the team in points per set, as she aver- aged 4.38 for the season.
After her solid junior indoor season, Bohannon had a unique opportunity to join the sand volleyball.
"My indoor coach Sally [Polhamus] just basically asked me. And [sand volleyball Head Coach] Beth [Van Fleet] showed interest, so I decided to pursue it," she said.
Van Fleet welcomed Bohan- non with open arms, taking on the challenge of sand volleyball.
"[Van Fleet] just said, if you want to come on out and play, see if you like [it]. If you like it, stay. She's just very encouraging in try- ing to get me to come out here and take on it," Bohannon said.
Bohannon has not disappoint- ed. Her development has the attention of her head coach, and the rate at which she has been able to transition has been a pleasant surprise, according to Van Fleet.
"The transition from indoor to sand generally takes about a year to two. So there's a lot of steps within it," Van Fleet said. "As far as Dede's [Bohannon] progression has gone, it's been really fast. She's a student of the game. So she's picked up on some of the biggest differences between indoor and sand pretty quickly, and it's just a matter of her getting used to moving in the sand right now."
Bohannon still has a bit of development left to do, but Polhamus is seeing the improvements in her game that could translate to her being even better during the 2015 indoor season.
"Where most people are just 'shot people', she can actually terminate with her athleticism and block. From her first tournament to now, she's definitely picked up on the tactical side of the game," Polhamus said.
Different surface,different game
The sand and indoor volleyball games take a very different set of skills, as there are multiple differ- ent rules to account for.
"Being out here in the sand, it's just you and another girl, where in indoor, you have five other people you can depend on," Bohannon said.
The sand game also requires a little bit of a different type of skill- set and athlete, according to Van Fleet.
"Indoor is very complex [in terms of] strategies. And there's a lot of precision required for that game. Sand is with only two peo- ple. There's a lot more leeway for creativity and different strengths," Van Fleet said. "I think in indoor you'll usually see a much taller athlete in the front row and a much smaller athlete in the back row. In the sand as long as you know what your individual strength is you can win by that strength and by using that strength to its fullest."
Bohannon has been able to find her niche and what she will be able to do well on the sand, ac- cording to Van Fleet.
"Dede [Bohannon] is a fantastic attacker and blocker for us. She has gotten much better with passing. That is one of the biggest transitions," Van Fleet said. "So she's actually made that adjust- ment very fast. Much faster than we expected. I'd actually say that's one of her biggest strengths is the ball control on services."
Given the different playing surfaces of the sand and indoor games, a player that can transition from sand to indoor may be able to play with more speed on the hardwood court surfaces. This is what Bohannon will do again this fall.
"When Dede [Bohannon] comes from sand to indoor, she's a much faster player," Polhamus said. "Because sand is so difficult to move in, she's much faster and springier and jumps higher in indoor."
More crossovers?
Bohannon plans to continue her sand volleyball career into next season in what will be her se- nior season. She has been spread- ing the word in hopes of more of her indoor teammates joining her next season.
"I've definitely talked to them about taking on the challenge if they're able to because I do enjoy playing out here," Bohannon said.
Coach Van Fleet would also be on board with more indoor players joining the team. In fact, it is something that has been on the minds of both Polhamus and Van Fleet, as it is a common practice around the sand volleyball landscape.
Polhamus believes that in order for some of the other indoor players to make the move to the sand ranks as Bohannon has, they would have to sharpen their in- door play.
"Some of our players, they need a little bit more work in- door," Polhamus said. "So they couldn't quite make that transi- tion in order to focus on our in- door game. But I think with six seniors next year, that they'll have a desire to try it and see what it's like to be in the sand."
The Panthers' season is coming to a close, as there are only three more events in the season. The Fi- esta at Siesta Tournament is the next on the schedule and takes place from April 11 – 12 in Siesta Key, Florida.