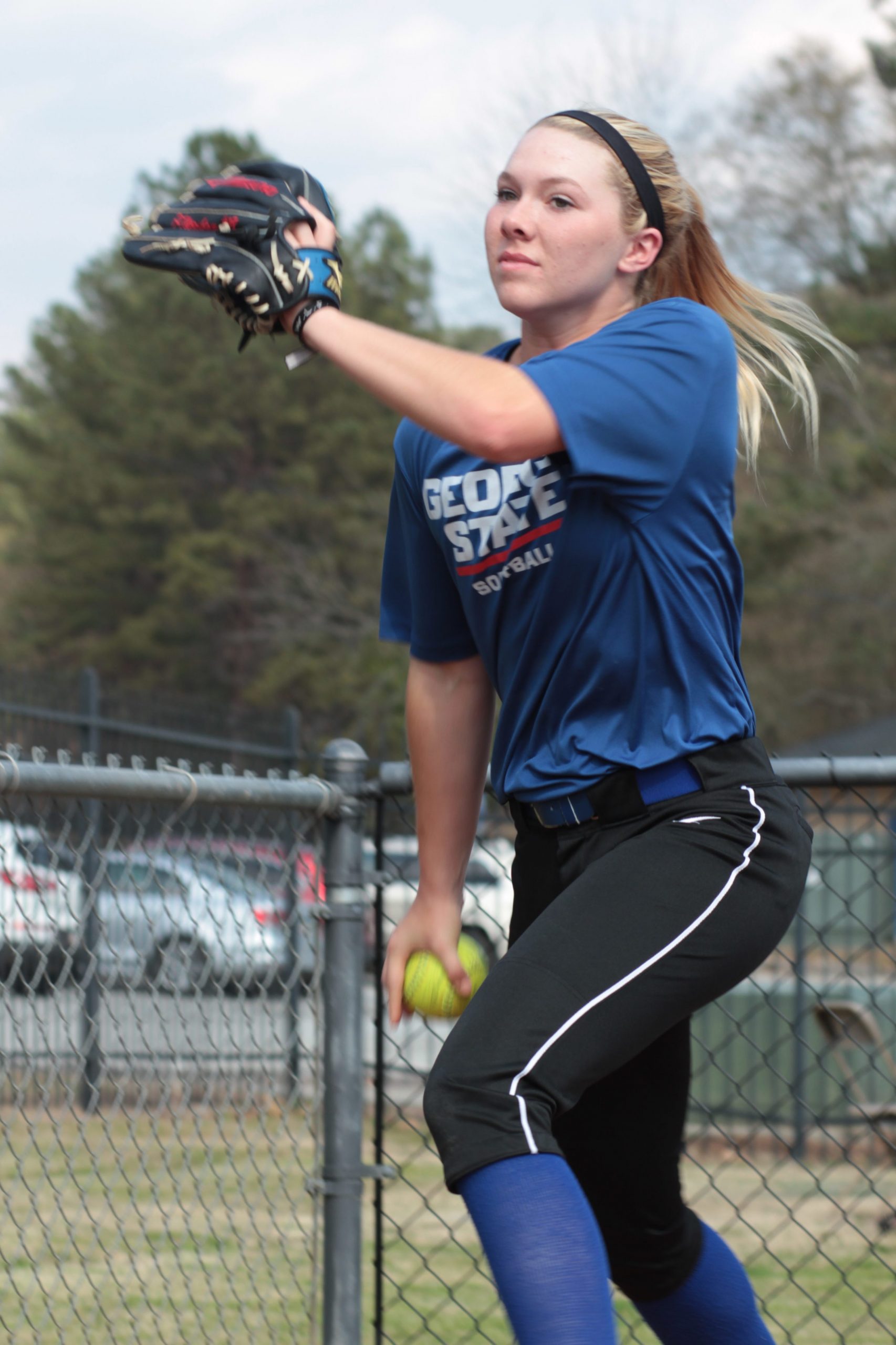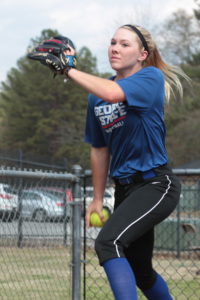 You got off to a great start, you've gotten some recognition. Do you feel any pressure now that you have these expectations so early on in your career?
Worsham: Yes. I do feel a little bit of pressure, but my teammates and my coaches have told me to stay focused. Not to feel pressure, because you when you get tense and worry about things, you don't play to your potential. So, they help a lot with the pressure.
Who's one coach or one player in particular that helps you deal with pressure?
Worsham: Mack. Mackenzie Popescue. She helps me a lot, she's our pitching coach. So I'm with her most of the time. She just keeps me calm. She helps.
What were some of the things you were excited about coming to college here at Georgia State?
Worsham: I was excited to kind of be on my own, but at the same time, you're not really on your own because you have so much that you have to do every day. But at the same time, I like that. It keeps me grounded and it makes me do what I need to do.
So I was excited about getting away, but I was most excited about playing and meeting new people.
Is it frustrating having to be on the road all of spring break, unlike all the other college students?
Worsham: Not really. I thought that's what it was going to be, but I got to go home a lot and do what I wanted to do in my free time. I mean I had practice, I had class work I had to do, but I still was able to do other things.
What do you like to do when you're not on the diamond or not on the field?
Worsham: I love to go home. That gets me away from everything, it gets me away from Atlanta, it gets me away from, I mean, just everything. School work, so I love to go home. It keeps me, I don't know-[there] I don't focus on [softball] too much. I can still get away and focus on other things, but at the same time when I come back, I can be focused on one thing.
Is there one specific thing you love about going home?
Worsham: I love my family. I love just talking to my mom. My mom and I are really close.
Has there been any veteran on the team that took you under their wing this year?
Worsham: [Georgia State sophomore closer] Mandy Chance. She has been great. She is also a pitcher. So she just kind of showed me what to do and I love Mandy.
What's the best advice she's ever given you?
Worsham: To probably not worry, to play for yourself and play for my team. If you do something wrong, don't focus on what you did wrong, but go back out and do something right.
How far do you want to get this year?
Worsham: All the way. We want to go all the way.
All the way as in national champions?
Worsham: That would be awesome, I mean yeah! Of course!
Do you have any goals individually, now that you've won Sun Belt Pitcher of the Week already?
Worsham: Just do it again [laughs]. Do it again, that would be awesome, but I need to remember that I don't have all of that pressure on me because when I have pressure on me, I don't do well. So I need to just remember that there is no pressure on me to get that again, but if I get it again that's awesome. I mean, I would love to get it again.
Early in the schedule, you all have had some big schools that you've visited on the road. Did you feel the nerves, as you mentioned the pressure of performing well, seeing those big schools that you maybe grew up watching on TV?
Worsham: At first it was pretty nerve-wracking. Like when we were at Mississippi State, just the stadium was so big, but once you get on the field, you're just focused on the game. You're not focused on anything around you. So at first, it's very nerve-wracking, but once you're on the field you're focused on the game.
Georgia State softball sports information director Will Owens then asked a question himself during the interview session.
What was it like going home and playing at Mercer?
Worsham: My family's awesome. They come to everything, they all live in Macon. They were all there, that was exciting. So many people were just there for me. That was nerve-wracking, I mean very nerve-wracking. I was like, 'Oh my goodness.' But that was one of my favorite moments from this season. It's just my whole family was there. It was awesome.
Was it more nerve-wracking playing in front of your family in Macon than it was at Mississippi State?
Worsham: Yep, probably playing in front of my family honestly. They're all wanting me to do great and expecting me to do great. So that was pretty nerve-wracking, but they're awesome.
What's your favorite part about this team?
Worsham: We're really close. I think as a team, we all want to play for each other. So if someone does something wrong, we all pick up each other.  
Worsham highlights:
Currently leads Panthers with lowest era of 1.50

March 14 Sun Belt Pitcher of the Week

Carried a no-hitter 6.2 innings against South Alabama

Has a 4-1 record this season