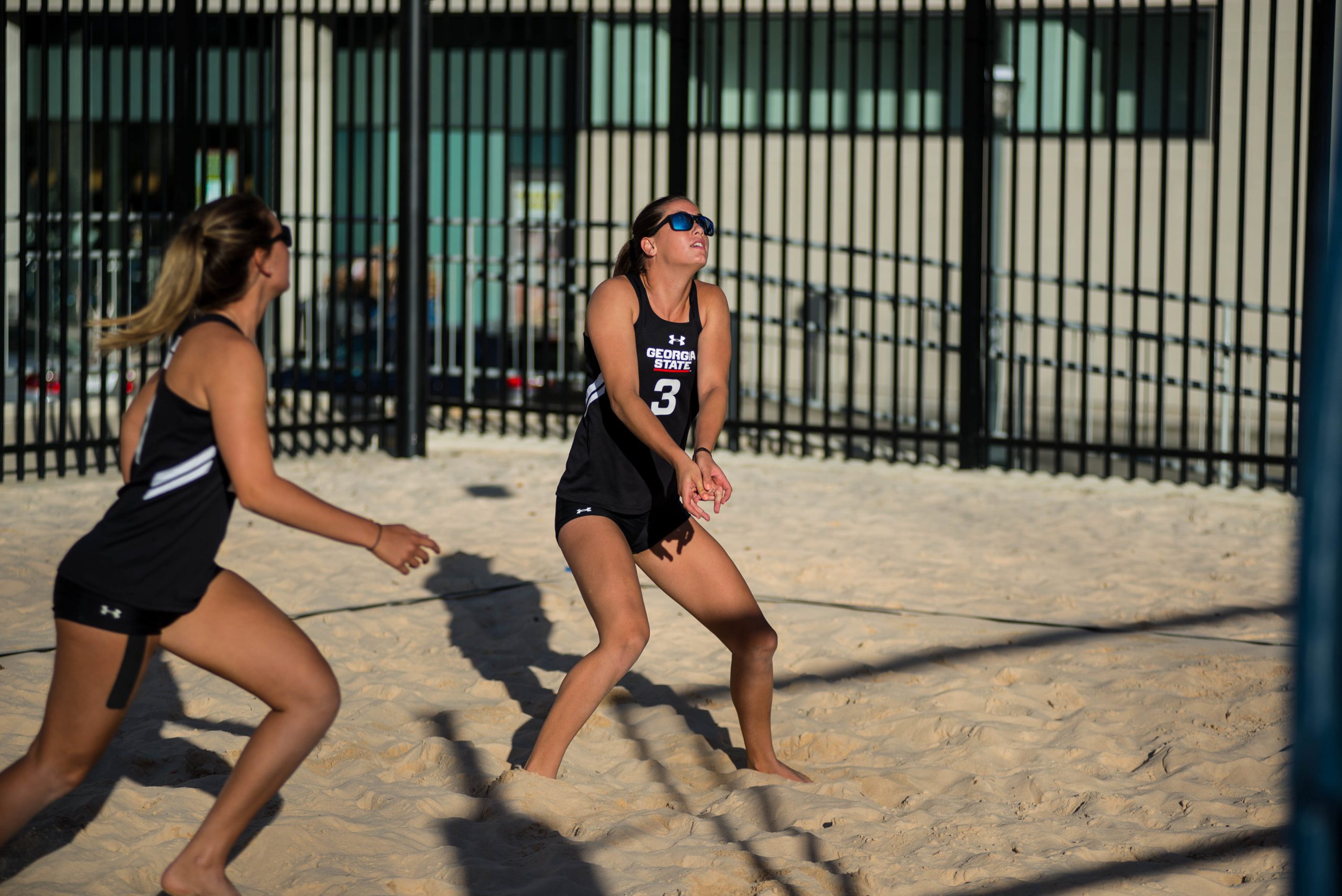 In the midst of heavy storms on April 5, No 10 Georgia State Beach Volleyball freshman Georgia Johnson powered her way to the GSU Sports Arena for an interview with The Signal. After making her best attempt to dry off her black jacket and black Georgia State Beach Volleyball shirt, Johnson discussed her life growing up by a beach in Australia and her decision process of wanting to pursue beach volleyball as the sport she wanted to play in college. She was coming off of the Diggin' Duals weekend where her and fellow freshman Olivia Stasevich went 2-1 as a duo and entering the FSU Invite where the pair went a perfect 4-0, against No. 11 South Carolina, No. 13 Florida International, No. 14 FAU, and No. 16 TCU. The Australian native's major is currently undeclared.
How has your freshman season been so far?
Johnson: It's been pretty crazy so far. Lots of travel, it's busy, which is nice because I like it. I like to be busy in a way that's entertaining rather than be busy in a way that's boring [laughs]. We've had some really good matchups, we got to go to California at the beginning of the season, which was really a good opportunity to play some of the west coast powerhouses. UCLA, Pepperdine, Long Beach State, etc. We've had some really good wins and now we're focused on the tournament we have in Florida.
Is it cool being on and contributing to one of the top teams in the nation?
Johnson: The seniors and all the past students of the program have definitely built it up to be a really strong program. It's got a lot of depth, which is nice as well. We've definitely got a lot to be proud of and it's nice to know that all of our hard work is really paying off in a way that's being acknowledged by a lot of people.
You were talking about playing in California earlier this season, have you ever been to California before this year?
Johnson: Yeah, I have been before in 2014, as a part of a training development tour from Australia. Two Australian beach volleyball Olympians came with us. We went to California and then down to Mexico to play some. So it was nice to get to play there again on the same sand that I played in three years ago.
How is the beach volleyball scene in Australia to where you get recruited by a school like Georgia State?
Johnson: Beach Volleyball is definitely still progressing to be a popular sport in Australia. I started off playing indoor and I picked up beach when I was about 15 or 16. I was really interested in coming over here to do college and I was really after a beach scholarship rather than an indoor scholarship because it's so much more fun. The opportunity to come here came around and I was pretty late on the recruiting scene so I was really lucky that there was still a spot here. I just took it as soon as there was an offer basically and here I am.
What are some of the differences between indoor and beach volleyball?
Johnson: Indoor's a lot more focused on being big and powerful, which is something that I, like in junior ranks, always struggled with. It was nice to transition into beach and know that it's not all about being able to hit the ball as hard as you can. It's all about strategy and finesse. That's probably the biggest difference for me and that there are much fewer people on the court.
You get to touch the ball more.
Johnson: Yeah, so much more. It's definitely a lot more fun. I played middle for indoor, so I could go three points without even touching the ball. So it's nice to directly be involved with every single point that you play. There's also that pressure like you can't get subbed off, you're 50 percent of the team, so if you're not performing the other team can tell. That pressure is something that makes the game interesting.
When thinking about colleges, did your name have anything to do with going to this one?
Johnson: I wish that it did, but it didn't. I was talking to a few colleges, but Beth Van Fleet, the head coach here, was just incredible in the recruiting process and I knew that this was going to be the best place for me. It was just a big coincidence that they named the school after me.
Do you think you were born to go to school?
Johnson: Yes, definitely. That's what my parents had in mind when I was born.
Favorite dance?
Johnson: I always find myself accidentally whipping in corridors [laughs], it's a very bad habit.
Do you think Atlanta made you get into the whip?
Johnson: Yeah, Atlanta has changed me.
Is there anything else you'd like to leave out there for anyone reading this?
Johnson: I just, of course, wouldn't be here without my parents. They've sacrificed a lot for me over the years and with volleyball not being a massive sport in Australia, everything has been self-funded through all of my junior stuff, so they've definitely made sacrifices to get me to where I am and I'm definitely very grateful.
Did you get to see your parents this year at all?
Johnson: They came to California to watch, which was so exciting. They got to take a week off work and it was just so nice to have them on the sidelines, there's nothing like having your parents there.
---
Junior Sportswoman of the Year from 2011 – 2013

Senior Sportswoman of the Year in 2014

Competed at the 2014 Asian Youth Championships

Won a silver medal at the U19 Australian Junior Beach Volleyball Championships in 2016

Also played netball, basketball, tennis, track and field, and cross-country