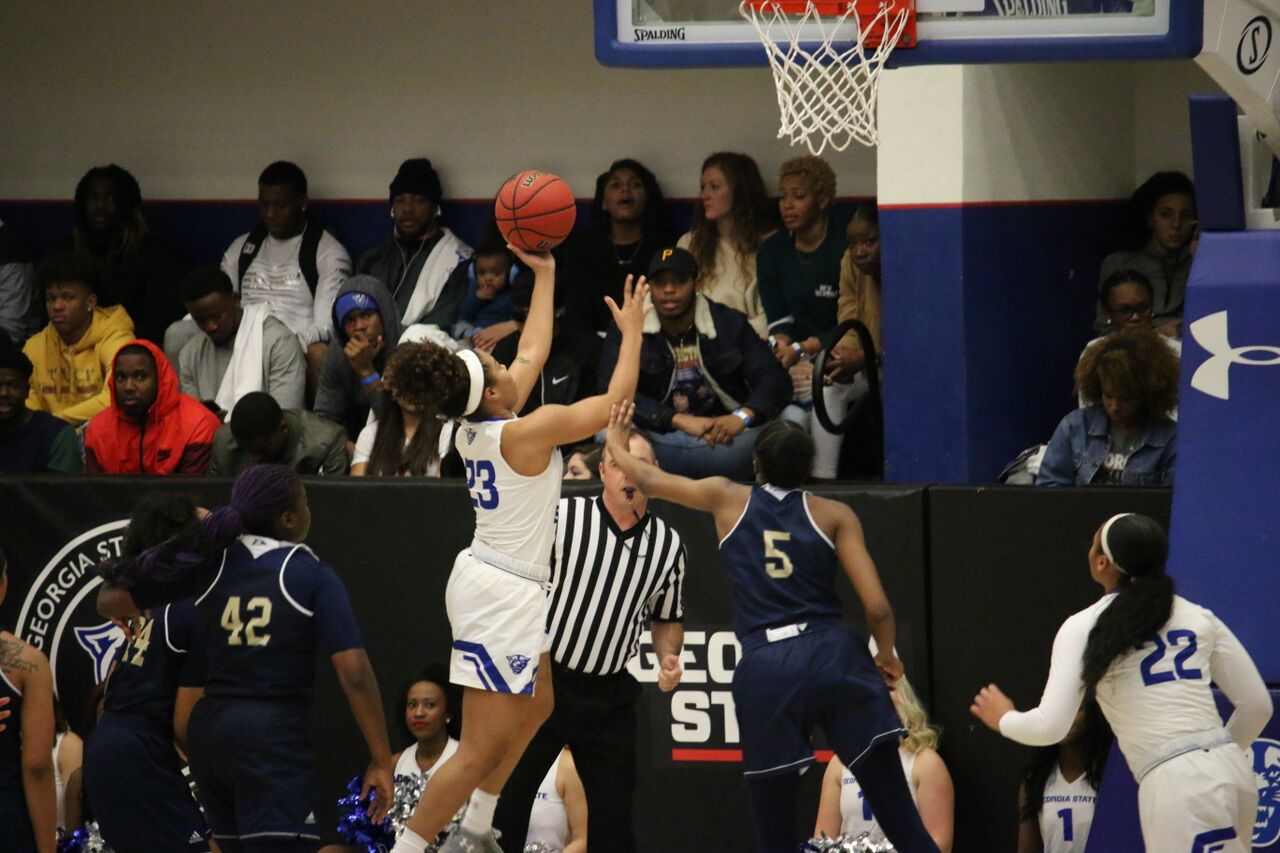 When it comes to the Georgia State and Georgia Southern rivalry, like any rivalry– nothing's for sure. But if recent history is any indicator, the Panthers were likely reign supreme.
Both teams entered today's game winless in conference play (0-6) and riding losing streaks.  One team was guaranteed a conference win to end their dreaded losing steaks.
On this day it would be the Panthers who come out victorious, after a dominating 71-56 over the Eagles or "That Team Down South" as some people like to call them. It is now the Panthers fourth straight win over the Eagles.
"I was really proud of our basketball team," coach Sharon Baldwin said. "I thought we played really hard; I thought we competed. Obviously, we got on the glass, and really wanted to come out and get a win and start to get this thing turned the other way."
Georgia Southern was able to jump out to an early lead in the first quarter thanks to a couple of three-pointers from guard Alexis Brown. Georgia State would respond in the quarter thanks to a few steals from Janessa Murphy and two big three-pointers from Kierra Henry, one of which beat the clock at the end of the quarter and would give the Panthers the 14-11 lead.
The Panthers would not look back after that one as they continued to pour it on. They ended the second quarter with an 8-0 run, aided by three-point baskets from Shay Fluker and K.K Williams. The Panthers would take a 40-25 lead into the break.
The second half was more of the same for the Panthers as they would push their lead to as many as 17 in the third quarter. Things did get a bit sloppy for Georgia State as they committed eight turnovers in the 2nd half. They also allowed the Eagles to trim the lead back down to nine points due in part to breakdowns in coverage leading to open three-pointers, but that's the closest Georgia Southern would get.
However, the most significant story in this game though, is the rebounding of forward,  Francesca Minali. Minali finished the game with 18 rebounds, and until the fourth quarter, she had more rebounds than Georgia Southern did as a team.
"I try to concentrate on rebounding," Minali said. "I know that my teammates can score, so I just try to be ready."
Eighteen rebounds in a game is a new career-high for Minali, who continues to improve her game.
"I thought she did a great job. I think every week that goes along, she gets a little bit better in there and she gets a little bit more confidence," Baldwin said of Minali. "She's not super athletic, the quickest or the fastest, but she plays very good position defense."
Three players scored in double figures today. Henry led the way with 18, while Fluker and Murphy added 13 and 11 respectively. Madison Newby dished out eight assists today and was 5-6 from the free throw line.
Georgia State returns to action this Thursday against UT-Arlington. The game will be at 5:00 p.m. and on ESPN3.