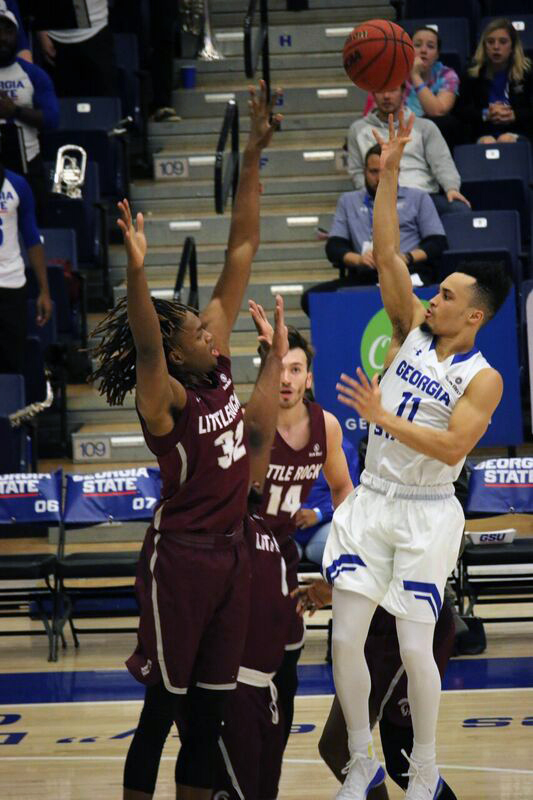 The Georgia State Panthers defeated arch-rival Georgia Southern, 73-67, on Saturday at Lakefront Arena to advance to their third Sun Belt Conference Championship game in the last five years.
The Panthers have been receiving significant contributions from their two seniors as of late, and in the matchup against the Eagles, it was senior Isaiah Williams who led the team with 21 points and shooting a perfect 8-8 from the free throw line. Senior forward Jordan Session also had a solid outing with 16 points and nine rebounds.
"This is a really good win for us against an in-state team," head coach Ron Hunter said. "We knew that they were going to make a run in the second half as they went much small which kind of bothered us a little bit. However, our guys are resilient and wanted to play for a national championship tomorrow. Now we have a chance to get back to the Big Dance."
In the first half of the game, the Panthers took control and held an 18-point lead at one point. Although Sun Belt Player of the Year D'Marcus Simonds struggled to play an efficient game and ultimately fouled out in the second half with just six points, Hunter's team ended the first half with a 46-31 lead.
The second half, however, was nerve wracking for Panther fans, as they saw what once was a double-digit lead get trimmed to three points with 53 seconds remaining. Not to mention Session, Jeff Thomas, Devin Mitchell and Malik Benlevi were all in foul trouble with at least three fouls apiece.
On Georgia State's last possession, Georgia Southern senior guard Mike Hughes attempted to steal a pass with the shot clock winding down for the Panthers but instead was called for a kick-ball violation to reset the shot clock to 20 seconds. Hunter then called a timeout.
Coming out of the timeout, Mitchell was unaware of the time remaining on the clock and cashed in on a three-pointer as he was fading out of bounds. Mitchell said he thought there was only one second remaining on the clock, and that's why he immediately shot the ball.
Mitchell's three would seal the deal for the Panthers and granted them an opportunity to play against UT Arlington on Sunday at 2 p.m. EsT.