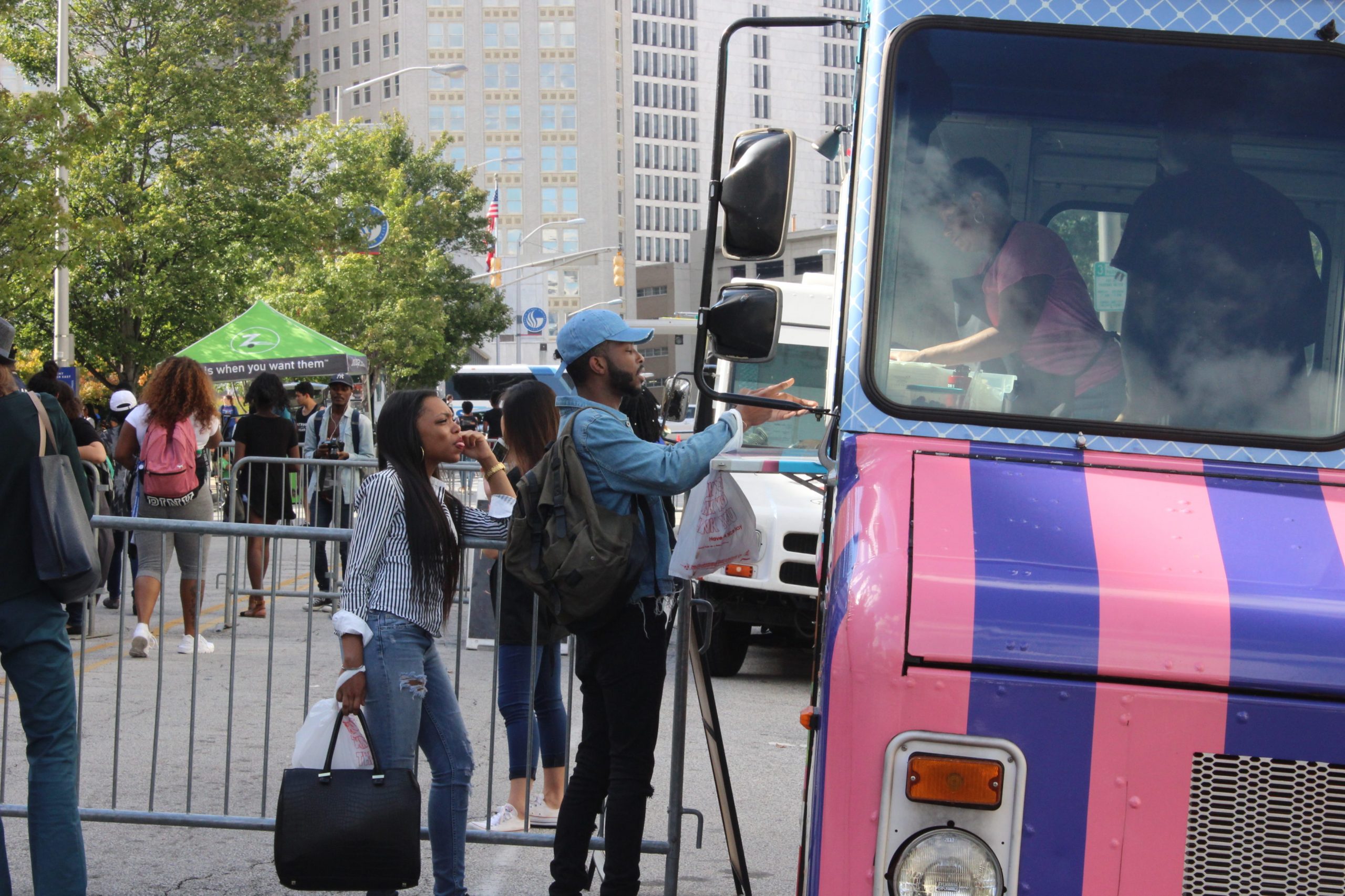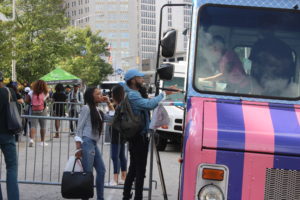 There's something about food trucks that gets people excited. Whether it's the quick service or cheap meals, food trucks just feel fun. Luckily, the Spotlight Programs Board brought the International Food Truck Festival back to Georgia State after its success last year.
"The event turned out so well," Im'Unique Hyler, the Spotlight Programs Board Arts and Culture Chair, said of last year's event. "Every time I talked to someone they kept mentioning it over and over again, so we decided to bring it back."
The mobile feast: First impressions
This year's event has been just as much of a success. The food truck festival, which was open from 5 – 7 p.m., brought in over 400 people within the first two hours of being open. Hyler already expressed her interest in bringing it back again next year.
"If I'm over the committee, then I'll bring it back next year, because it brings out a lot of different students and people really enjoy it," Hyler said.
This year, the vendors were Tex's Tacos, Meatballerz, Sweet Jeanius Bakery and a hot and cold sandwich truck from Gordon's Gourmet. Altogether, not an incredibly international lineup, but it certainly pleased the crowds well enough. Sweet Jeanius sold out of almost all of their menu items before the close of the festival.
Despite a lack of diversity, there were some vegetarian options available. Tex's Tacos, for instance, offered vegetable tacos along with their menu of chicken, barbeque pulled pork and pastor (which is essentially shawarma as adopted by cooks in Central Mexico).
Rachel Hall, a junior at Georgia State, said this was the first time she attended the festival, and she decided to check out Tex's Tacos.
"I had the tacos," Hall said. "I liked them, especially the chicken ones."
Hall said she'd definitely come again next year "especially for the price I'm paying." Overall though, Hall did have some suggestions. "I wish they had more food trucks. Some more exotic stuff like Korean Barbeque or some Thai food or something."
For students looking for a more elegant option, the Gordon Gourmet's sandwich truck offered a variety of options, including a caprese sandwich, which is a play on the traditional caprese salad, made up of tomatoes and mozzarella.
The carnivores out there also had plenty of balls to sink their teeth into, thanks to Meatballerz, who offered up what they claimed to be the "World's Greatest Meatball Sammy," also called the Roma in a Hole. The meatball inspired food truck also offered Roma on a tray and Roma pasta, in case students wanted to knock back some carbs in true Italian fashion.
Hall wasn't the only one who wanted more food trucks. Jarleen Dong, a Spotlight volunteer, said she wished "they had more food trucks here. More diversity for foods." Dong also said she would volunteer again if they have the event next year: "I just like food trucks. It's a nice vibe."
Cayla Boyles, another Spotlight volunteer, also hopes to volunteer for the event next year, if it makes a comeback.
"I definitely intend to [volunteer], yeah. I like this volunteering," Boyles said.
Though Boyles had a good time working the festival, her criticism wasn't only about the food trucks themselves, but about the turnout.
"I wish there were more people," Boyles said. "Because I know Georgia State has a lot more students. Maybe people came earlier."
Food trucks weren't the only thing that drew students out to Gilmer Street, however. Unity Plaza was packed with Georgia State clubs and organizations, as well as different entertainment, including a live DJ and a henna tattoo station. Hyler also said the Spotlight Programs Board partnered with the African Students Association and the Innovators of Creative Expression (I.C.E.) for dance performances in the Plaza.
"We had different organization stuff set up down there," said Hyler. "Softer Touch [an organization created to uplift women of color through mentoring and community service."
The Spotlight Programs Board also partnered with the Cecil B. Day School of Hospitality Administration for a recruitment booth in the Plaza. Esther Yi, the Business Manager, and John Beasley, a student assistant, set up shop to tell students about the Hospitality program, part of the Robinson College of Business at Georgia State.
"We're in the center of hospitality for the Southeast," said Yi. "Our school is definitely one of the higher ranked. We've definitely had a lot of recognition in the last 43 years."
Hyler counted this year's festival as a success. She also had a parting message for everyone involved.
"I think it's a great event," Hyler said. "I thank everyone for coming out, and I hope to bring it back next year and get the same great turnout."
Upcoming Spotlight Events
Georgia State Night at the Woodruff Arts Center
When: Sept. 30 from 6 – 11 p.m.
Students can join the Spotlight Programs Board at Student Center East (SCE) for a reception (with free food!), while waiting on shuttles to Woodruff Arts Center. Spotlight will also be showcasing a Georgia State freshman's artwork at the reception. The students will get free admission to the High Museum, as well as tickets to the Atlanta Symphony Orchestra and the Alliance Theatre. Shuttles will start leaving SCE at 4:45 p.m.