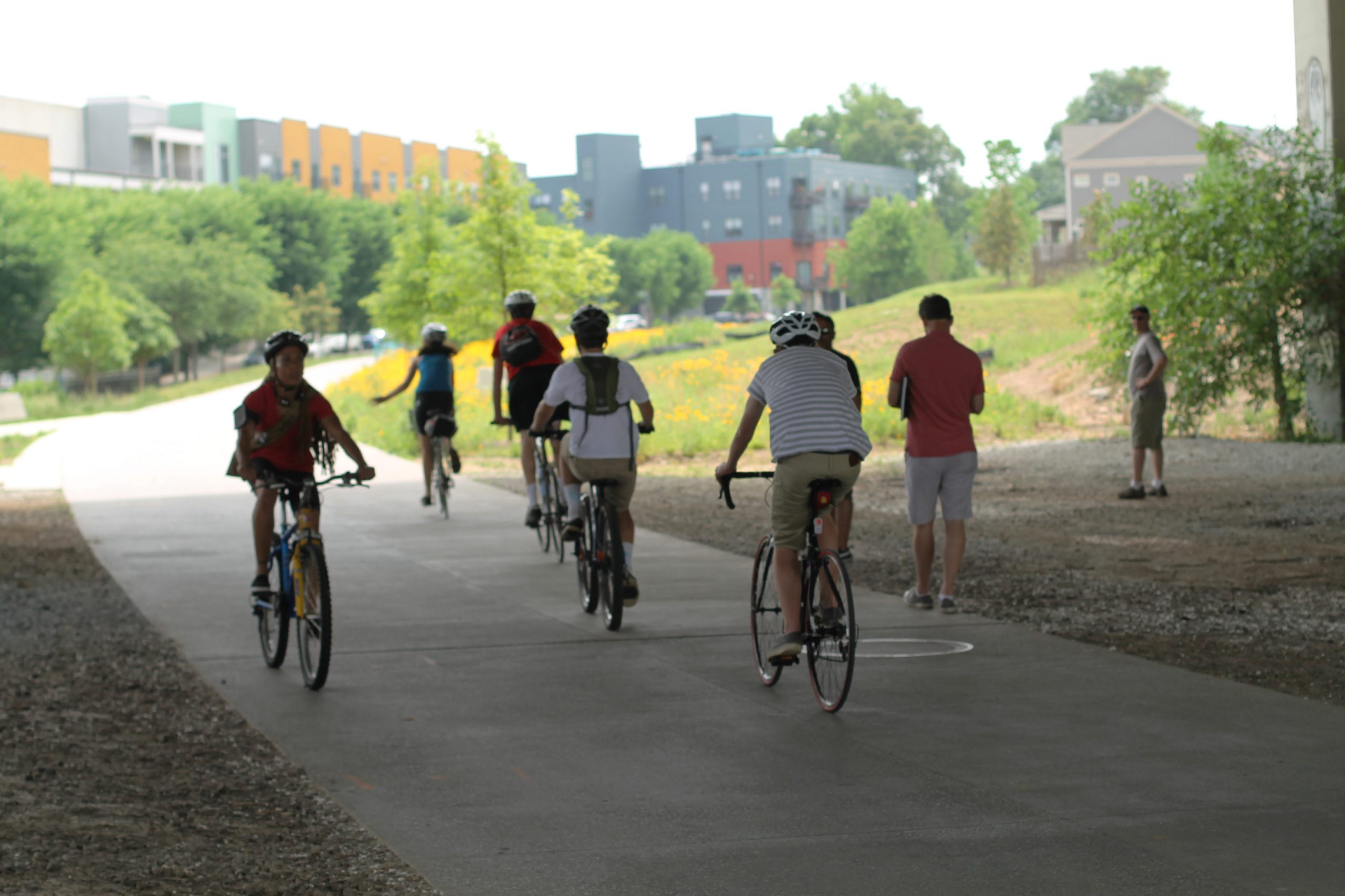 It's an unseasonably warm day in downtown Atlanta; instead of the usual pleasant springtime breeze associated with mid May, sweltering heat beats down on the neck of a cyclist, pedaling furiously northward.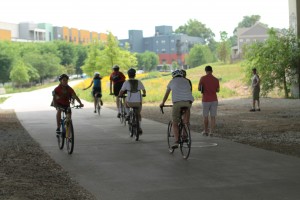 He throws a glance to his right, passing a boisterous patch of wild grass and dandelions. The whir of his bicycle wheels is juxtaposed by the gentle hum of a wasp flying past. Stopping for a moment to admire the 'Rising Red Lotus' mural blanketing the underpass, he realizes he's not the only cyclist making a journey to Piedmont Park. Welcome to the Eastside Atlanta Beltline.
The Atlanta Beltline is an urban redevelopment project that looks to create an interconnected transportation hub between major communities in Atlanta while also creating multipurpose walking trails and green spaces for improved ecological diversity.
The east side of the Atlanta Beltline is one of the most geographically and aesthetically diverse attractions in downtown Atlanta. The Beltline spans a considerable area, beginning slightly east of Georgia State's campus on Edgewood Avenue and ending just north of Piedmont Park in midtown.
The Beltline passes through several popular tourist locations including the Historic Fourth Ward Park, Little Five Points and Ponce de Leon Avenue. Although it is a popular location for skaters and joggers, the Beltline is dominated by cyclists due to recent expansion of marked bike lanes and trails downtown.
Mikel Madison, owner of Fixie Bicycle Gallery on Edgewood Avenue, said he could not be happier.
"The Beltline and Bike lane construction is absolutely necessary for Atlanta," Madison said. "Since Atlanta isn't set up on a grid, driving a car is a huge hassle. It actually takes me longer to get to work in car than on a bike. Bike riding is the future of transportation in Atlanta."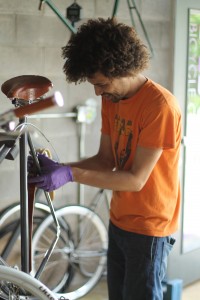 Madison has been the premiere custom bicycle maker in Atlanta since 2009, specializing in flamboyant and unorthodox fixed gear bicycle design.
"I started building single speed bikes because they were simple and had a lot of style to them," Madison said. "I'm a graphic design and brand management guy, so I wanted to sell a product that could be utilized in the urban environment while also promoting health and well-being."
Madison looks at bicycle design in a more interpersonal fashion, stressing the importance of style and individuality for his customers.
"I try to blend a person's individual style with their physical needs," Madison said. "If I can get them on a stylish bike, they'll ride more, get compliments and become immersed in the culture. Once you get the bug, I don't have to do too much else."
To the untrained eye, a "fixie" bike may seem no different than any other bike on the road. Madison believes differently.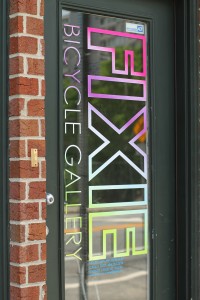 "Fixed gear bikes fall in between road bikes and BMX bikes," he explained. "It's the perfect balance between the two and there's a wide variety of styles. It's light, agile and rigid, which is perfect for street riding."
Madison was very enthusiastic in expressing the intricacies of riding a fixie bike in the city, which is a daily experience for him.
"It's for people who make calculated, quick decisions because you're literally playing with your life riding in the streets," Madison said. "Adrenaline junkies are definitely attracted to the fixie life."
Madison even took it a step further, explaining the experience on a psychological level.
"It's a more interactive ride," Madison said. "It's aggressive, physical riding; you're blazing through traffic, trying to catch that light or slide between two cars that are two feet apart. It raises your mental awareness of what's around you and kind of makes you tap into an intuitive sixth sense in terms of how you have to anticipate everyone's motions."
Although Madison enjoys Beltline riding, he expressed his frustration with bike riding on Atlanta streets.
"You have to consider yourself a vehicle," Madison said. "You have to make the cars ride according to you. It's frustrating riding in the city sometimes because if I were a slow moving vehicle like any other situation, it'd be no different than someone just driving past.
"A lot of motorists in Atlanta just don't know how to deal with cyclists and that's when it gets dangerous to ride in the streets," Madison continued. "Luckily, these new bike lanes have made the lifestyle way easier."
Madison, who has built more than 250 bikes over the years, explained the pleasure he gets from customizing a bike and then seeing it somewhere in the streets.
"It's a great feeling when I see someone who I've made a bike for and they tell me how much attention their bike gets them or how many compliments they get."
Even though Madison loves to see his bikes in action–both in the streets and on the Beltline–he also thinks the popularity of the Beltline is "a blessing and a curse for riders."
"The Beltline is really crowded; that it's only downfall," Madison said. "I try to ride on it outside of rush hour, when everyone is getting off work. All the joggers take a huge amount of space from people that like to ride on bikes or skates. I definitely think that it needs to be widened. The popularity of the Beltline is a blessing and a curse for riders."
Despite the shortcomings, Madison ultimately feels that the Beltline and bike lane construction is beneficial for the culture in Atlanta.
"The lanes have only fostered what was already happening in the city," Madison said. "With the transformation on Edgewood from the trolley construction, the lanes and trails are perfect. The Beltline is amazing because it's connected so many neighborhoods and villages. It's going to change the culture of transportation in Atlanta."
Although the Beltline circles a large portion of downtown Atlanta, it has a special relevance to Georgia State students, who may be unable to afford a car in the city.
With the rapid expansion of the Beltline, freshly painted bike lanes, and artistic individuals like Mikel Madison committed to creating superior two wheel transport, buying a Fixie bicycle may be the best investment a Georgia State student can make.