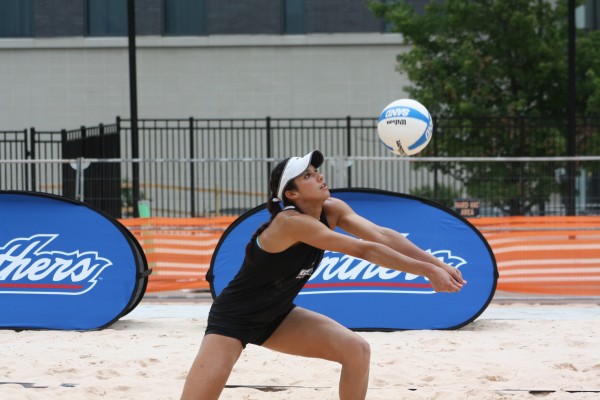 The Panthers' inaugural sand volleyball season is just two months away and renowned volleyball player and graduate student Lane Carico is primed to be on the team's premier roster.
A native of Manhattan Beach, Calif., Carico started playing volleyball with her family on the beach before taking her game indoors for her high school career.
Carico moved onto the University of Miami where she started every match in her four seasons with the Hurricanes, and finished as the university's all-time leader in kills (1,698) and points (1,915.5).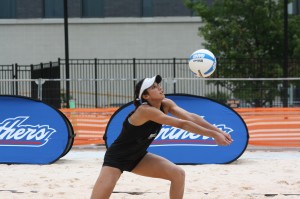 Despite exhausting her four years of eligibility on the indoor volleyball court, a seldom-applied NCAA rule has given Carico an opportunity to play one year of sand volleyball at Georgia State.
Because volleyball and sand volleyball have diverged, where in the past the NCAA considered them as one program, Carico is able to play sand volleyball for Georgia State even though she has already fulfilled her indoor volleyball eligibility.
Bylaw 14.1.9.1 on page 150 of the NCAA Division I handbook is a rule known as the "One-Time Transfer Exception."
It states, "A graduate student who is enrolled in a graduate or professional school of an institution other than the institution from which he or she previously received a baccalaureate degree may participate in intercollegiate athletics" assuming the athlete fulfills all other NCAA eligibility requirements.
Carico has one more year of eligibility before reaching the five-year limit. Therefore, the "One-Time Transfer Exception" rule does apply to Carico allowing her to play sand volleyball.
Another factor that determined Carico's eligibility included acceptance into the graduate school at Georgia State, where she hoped to continue her master's degree work in exercise science with a focus in exercise physiology.
After being accepted to Georgia State and taking the GRE, Carico's eligibility was affirmed and she became a Panther.
Only 25 colleges in the nation have sand volleyball programs, but the list is rapidly expanding. Yet, Carico decided she wanted to play as a Panther.
"Out of the schools that are offering sand volleyball as a program this year, Georgia State had almost encompassed all that I was looking for in terms of an academic program that I was interested in . . . and coaches that I thought would be suitable," Carico said.
Carico has been preparing for her only season of collegiate sand volleyball and feels the team will be ready for the season.
Nevertheless, when it is all said and done and the season is over, Carico is not quite sure what's next.
"Right now, while I'm still young and volleyball is still my passion, I'm pretty sure that I'm going to make some choices to try and to follow that and see what I can do at a higher level . . . always keeping in mind the other part of my life needs to be career oriented," Carico said.
Carico and the sand volleyball team kick off the inaugural sand volleyball season March 9 at Cocoa Beach, Fla. for the Ron Jon Surf Shop Beach-n-Boards Festival.