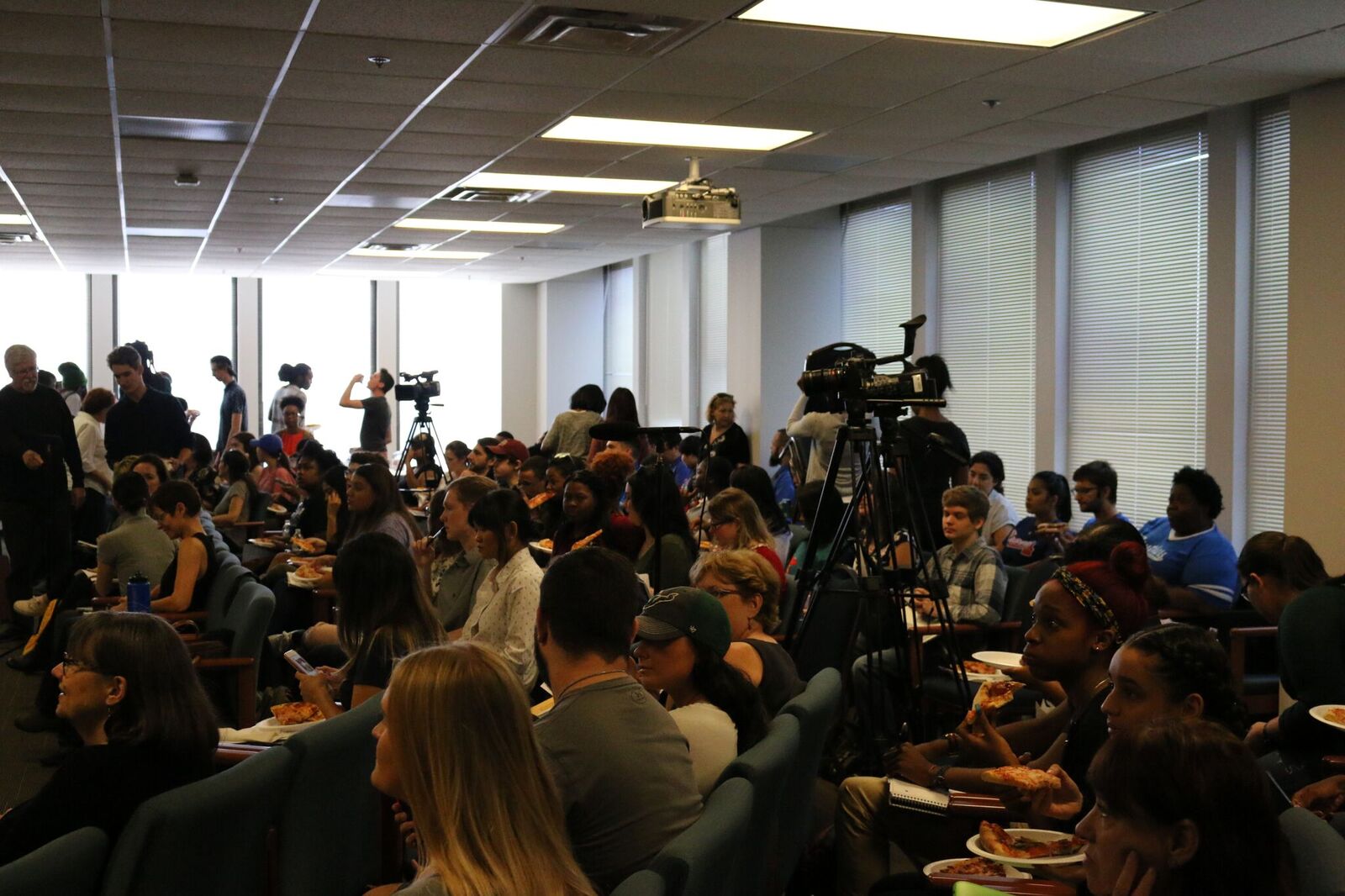 A panel of journalists, photographers, and professors gathered at Georgia State on Wednesday, Oct. 11, to discuss the criticism faced by major news outlets.
The panel, organized by Georgia State's Center for Global Information Studies (CGIS), consisted of CNN STATE director Steven Sloan, award-winning photojournalist Ryan Vizzions, talk show host Michael Brooks, and Donna Krache and Ed Baker, both professors at Georgia State with backgrounds in news. The panel was moderated by Dr. Maria Repnikova, a Director of the Center for Global Information Studies and assistant professor in Global Communications at Georgia State.
Panelists examined the role of media and its consumers amid allegations of fake news, and offered their definitions of the term popularized by Trump.
"It's called propaganda," Baker said in his definition of fake news.
Baker said that while 'fake news' is an emerging term, propaganda has existed for centuries. He likened propaganda to the public relations industry, where news outlets angle stories to sway public opinion.
Propaganda is more blatant in places like North Korea, but is also seen in Bill O'Reilly's alleged no-spin zone, according to Baker.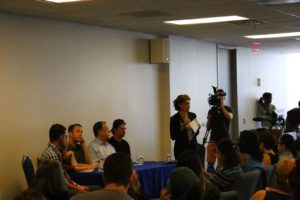 Divisive issues like gun laws reveal the variety of beliefs held across the US. Baker said this diversity allows news organizations to accommodate specific audiences.
"Cultural differences, geographic differences, demographic differences create a lot of propaganda opportunities," Baker said.
Brooks agreed that spin is timeless, but suggested that its use has reached new extremes.
"There's always degrees. There's nothing new about spin or PR, but in some ways, the dial is being pushed," Brooks said.
As a news analyst, Brooks' political beliefs frame his evaluation of news. However, his analyses must recognize objective realities.
"[Trump] is willing to make up just a completely different empirical reality, and that is an escalation from spin. Spin, it's a distortion or lie, but there are some added steps happening now," Brooks said.
Krache categorized the degrees of fake news, saying that two types of fake news exist today.
"There's the fake news that you don't want to believe, basically. The other fake news is misinformation," Krache said.
Krache referenced Bill Cosby in her first definition of fake news, and her initial unwillingness to accept charges of sexual assault against the actor she idolized as a child.
"In the beginning, you might think to yourself, 'I don't believe it, this is fake news,' because I love Bill Cosby and I don't want to believe it," Krache said. "But when 50 women come forward with these charges, you have to be able to change your perspective."
The second and more consequential category of fake news includes blatant misinformation.
"Morgan Freeman is not dead, people. He's 80 years old, but he's not dead," Krache said.
Vizzions expanded the definition of fake news to include a lack of coverage for certain issues.
The photographer, who received national attention for his photographs of Standing Rock protests, said that mainstream media defines the reality perceived by viewers. As gatekeepers, media choose which issues gain coverage.
"You hear about Flint, Michigan, but what people don't know is that there's a hundred Flints in the United States," Vizzions said. "A lot of them take place in indigenous communities that don't ever get any support from mainstream media. Whether or not you hear about it on the news, it's taking place."
Sloan said that dialogues like the panel prove consumers desire accurate, reliable news.
"There's this thirst for information that is accurate, that is vetted, that is diving deep," Sloan said.
He cited recent allegations of sexual assault against Harvey Weinstein, and subsequent conversations on equality and representation.  
"That's incredible journalism. I think it just underscores the real value of investigative journalism," Sloan said. "Journalism as a storytelling device is more powerful than I think it's ever been."
Combatting fake news
Panelists didn't necessarily blame social media for the spread of fake news. They didn't denounce Russia, and they didn't point their fingers directly at Trump. The panel addressed the flaws and occasional failures of news corporations in sharing reliable news.
Krache was in CNN's news room on Nov. 7, 2000 during a highly contested election night.
"We had just given the state of Florida to Al Gore, and over the PA system during a commercial break: 'Attention, we are going to put the state of Florida back in the too-close-to-call column,'" Krache reminisced.
"I tell you this story to illustrate how, to some degree, news organizations are responsible for the distrust," she said.
Krache also referenced the game show-styled coverage of the 2016 presidential campaign.
"They have 12 analysts up there all telling you it's Hillary's election to lose. They were all wrong," she said. "And you look at this and say to yourself, 'Why should I believe what you're telling me?'"
Panelists offered a slew of advice to students at Georgia State, with a consistent drive towards truthful storytelling.
"Stop reporting because you want to be first, report on accuracy," Krache said.
"Get off your phone and talk to people with different views," Vizzions added.
"Your name is the most important thing that you have," Sloan concluded.