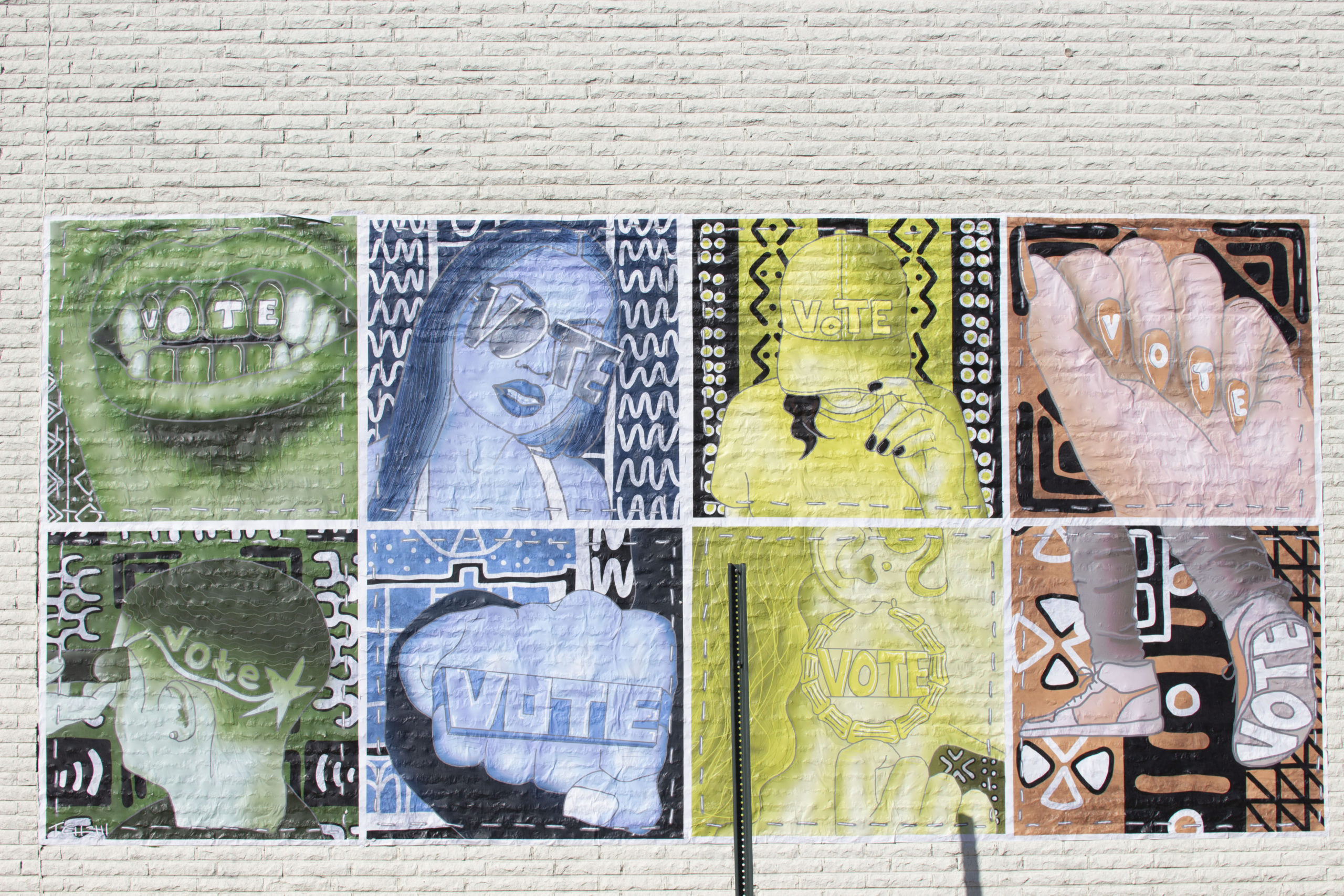 Two colorful murals cover The West End Goodwill's walls, each side depicting critical, larger-than-life citizens of Atlanta. One wall is dedicated to Rev. James E. Orange, and the other side serves as a tribute to influential women within the city. 
The murals are part of the annual ELEVATE, an Atlanta public art program designed to "[provide] free, quality cultural experiences that highlight what makes Atlanta unique." This year's program  centers around the themes of equity, activism and engagement.
"Rev. James E. Orange: Hey Leader!" is the work of artists Keif Schleifer, Golden, Tom Davii and George F. Baker III. The mural shows the late reverend surrounded by broad strokes of blue and magenta, overlooking the words "Hey Leader!"
Orange, sometimes known as "Shackdaddy," was a civil rights activist who worked alongside Martin Luther King Jr. and, according to The Atlanta Journal-Constitution, helped organize the March on Washington and the Selma-to-Montgomery march. 
Georgia STAND-UP sponsors the mural and serves as a "think and act tank for working communities," focusing on economic development. Executive Director Deborah Scott met Orange on Clark Atlanta University's campus in 1983, when he called out "Hey, leader," and she responded. Scott describes Orange as her mentor since arriving in Atlanta.
"I [later asked] Rev. Orange, 'Why did he call us a leader? And how did he know I was going to be a leader?'" she said. "He says, 'I said leader to everyone, it's not everyone that answered. So, it was those that answered the call, [who heard] that little voice in there, then they said 'I am somebody, and I can make a difference in my own way.'"
Scott has many fond memories in the West End and sees the mural's placement as "iconic." Scott helped Davii and the other artists encapsulate Orange's essence.
Davii emphasizes the importance of using the right colors to tell a story, and chooses shades that bring energy into the artwork.
"I knew from the jump that I wanted to bring him to life," Davii said. "I didn't want him to look like he was gone. I wanted him to look like he was still a part of the city."
He only had black and white photos of Orange for reference, so Davii used his own skin as a template.  
"[In my skin] I'm seeing oranges. I see red and some pinks. I see more than just brown," he said. "Looking at myself as a person, that's how I connected with him because we're both brothers, so that was the easy part." 
Schleifer has worked on hundreds of murals, but this is the first tribute to someone she's known.
When Schleifer was in graduate school, she heard Rev. Joseph Lowery and Coretta Scott King speaking on the radio. She realized that many civil rights activists were in her vicinity, inspiring her to take a hiatus from school to learn from the leaders. 
Schleifer spent time with Orange and Lowery, participating in events like the Selma Bridge Crossing Jubilee. Today, she hopes the mural can serve as a tribute to Orange's life and values.
"We're not here just for remembrance," Schleifer said. "Maybe you can feel the vitality of this mural. You can feel the energy and people who knew Rev. Orange can look at this and remember him."
Jamida Orange describes her father as a bridge-builder and is thankful for the tribute to his hard work.
"Let me first say, I love my city," she said. "I thank you all for keeping my dad in people's minds and in the memory. A lot of people like to rewrite history, but the City of Atlanta won't let us forget. I'm humbled for this honor."
Ashley Dopson created "Heroine: Unsung Women in Civil and Social Justice," which displays large portraits of several women protestors lining the wall and "HERSTORY" written in block letters. 
The painting features nine influential women, according to The Atlanta Journal-Constitution, including Irene Dobbs Jackson, mother of Atlanta's first Black mayor, Maynard Jackson, an activist who desegregated the city's libraries. The mural also features activist Lottie Watkins, the first Black female real-estate agent in Atlanta, and Pearl Cleage, a playwright and speechwriter for Maynard Jackson.
The women's portraits are large, overlooking another generation of activists and the West End community. Dopson describes them as "giants." 
"This mural is phenomenal to me because it shows that the civil rights movement never ended," Dopson said. "It makes me feel good to know that there's such a thing as community now because we're in an age where everybody's focus is on [themselves, and thinking] 'I'm going to come up, I got to come up.' For me, if my kids don't come up, then what's the point of me coming up?"
Karcheik Sims-Alvarado served as a historian, helping guide the artists and mural creations. Sims-Alvarado said the main focus was how individuals in the West End community and Dopson wanted to create an homage for strong women.
"We see [women] as giants within the community," Sims-Alvarado said. "They hold us up. They provide support, but we also see them as leaders."
A Georgia State Ph.D. student interviewed instrumental people within Atlanta, like Mayor Andrew Young and U.S. Representative John Lewis.
Young said he spent the years after Martin Luther King Jr.'s death trying to achieve his goals.
"I chased Martin Luther King's dream for 50 years after his death," he said. "His dream was to redeem the soul of America from the triple evil of racism, war and poverty. When he started talking about poverty, he got killed. The kids still think everything's racial."
Lewis described moving to Venetian Hills as a newlywed, where he became well acquainted with neighborhoods and people in Southwest Atlanta. 
"I fell in love with the city," Lewis said. "If it hadn't been for Southwest Atlanta, I probably wouldn't be the person that I am today."
Lewis was subjected to discrimination before and throughout his successes, which only intensified his gratitude for former President Barack Obama, the first Black president in the country's history.
He recalls attending Obama's 2008 inauguration and attending lunch after the swearing-in process. Lewis presented Obama with a piece of paper and asked him to sign it. Obama returned it and had written, "It's because of you, John."
Lewis mentioned the importance of art, particularly music, within his life and the greater community. He added that good music could always get him to dance. 
Lewis recalls getting out of jail with just a few quarters and using them to play music on a jukebox.
"There's something about music," Lewis said. "It was in the movement. It's in our churches. The music lifted us, brought us together as one, and it gave us a sense of hope, a sense of optimism. I can never ever forget it."
Schleifer admires advocates of the civil rights movement. She gained many experiences and lessons through her time spent with Orange and Lowery, solidifying her commitment to activism.
"This is not a time for any of us to be sitting still," she said. "We all must take an active role in whatever way we can. Artists have done this forever. If you were in the presence of Rev. Orange at some time, you know the importance of getting up and being active."