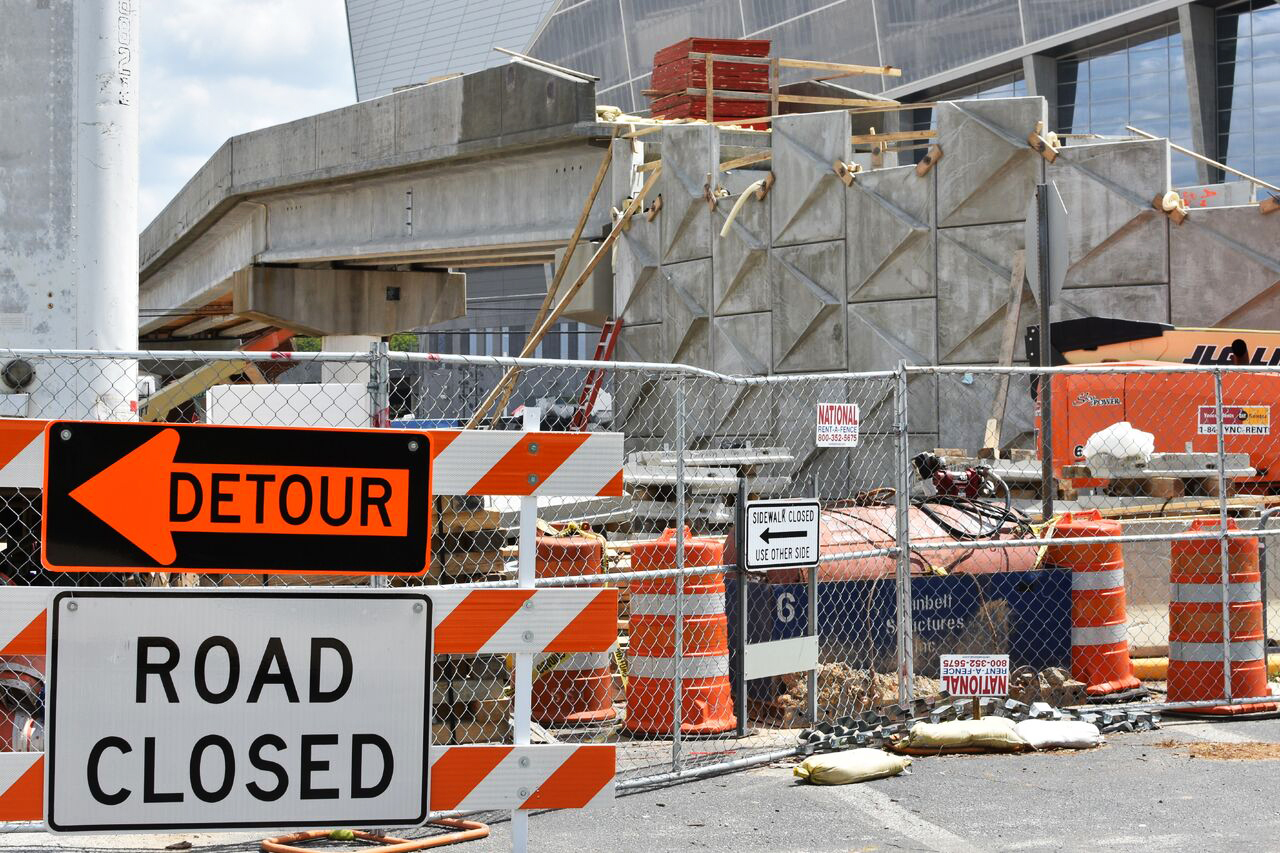 In the past decade, Atlanta has become all-too-familiar with the presence of large-scale urban development. The recent announcements of two significant development projects, a new pedestrian bridge and a MARTA extension have both urban planners and city leaders abuzz.
The pedestrian bridge connecting Vine City to the Mercedes-Benz Stadium is a $23 million project that, according to contractor Georgia Bridge & Concrete's website, "is designed to improve interconnectivity between the Westside neighborhood, downtown Atlanta and MARTA," and is being constructed in coordination with the Georgia Department of Transportation (GDOT), MARTA, the City of Atlanta, Georgia World Congress Center, and the Mercedes-Benz Stadium contractor.
To Matt Garbett, co-founder of urbanism advocacy effort ThreadATL, this bridge provides "no connectivity improvement" and that the bridge is contributing to an already massive "dead space" within the city.
"They've built a giant dead space, which is Mercedes-Benz Stadium, the Georgia Dome, the Congress Center, all that stuff. If they really cared about connectivity, what they would do is they would tear the whole damn thing down and rebuild a neighborhood," Garbett said.
"That monstrosity that they built is not Downtown. What they built is a dead space. So now, you can cross an 800-foot bridge to cross a 2,000-foot dead space to get to Downtown."
Christopher Wyczalkowski, a postdoctoral researcher at Georgia State's Urban Studies Institute, said that accessibility for the Vine City community is "not likely to meaningfully increase," and that if this bridge is viewed as an amenity, gentrification pressures could amplify in the area.
"It is difficult to imagine that the Northside bridge is going to do much to increase accessibility for Vine City residents. If access to the stadium becomes viewed as an amenity, it is possible for gentrifying pressure to be applied to parts of Vine City, and once parts of Vice City become gentrified, the gentrification pressure can become more intense," Wyczalkowski said.
"In general, projects that provide accessibility to amenities and access to other gentrified areas are more likely to lead to displacement."
NEW TRANSIT EFFORTS
MARTA's new proposed BRT line was announced on March 7 after the federal government awarded $12.6 million to MARTA to build a bus rapid transit line connecting Midtown to Summerhill. The project is estimated to cost upwards of $50 million.
Wyczalkowski said the proposed BRT line will also most likely have a minimal gentrification impact since it is a "pseudo BRT service" and will likely be viewed as a typical bus line.
Garbett said the line is "not BRT" and is really just "a poor man's bus line." BRT runs in its own right-of-way and has a dedicated lane separate from other motorist traffic but this line does not.
He emphasized that BRT, by definition, "cannot be in traffic," and that the efficiency of public transport pivots on whether or not it is in traffic.
"If the entire line is not in its own dedicated lane, it's not BRT, period. End of story. [The city is] literally paying $110 million for a no public input rail that is not BRT. It's a poor man's bus line," Garbett said.
"Every single study has shown that if you want transit to be effective, you have to not have it in traffic. I mean, that's the whole point. If you put a streetcar line or a BRT line in traffic, you can't move faster than traffic. That's just common sense. As far as I've seen, the BRT line is both done without public input and is in traffic for most of it."
And with the expansion of transit projects across the city, Garbett said he thinks the university will play a major role in whether students decide to drive or take transit, and that at some point, the university has to "be a player in a non-driving downtown, and [right now] they're not."
"Georgia State continues to invest in parking, and you look at the Bell Building, and their decision to tear that down and build a parking lot. Georgia State at some point has to make a decision: are we going to encourage our students to take transit, or are we going to continue to encourage people to drive?" Garbett said.
"They're continuing to finance parking and encourage students to drive, they're doing a terrible job."
He said he thinks the new proposal highlights that Atlanta's leaders are "not serious about transit," and that "zero planning is going on" throughout the city.
"[The line] is poorly thought out, it is poorly implemented, it has had zero public input, and it continues to point out that Atlanta is not serious about transit, but we are serious about spending money that the government gives us so that we can brag about it," Garbett said.
He stressed that issues in current urban planning practices, such as policies that focus on property ownership in Southwest Atlanta, are "clearly not sustainable."
"The whole model we've built ourselves is dying. We have to change our policies, and you cannot do that if your only policy change from the mayor is to try to make 40 percent of people in one neighborhood be able to pay the property tax. That's just not sustainable."