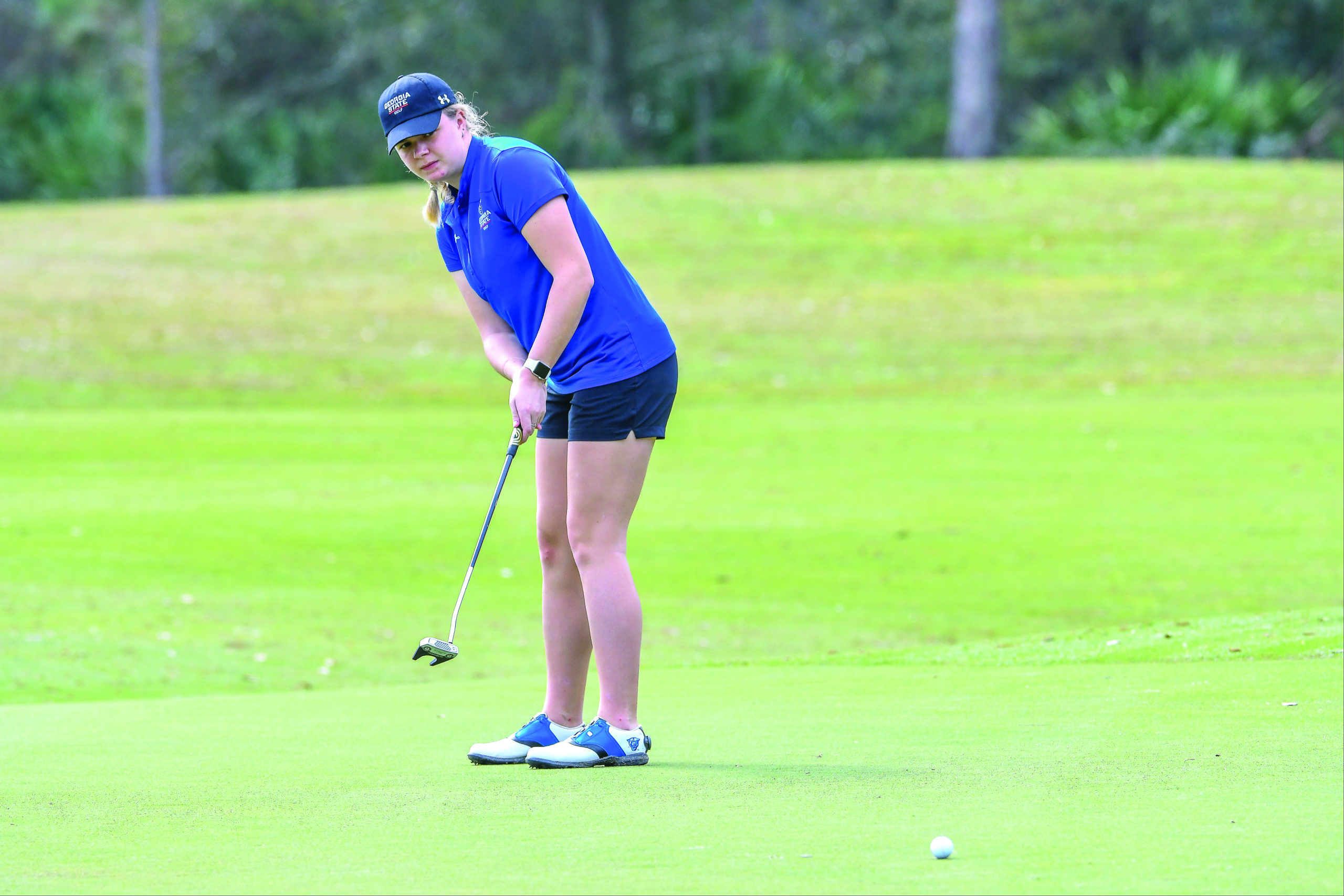 Chloe Howard has been the definition of consistency in her already excellent Georgia State career. The junior golfer has already claimed several accolades during her tenure, earning awards such as the All-Sun Belt second team and Sun Belt all-tournament team in 2018.
Howard has continued her success this season, where she leads the team in top 10 finishes, albeit just one, and she is third on the team with an average score of 76.00. 
During mid-February at Amelia Island Collegiate, Howard led the Panthers to a fifth-place finish and finished eighth overall individually.
"I kind of went into this tournament just more relaxed, and I tend to put pressure on myself, and I don't really mean to, so it was good to be relaxed and just enjoy it," Howard said. 
Fellow Panther Jenny Marston also had a strong performance, finishing 11th. As a team, the Panther's shot one under par, which was their best finish in nearly five years; Howard did her part to contribute, shooting 69 for the tournament.
"Golf is hard because it is an individual sport, but it's so nice having such a team that is so close," said Howard.
Howard's success is not only reserved for the golf course, but also her excellence in the classroom, which exemplifies what it truly means to be a student-athlete. This season, she has taken home a Georgia State student-athlete of the week award and was named to the 2019 Athletic Director's Honor Roll. 
"You're here also to do academics, and no matter what happens with your sport, it's always good to have a degree under your belt because you never know what's going to happen," Howard said. 
Her success in the classroom is even more impressive because of golf's hectic schedule where they will sometimes have up to five travel days in a row, resulting in many missed classes throughout the course of the year. This is no problem for the women's golf team, as they had six members of the team receive academic honors this semester.
"We miss so many classes, and it's really, really hard, but our coach is very good at making sure we stay on top of our academics as well as our sport," said Howard.
As the team approaches the end of the season, Howard spoke of the team's aspirations to get a win, whether it be individual or team, as the season hasn't gone over exactly how they want to win.
"We're a lot more together as a team, and we work together really well, and we encourage each other," said Howard. "Whether it's one of us or a team win, I feel like it's definitely going to happen."
The team will have multiple opportunities before the Sun Belt Conference Tournament to accomplish this goal with both the Red Rocks Invitational and the John Kirk Panther Intercollegiate, which is a home meet, coming up later this month.