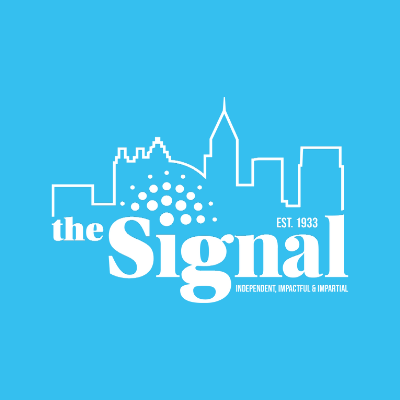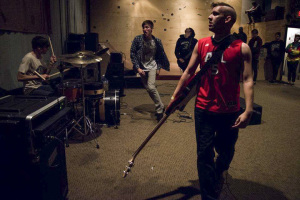 This summer you might have found a small crowd of teenagers gathered in a church basement banging their heads and screaming their lungs out, all in the name of Jesus.
On July 18, in the basement of Cornelia United Methodist Church, six bands came together to put on a big show for a small audience. Each band performed a different musical style, with some bands performing techno rock music and others performing Christian hard-core metal.
"There may not be people who come to our shows expecting to hear us sing about God with all the chaos we make, but they usually like it when they do," said James Nunnally, bassist and vocalist for Under the Weather.
Under the Weather is a Christian hard-core metal band made up of long-time friends James Nunnally, Walker Whited, Doug Manus and Grason White. The band was one of the headliners at what is known as 'The Habersham Show' at the Cornelia United Methodist Church.
Identifying themselves as Christians, the band has spent the last three years together making music and touring the region all in hopes to share their faith. Despite making Christian music, the band did not initially plan on becoming a "Christian" band.
"Our intention wasn't to be a Christian band, we just wanted to play music and it was great that all of us shared the same faith," Nunnally said.
Nunnally and Whited are both seniors at GSU. They met when they were about five-years-old and have been friends for most of their lives.
"We grew up together and we played music together," Nunnaly said. "We would come from school and play music all day, so us starting a band was just natural."
Neither Nunnally or Whited had any original plans for Under the Weather to be any more than just a couple of friends having fun.
"It wasn't really anything serious, we just all liked hanging out and playing music together. So us actually turning our little gang into Under the Weather the band was a great moment," Nunnally said.
The band that started the band
However, before Under the Weather was formed in June 2011, some of the members started out as a project band called When Character Was King. The band was created by Nunnally and Whited for a benefit concert for a friend who had cystic fibrosis.
"We thought we could help out by being the entertainment for the concert because there wasn't much else we could do," Nunnally said.
After the benefit concert the project band's six members stayed together, united in their love of playing music. Eventually many of the members started dropping out to start their college careers, eventually causing their disbandment.
However, a surprise phone call one day while Nunnally was all the way in Phoenix, Arizona started creating the way for the re-birth of the band.
"They wanted to put the band back together and they wanted me to play bass," Nunnally said. "So we got three new guys to replace the other ones and changed the name."
Nunnally said going from the project band 'When Character Was King' to the official band 'Under the Weather' was a smooth transition. The band changed some members and their sound but still maintained their same spirit.
"We were still the same people; that is why our first album was named "When Character Was King" — that and the fact that we could keep all our old merchandise," Nunnally said.
White and Manus joined Under the Weather as drummer and guitarist. While Manus previously knew Nunnally due to blood relation, Nunnally met Manus while mentoring music students in high school.
"Grason was one of my kids in high school band class. I was like a mentor, but that sounds weird," Nunnally said. "I just helped teach him and he progressed as a drummer so I thought he would be good for the band."
Making the music
When it comes to the sound of the band, Nunnally said that contrary to what some people might have assumed, many of their listeners described their sound as techno with a very heavy rock sound. But Nunnally feels slightly different about the band's sound.
"I couldn't compare it to any other band; maybe 'The Devil Wears Prada', but we don't sound like them. We're an interesting version of metal core," Nunnally added. "That's mainly because we had like two members on guitars and a lot of synthesizers, so that adds a lot to our sound."
One of Nunnally's favorite songs is a song Whited wrote titled "Truth Be Told" off of their debut album "When Character Was King." The song features gritty, hard guitar riffs coupled with the sound of Whited's screeching of lyrics with Christian imagery.
"Turn back the clocks and wait for our thoughts and peace of mind to get back to you," the band shouts in the chorus.
The song builds up in energy and chaos as the lyrics become more gloomy and heavy, with the band screaming statements out like "you disappeared" and "where have you gone?"
"It gets really heavy. It just builds up and up and up," Nunnally said. "I guess I like it because I get to scream a lot but lyrically I like it because of the ending lines."
The ending words "by the grace of my God I will push on, by the grace of my God I will move on," reflect the faith of the band's members.
Reaching out through music
Although Christian hardcore is a music genre that's main lyrical content reflects Biblical views, the genre has a following of both Christians and non-Christians. When it comes to the "Christian" aspect of their Christian hardcore metal band Nunnally added that it can be found in many of their lyrics but the major way that it shows up is in their actions.
"We'll pray before a show, perform, and then sit at our merch table after, read the Bible and talk to anybody that came up. It's better that we really show our faith," Nunnally said.
At one point, Nunnally said he felt the band was not succeeding in sharing their faith. He said the band was putting a lot of time and money into their work, but did not see any success. But the band continued to press on because of their faith.
"At one of our most discouraging shows ever we had this one kid come up to us," Nunnally said. "He wanted to know more about God and that just really lifted us back up."
The band members felt that if one person was being helped through their Christian music then that was reason enough for them to keep going.
"When we met that guy we didn't care how much money we had lost on investing in equipment and merchandise," Nunnally added. "We were just glad that we were making a difference in at least one person's life."
"'Bella Mae', 'Last Act Standing' and 'I Will Define' are all just really good friends who came out to support us at our show," Nunnally said. "It's really great though that we can all have a good time playing music together. That's always fun."
Many of the other artists that came to perform at the Habersham Show not only came to perform for their own promotion but to show support for Under the Weather at their last show ever.
The band performed their last show in the basement of the Cornelia United Methodist Church in their hometown of Cornelia, GA.
"We all just got really busy with focusing on our school work or other projects. We couldn't put much time into sitting down and finishing music anymore," Nunnally said.
Nunnally said he is currently focusing on graduating but is still constantly writing and playing music either for fun or for worship. However, he said he would not be surprised if the band got back together in the near future as he has hopes of finishing up some unfinished songs.
"We had some really cool ideas that we need to finish," Nunnally said. "It's going to happen, I know it."