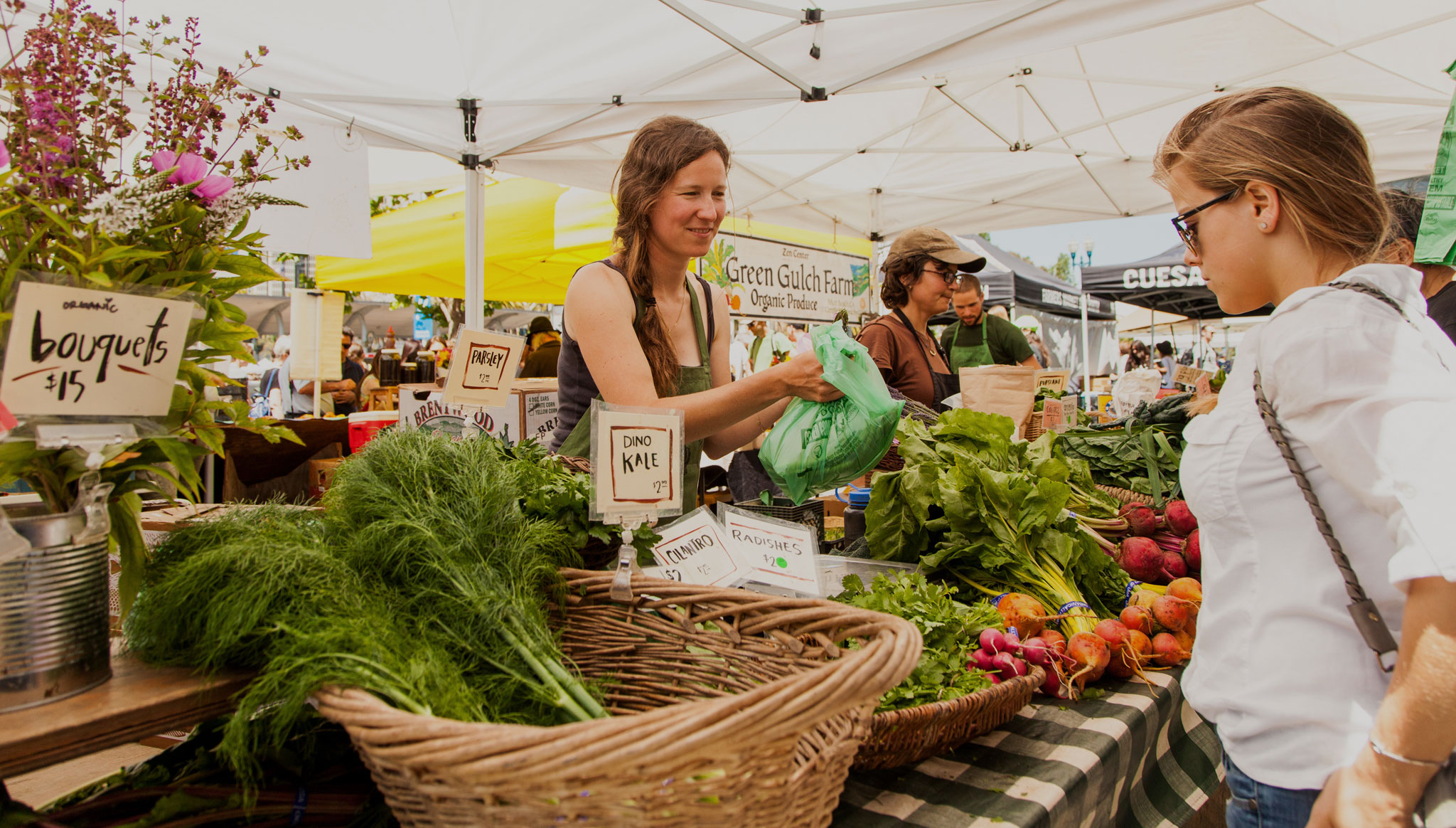 The fruits are sweet, the vegetables are ripe and locally-sourced products are fresh and ready for sale at inner-city farmers markets this summer season.
Atlanta is one of the lucky cities that has the blessing of regional and local farms which produce whole, delicious foods being within 100 miles outside of the perimeter. Farmers work hard to bring their earthly goodies to those living in the concrete jungle to ensure a healthy lifestyle to all. Shopping at your local farmers markets puts your money back into your community while providing access to fresh produce, hand-crafted goods, plant-based beauty products and much more.
Here are several markets to visit this summer! Each offers different styles of vendors in select neighborhoods across the city including Brookhaven, Decatur, Freedom Park (Inman Park), East Atlanta, and Midtown (Piedmont Park).
Brookhaven Farmers Market
Brookhaven has been on the rise since seeing notable advancements in residential and commercial infrastructure in recent years. Nonetheless, regional farms are the focus of this market, including West Wind Farms, Heritage Farms, Double B Farms and Mollyville Farms. The vendors change weekly, but every weekend includes chef demos and tastings from various participants.
9 A.M.- noon. Saturdays. 1375 Fernwood Circle. www.brookhavenfarmersmarket.com.
Decatur Farmers Market
Since 2013, Decatur has been somewhat of a forefront for the community of farmers markets. Popular and eccentric companies flock here weekly to sell their best to the public. In addition, vendors have vowed to accept SNAP/EBT dollars—"dollar for dollar"—at this particular farmers market. Whatever amount you want to spend is automatically doubled at no cost to you for fresh and local food that is of higher quality and more nutritious. Dogs are welcome.
4-7 P.M., Wednesdays and 9 A.M.-1 P.M.., Saturdays. 308 Clairmont Ave., Decatur. 404 919-3619 http://cfmatl.org/decatur.
East Atlanta Village Farmers Market
Representing a notorious run for the Community Farmers Market (CFM) participating lineup, patrons can expect to find ingredients for every meal along with seasonal vendors like Dickey Farms and Watsonia Farms, on every first Thursday of the month. Jams, cheeses, gyros, baked goods and organic opportunities await at the stands of EAV. Vendors accept SNAP/EBT. Dogs are welcome.
4-8 P.M. Thursdays. 572 Stokeswood Ave. S.E. 404-919-3619. www.cfmatl.org/eav.
Freedom Farmers Market
One of Inman Park's best-kept-secrets is Freedom Parkway's Farmers Market. Founded in 2014 by Georgia-based farmers, guests can find fresh produce, grass-fed meats, dairy, farm fresh eggs, handmade pasta, coffee and more from notable local purveyors. You will never find anything artificial or industrial-made at this market. Plus, the vendor list fills up quickly so you know it has to be good.
9 A.M.-1 P.M., Saturdays, March – December; 9 A.M. – noon, January and February. The Carter Center, 453 Freedom Parkway. www.freedomfarmersmkt.org.
Green Market at Piedmont Park
Bringing health full-circle, the Green Market strives to intertwine the physical activities of Piedmont Park with a nourishing practice and routine found in farm-fresh ingredients. Enjoy local farmers, bakers, jams, preserves and artisan goods. In addition, prepared foods and drinks for breakfast and lunch are offered for purchase. The market features local live music, chef demonstrations and a board-certified dietitian demonstrating health and wellness utilizing market produce. The market also provides a kid-friendly activity center for those with small children. Dogs are welcome.
9 A.M. – 1 P.M.. Saturdays. Piedmont Park, 12th Street and Piedmont Avenue. 404-875-7275. www.piedmontpark.org/programs/green_market.html.
Peachtree Road Farmers Market
Now in its 11th  year, the largest producer-only market in Atlanta supplies fresh, local produce and natural foods to the public. Peachtree Road Farmers Market is open two days a week during the warmer seasons. Vendors accept EBT. Dogs are welcome.
8:30 A.M. – noon, Saturdays, 4:30 – 8 P.M., Wed. 2744 Peachtree Road N.W. 404-365-1078. www.peachtreeroadfarmersmarket.com.
Participating in community farmers markets not only supports individual lifestyles but also influences the way neighborhoods interact as a whole. Whether it is being in the sunshine, buying local with health in mind or simply interacting with small businesses, there's something for everyone to be a part of. A greater sense of purpose has developed through these outdoor ventures — it just might be time to find yours.