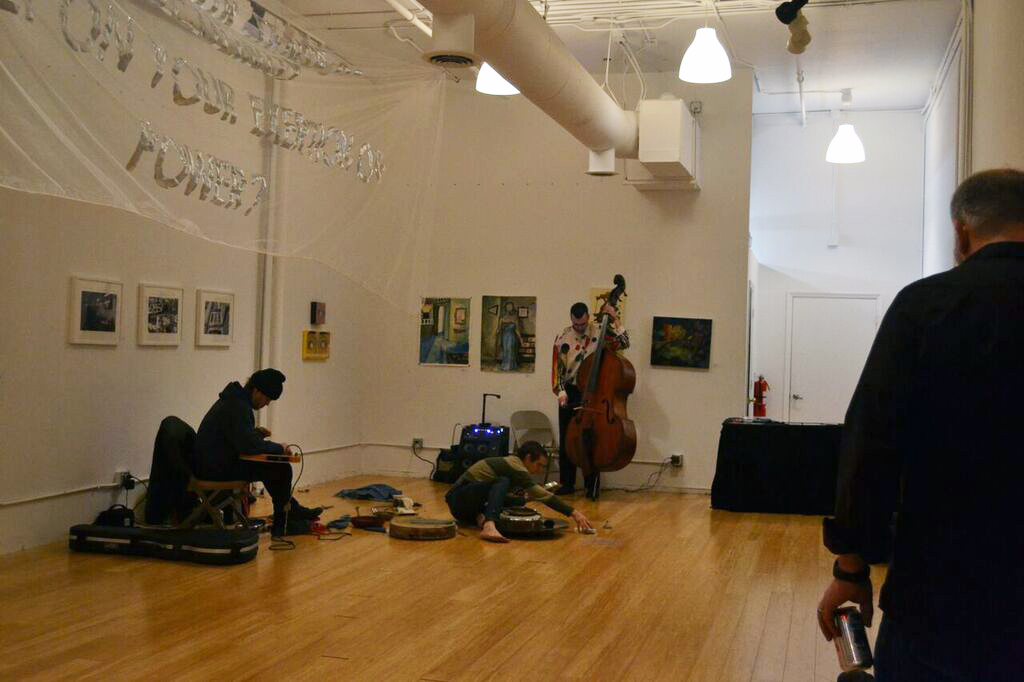 Atlanta's dyed-in-the-wool underground arts and music scene suffered major losses in recent weeks after the closure of three Broad Street venues the Mammal Gallery, Eyedrum Art and Music Gallery, and Murmur Media. On March 3, Mammal Gallery announced their permanent relocation via a Facebook post.
The "temporary but indefinite" closures came to pass following a fire on Feb. 4 at 79 Broad Street, which resulted in one fatality, according to Atlanta authorities. The building that caught fire, as well as Mammal Gallery, Eyedrum, Murmur are owned and controlled by German development company Newport Holding.
The company closed these art venues and other Broad Street properties due to concerns surrounding fire codes. Newport Holding U.S. Vice President April Stammel told The Signal that these closures were based on a "need to ensure the safety of tenants and guests."
She said the company owns and controls 47 buildings in an eight to 10 block stretch of downtown Atlanta, and that the group's primary investments are focused on developing and "restoring the history" of properties in this area.
Stammel said that Newport is consulting with organizations housed in other Broad Street properties to establish a more long-term solution to the closures.
In regards to Mammal's announcement of permanent relocation, Stammel said costs prohibited Newport to renovate Mammal Gallery in order to bring the space up to code, which prompted Mammal's final decision to relocate. The properties were not initially designed as music venues, she said, which is why it is hard to maintain them and keep them up to code in such a way.
Mammal Gallery operator and owner Chris Yonker maintained that finances made it difficult for organizers to bring the building up to code.
"We knew the whole time that that building was not up to code and we were trying to do everything in our power to bring it up to code. But being renters in a building, it doesn't make sense for us to spend a ton of money to bring it up to code when we don't own the building," Yonker said.
On March 17, Mammal hosted Homage, an art opening featuring 20 graduating seniors from Georgia State. The event was held at 217 Mitchell Street, which Mammal said was their "temporary art show space" in a post on Instagram.
When these spaces are undermined by larger property developers and "art is pushed aside," the scene will inevitably suffer the consequences, according to Creative Loafing writer and Georgia State graduate Jacob Chisenhall. He has been heavily involved in the music scene for several years, and feels that after these closures, specifically that of Mammal Gallery, downtown Atlanta has now "lost one of the last truly viable aspects about it."
"It finally felt like part of downtown Atlanta belonged to the people. Now just seeing not one, but all three of these venues being quashed out at the same time, [that part is] taken away," said Chisenhall. "People are just trying to survive and give people a space to share their various forms of art, which is really noble and honorable, and I don't think that the developers care about that at all."
He expanded on how he thinks developers are overlooking the importance of art in Atlanta and are focused on how lucrative properties can be. He said the closures "really raise an eyebrow" as to where Atlanta property owners' minds are, which he thinks are "with their wallets." He also explained that these closures and potential development of the area will influence people both in and out of the art scene.
"When I think of downtown, a now very lucrative area, I wouldn't be surprised to see the homeless population that has accrued in that particular part of town swept away. [Developers] don't really respect the space, nor the people within them," Chisenhall said.
Yonker said many in the scene want to paint a picture of a cycle in which developers come into an area and want to kick out the art community. However, he sees things a little differently.
In working closely with Newport, who he found have "no ill intentions" and were "really good" about working with Mammal, he realized that "there's a lot of variables that go into arts organizations and developers working together."
"Developers are generally larger companies, and it comes down to one specific thing for them, which is not squandering the investment money that has been given to them to do something [with]," Yonker said. "They have a lot on the line when they're trying to figure out how to make something work, and in general, arts organizations are not an easy thing to legitimize at times."
He explained that it's a "delicate balancing act" in the work of compromise between a development company and an arts organization, and that although "art is an investment to provide culture to a neighborhood," there's only so much money developers can invest into it.
Recent Georgia State graduate Blair LeBlanc, who is also a local artist and organizer, said the culture of the neighborhood fostered a sense of community between people in and out of the scene. To them, the closures were wildly unexpected.
"I had no clue that everything was going to be shut down. At first it seemed like things were just going to close down for a little bit, but everything's totally shut down. I'm still in this mode of, 'I can't believe Broad Street isn't going to be a thing anymore.' It was just a community, and it really felt like it was coming together in this way. The rug got pulled out from underneath us," they said.
Within this community, Chisenhall said he thinks these venues once provided a secure place for people in the scene and the surrounding area, and that "a lot of people are going to potentially be losing a home."
"It provided a home, a place of security, and now even if Mammal Gallery gains a new place to house themselves, it will still indirectly affect the people that could have gained something from Mammal being in that location. The same goes for the population of people around there," he said.
Both Chisenhall and LeBlanc said most people in the scene are shocked but unsurprised about the fate of these these DIY spaces, and both think that even though DIY arts isn't going anywhere, these closures are an immense hit to the scene en masse.
In terms of the future of Mammal, Yonker said the organization has been in a "perpetual limbo" for the past two years, and accepted nearly losing the building on several occasions. With this final closure and permanent relocation, he said they can finally "start moving towards something more definite," or perhaps pursue something different in the future.
"If we can find another spaces that's suited well for doing performances and stuff, we'll open another Mammal, but if we don't, we might try pursuing something different," he said.
But for now, "it's all a big question mark."