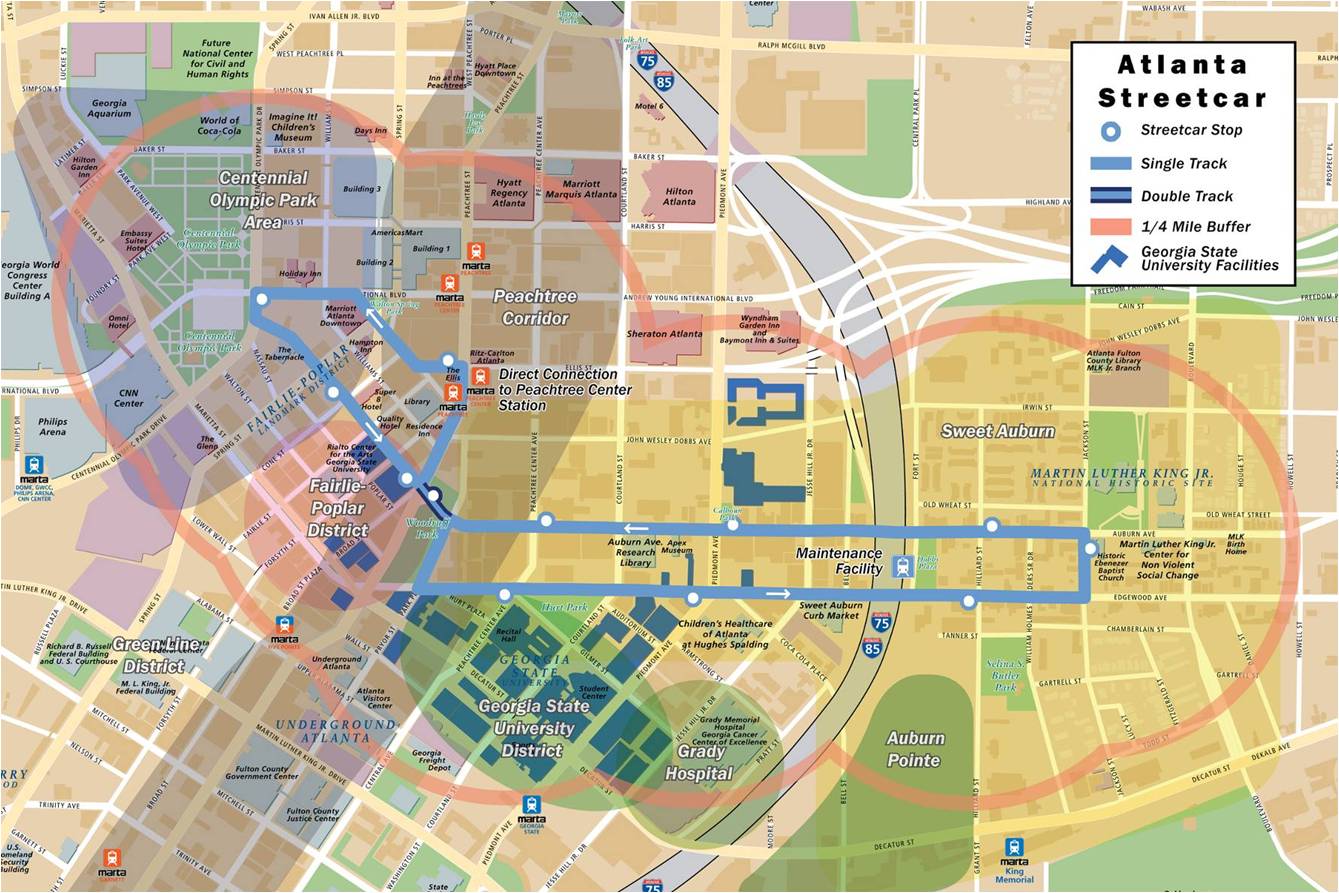 The Atlanta Streetcar's targeted finishing date is April 30, 2014.
The Atlanta Streetcar representatives said that 55 percent of progress has been made and that 70 percent of progress is projected to be reached by the week of Oct. 21. The final stages of construction will end in the Woodruff Park area around Dec. 1, 2013.
Even though the tentative completion date has been continually pushed back, the Atlanta Streetcar has made major progress in getting the project accomplished, which will in turn bring Georgia State students affordable transportation and job opportunities to downtown Atlanta.
Ed Hrinewski, project director for the Atlanta Streetcar, commented on when the construction would be completed.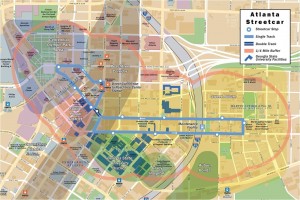 "They are going to start pouring concrete and getting this finished out starting mid next week," he said. "At that point, traffic has to detour. That probably won't happen for two weeks."
Currently, the construction area at Piedmont and Auburn Avenues is stil affecting Georgia State student commuters.
Representatives from the Atlanta Streetcar Project met on Oct. 16, 2013 to inform the general public about the new developments.
Angie Laurie, vice president of transportation at Central Atlanta Progress, described the proposed fare for taking a trip on the Atlanta Streetcar. She said that it would cost $1 per ride and if three trips are taken (or $3 are paid) in one day, then the following trips would be free.
"The first three months of service would be free to introduce people to the streetcar service and to get a familiarity established," Laurie said. "We are having conversations with Georgia State staff about how we can provide a discount to students and faculty."
Currently, all the prices are just proposals and not definite, but the plans sound promising to Georgia State students.
"I like the idea of having cheap transportation," Kieran Beckford, a Georgia State freshman, said.
Also, students in need of a job now have a good chance of getting one in the areas of Auburn Avenue, Old Fourth Ward and Edgewood Avenue. This is because businesses are being encouraged to create jobs in those locations due to a new tax credit.
According to the Atlanta Business Chronicle, if a business creates at least two jobs, then they would gain an annual tax credit of $3,500 per job.
Business incentives will spark development from mainstream enterprises to small shops.
"I think it's a good idea. I know a couple of people who are struggling to get jobs. I think it would be a good new experience and would bring variety," Hannah Mitchell, a Georgia State freshman, said.
The Atlanta Streetcar has also been designed to be user-friendly and effortlessly fit in with traffic. While traveling 25mph and abiding by traffic rules, the Atlanta streetcar will be able to hold bicycles and cater to persons with wheelchairs.
But bicyclists do need to be cautious while traveling around the streetcar's guide ways.
Alex Mills, the Atlanta Streetcar safety manager, explained why.
"It's just the perfect size for a wheel to get into it. So if you do ride bicycles, be aware of it. If you get onto that guide way, that concrete and that track, it's extremely difficult to get out of it," he said. "The best thing you could do is stop your bicycle. Get off of it and get the tire out of the guide way. Don't try to turn, because if you do, then you're going to take a stick."
Similarly, once the streetcar is in operation, Georgia State vehicle owners will need to be careful when parking in spaces near the streetcar's path (for example the parking spaces in front of the Lofts), because the streetcar cannot maneuver around the vehicle.