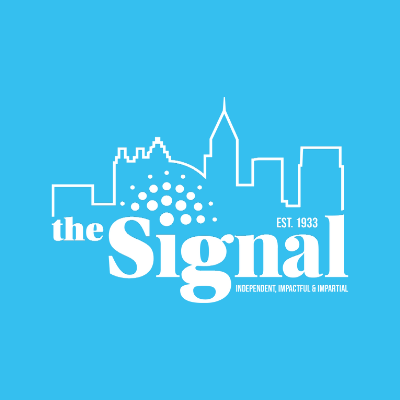 Georgia State is almost done transforming an old ground-floor parking garage into a spiffy, new social space for students.
The decades-old building on the corner of Downtown's Edgewood Avenue and Equitable Place currently houses the university's — and Downtown's only —business incubator, CollabTech research laboratories.
But students can soon look forward to swinging through the bottom floor of that 58 Edgewood location, should they feel inclined to lounge around between classes.
That social space, spawn from a bottom-floor parking garage, could still be a few weeks from opening. But the third floor renovations are nearing completion, meaning the school's research services administration will be carting in office furniture and supplies next month, according to university spokeswoman Andrea Jones.
The reinvigorated building will also boast big, glowing-blue Georgia State signage above a preserved artsy facade from 1939. The glass sign will hang, illuminated, just above the cleaned-up building face.
Another building on Edgewood Avenue — both are a stone's throw from Downtown's Woodruff Park — is being renovated and primped to accommodate Georgia State students studying film, music, gaming and art.
Georgia State's young Creative Media Industries Institute has been buffing the 25 Park Place annex since the school received a $22.8 million grant from the Robert Woodruff Foundation. That gift aims to "revitalize the Woodruff Park area" by sprucing up the old SunTrust building, the aforementioned building next door and other nearby "major facility and streetscape improvements," according to the 2014 announcement by Georgia State.