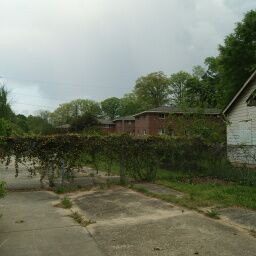 In recent years, Atlanta has gained massive complexes like Ponce City Market and Krog Street Market which attract tourism. Neighborhoods like Inman Park and Cabbagetown grow by the minute with apartment buildings (and even bigger parking garages) to accommodate new residents.

Big promises of the Beltline expansion and other renovations can only mean one thing: Atlanta is being gentrified.
The gentrification of Atlanta's inner-city neighborhoods began in the 1970s, and has continued at varying levels of intensity into the present. The effects of Atlanta's gentrification is received with both praise and condemnation.

Gentrification is "the process of renewal and rebuilding to accompany an influx of middle-class or affluent people into deteriorating areas that often displaces poorer residents," as defined by Merriam-Webster's online dictionary.
In 2016, The Atlanta Journal-Constitution (AJC) reported that according to the Census Bureau, 90,650 people were added to Atlanta's populace. The following year, the AJC reported, "Since 2010, more than half of Atlanta's population moved here, while the rest was driven by births greatly outpacing deaths."
That data also supported the notion that Atlanta's most recent resident population is dominated by millennials.
Concerns over gentrification have been surfacing for decades nationwide, but the fire has intensified as more low-socioeconomic neighborhoods are replaced by gentrified constructs at a very rapid pace.
Gentrification directly affects demographics for resident housing. It displaces communities from their long-time homes and nearly into homelessness, so people with more money can live in the area, which is developed specifically for them, during the transformation. Meanwhile, developers often divert their attention from any disruptions stemmed from protests of the project, including the Tent City protest at Turner Field.
In addition, it has become increasingly difficult to find affordable housing in Atlanta within the past five years, especially for people with insufficient incomes and are unable to keep up with the city's changes and growth.
The city roars
At Georgia State, protests have erupted over the university's purchase of Turner Field during on-campus and university-scheduled gatherings, like graduation ceremonies. The Signal reported an incident at a Student Government Association (SGA) meeting, one of many that occurred throughout the past school year.

On January 26, Georgia State police escorted student Asma Elhuni out of a meeting after she made an effort to publicize concerns over the Turner Field sale, disregarding the university president's exclusion of audience questions during the session. Previously, Elhuni had been banned from university premises after protesting on the same issues during Georgia State's December commencement.

However, Elhuni isn't alone. Long-time residents and organizations are taking action in their communities to govern these deemed advancements. Last week, a group of community benefits agreement (CBA) supporters executed a sit-in at the entrance of Turner Field to speak against the efforts of Georgia State and Carter, Georgia State's development partner, in rehabilitating the surrounding area.

The advocates' sit-in seemed to be in vain after a response by Carter CEO, Scott Taylor, assured most of the coalition's worries will be appeased by the community investment plan drawn by Atlanta Councilwoman Carla Smith in the upcoming months.
A stagnant solution
Organizations such as the Atlanta Housing Authority (AHA) have been providing public housing to 50,000 people in Georgia through Section 8 programs. Section 8 Moderate Rehabilitation Program offers rental subsidy programs to low and moderate-income households and individuals. This includes, "first-class mixed-income housing, retail and greenspace; quality-of-life infrastructure and economic development; cultural and recreational amenities; and high-performing neighborhood schools," as said on the AHA website.
AHA provides numerous grants to uplift and stabilize struggling neighborhoods, such as the community surrounding Edgewood Avenue. In 2010, the City of Atlanta, with the Atlanta Housing Authority as the lead candidate, was awarded a $250,000 Choice Neighborhoods Planning Grant.
From that grant, the Neighborhood Transformation Plan (NTP) was enacted. The plan is an inclusive set of strategies that will allow community revitalization. By building new and rehabilitated housing, coupled with schools, public assets (e.g., parks, retail outlets, social services agencies, etc.), transportation and jobs, communities are more likely to succeed.
The plan consists of three parts: the housing plan, people plan and neighborhood plan. While all of these programs are essential to the NTP's success, none include strictly millennial or single-person resident accommodations, which means mixed-income and senior living facilities are the focus for the NTP.
As gentrification strikes, it strikes all
Mary Brown Sandys, the Department of Community Affairs' Director of Marketing and Communications, said when it came down to providing affordable housing to millennials or students, "there is no sort of priority for young healthy people."
Tax regulations forbid developers from building housing specifically for students, according to Sandys. On the other hand, the Department of Community Affairs (DCA) is a state agency that supports first-time home buyers and manages funding specifically for it. "That's the gamble of affordable housing—fitting between the lines regarding household members and income," Sandys said.
When being considered for a program, the size of the household must adequately match with size of the income, as the state regulates. Students are not a group the DCA, or programs alike, cater to, according to Sandys. Unfortunately, incentives for people to buy homes in Atlanta lack the need to include a diverse range of people. Most programs offer benefits and practical "free money" to applicants who meet their specific guidelines regarding income, assets and overall financial freedom.
However, Atlanta Development Partnership gives additional opportunities for homeownership to lower income households. This, Sandys explained, is where most millennials get support and is the reason why she deems it the "master of all housing."