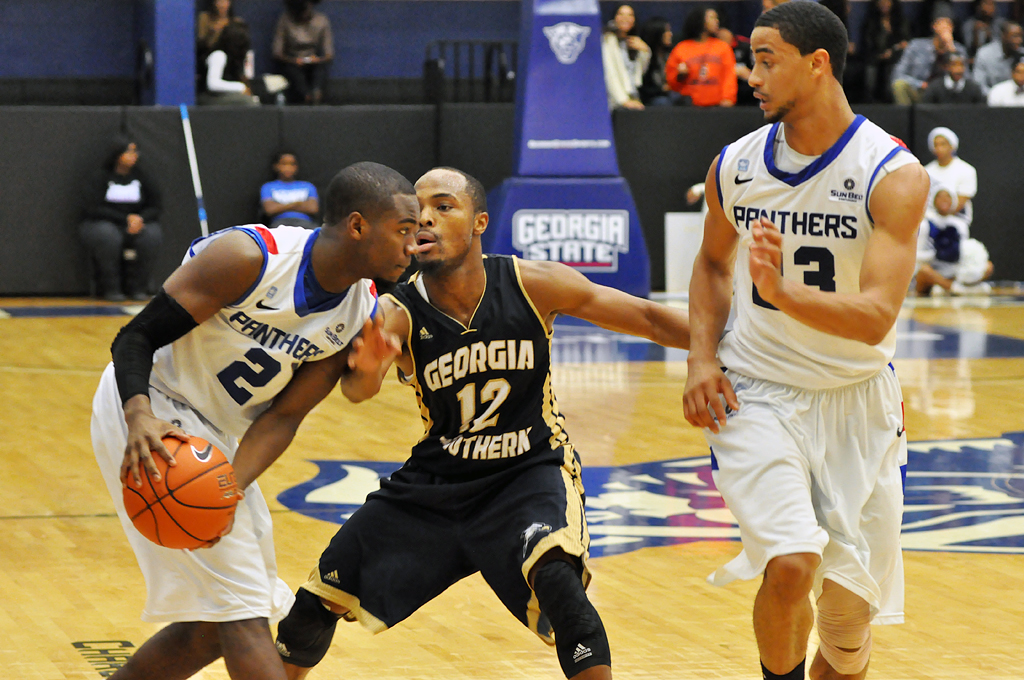 Georgia State continued its dominance at home with a 73-61 victory over rival Georgia Southern on Friday at the Sports Arena.
An energized crowd watched as Georgia State (6-7) avenged last year's 68-64 overtime loss to the Eagles—a game Georgia State coach Ron Hunter said is the worst loss of his career.
Fifth-year senior Manny Atkins scored a season-high 23 points and grabbed a season-high 12 rebounds. Atkins said he was not going to let what happened last year happen again.
"I was mad from last year, trust me," Atkins said. "I was just as mad as coach was last year."
"Manny was spectacular," Hunter said. "The best game Manny has played in a Georgia State uniform."
After 10 lead changes, Georgia State had a 36-29 lead at halftime.
The lead vanished in the opening minutes of the second half as the Eagles went on a 12-3 run to retake the lead by two.
"When the first four minutes [of the second half] went by and the lead went away, I had to grab everybody and said, 'Look, it's not happening again. We have to pull it together and get this victory,' and that's what we did," Atkins said.
The Panthers regained momentum after Marcus Crider blocked Brian Holmes shot electrifying the crowd.
A three from Ryan Harrow followed by a dunk by Crider gave the Panthers their final lead of the night as they would hold on for the victory.
Harrow went 8-of-13 from the floor scoring 22 points. Crider finished with two steals and two blocks.
Defense, as it has been all season, continued to be coach Hunter's focus; he said he made several adjustments for Friday night's game.
"It really helped with the dribble penetration, and if we didn't make that change we may not have won this game tonight," said Hunter, who would not specify the defensive changes, other than they ran four defenses.
Hunter said there are still some glitches that need to be worked out as expected when implementing a new defense, specifically with communication.
The Eagles found success working around the Panthers' new defense making 11 of 26 3-pointers.
The same could not be said for free-throw shooting as the Eagles made 6-of-14 at the line.
Holmes scored a career-high 19 points, shooting 4-for-5 on 3-pointers.
Friday was Georgia State's final non-conference home game before they host Troy for their first Sun Belt Conference game on Jan. 2.
The Panthers get one day rest while going on the road to face the University of Texas at San Antonio Sunday at 2 p.m.