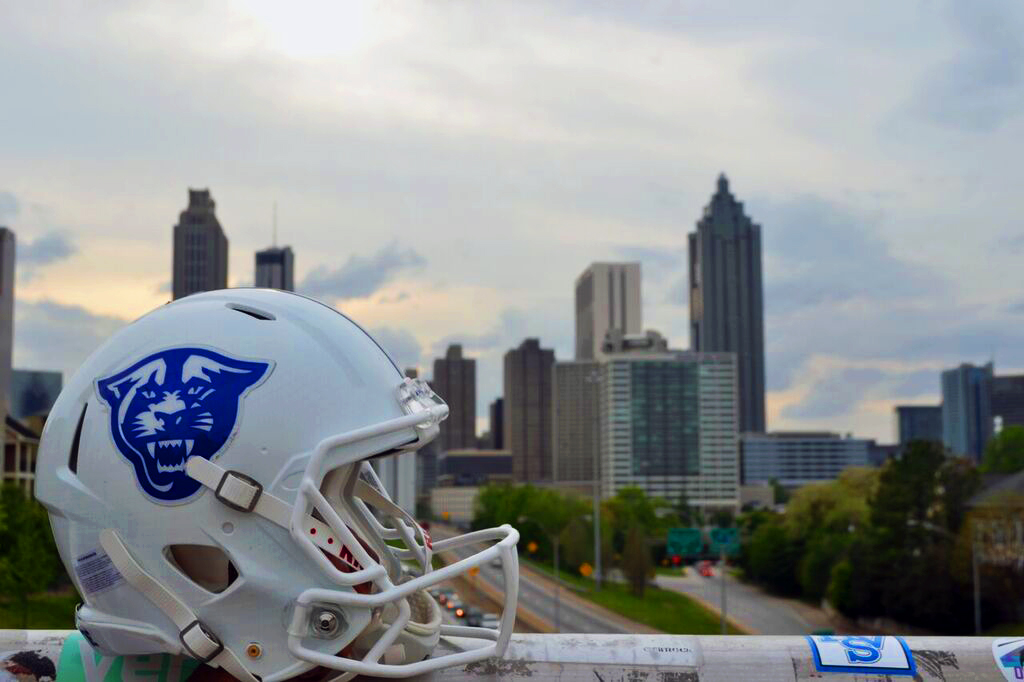 Georgia State is a formidable athletic program but doesn't have a following to match their accolades. The Panthers are one of just 13 programs to win a 2017-2018 football season bowl game and make the 2018 NCAA Division I Men's Basketball Tournament. But, nearly 37 percent of home football and 60 percent of men's basketball seats were empty for those seasons.
Georgia State was the only program to accomplish the feat in the state of Georgia— and is by far the least recognizable. In the school's own city, they are firmly behind Georgia, Georgia Tech and other regional schools in the pecking order of status.
Competing with century-old programs while their biggest sports are less than 50 years old gives Georgia State Athletics an uphill battle. To increase their footprint, Georgia State is exposing its brand in Atlanta neighborhoods from the inside, out.
"A lot of it, we work through our corporate sales folks, Van Wagner Sports & Entertainment. They handle all of our multimedia rights and corporate sales. So they have a book of business here right in the city of Atlanta. And it's working with them to connect us to the city, or have the city connect to the campus," said Brian Kelly, Georgia State Athletics' senior associate athletics director of external affairs.
The next tactic is building relationships hands-on. University academic departments work with the athletic program and notify them of chances to talk to the potential fans.
"The rest of it is using other people's connection. The Robinson College of Business is really good about telling us about their corporate events. 'Hey, why don't you come and present here,'" Kelly said. "The college of education is really, really good about connecting us with Atlanta Public Schools. And they give us 15 minutes to get in front of either principals, or vice principals or teachers that are from Clayton County, Gwinnett County, Cherokee, it doesn't matter— they're here and they give us an opportunity to explain what it is that we have going on."
However, the process begins on campus for Georgia State. Kelly says that when the athletics program has the attention of the students, the city will take notice.
During freshman orientations on the Atlanta and perimeter campuses, Georgia State Athletics shows up to make an impression on students from their first days as a Panther.
"We attend every one of them, either from our ticketing staff or our marketing staff, and we make two pitches. We make one to the incoming freshmen, to have them to sign up to be a fan from day one," Kelly said.
The pitch includes instructions for accessing student tickets, running onto the football field on opening day and parking for all athletic events. They may be small steps, but they are necessary for Georgia State Athletics to reach the heights they're aiming for.
"It's just connecting yourself to the people, it's forging the relationship. It's a lot of grunt work. It's not fun, it could pay off, it couldn't payoff, but at least you make a connection," Kelly said.
More success on the field is undoubtedly a way to lure in, and then keep people in the stands. Georgia State won the 2017 AutoNation Cure Bowl, but it's arguably the least recognizable postseason football game. The men's basketball team made the NCAA Tournament twice in four years and has one win to show. Yearly achievements in those two sports can drive higher interest in the entire athletic program.
"It has tremendous impact, I think what was really exciting for us the past year with the NCAA [Tournament] run is we were the only school in Georgia in the tournament. When you can pound your chest and say that, the other folks in the state are like 'what's going on over here,''' Kelly said. "When you're the only show in town, there isn't anything that's gonna water it down. Successes of football and men's basketball will help propel the university, definitely in Atlanta. You only grow from that point as it becomes consistent."
Georgia State's football team is younger than middle schoolers, a very unique position for an FBS program. They are studying other programs that experienced early success, primarily those younger than 15 years old. A key emphasis this spring has been meeting with student organizations. Central Florida, who is coming off a 13-0 football season executed the same tactic in the past.
"We went into OrgSync and there's about 490 groups. We reached out to each one of them explaining who we are and what we're looking to do. Basically from February until student groups don't want to meet with us anymore, we've been meeting with them individually," Kelly said.
A less tedious way programs raise their status quo is having a transcendent coach. Georgia State's own, former men's basketball head coach Lefty Driesell turned Maryland into a feared basketball program. Before he arrived in 1969, Maryland made just one NCAA Tournament. Driesell took them to eight, and recorded winning seasons in each of his 17 years there. They've made 18 NCAA Tournaments since.
Georgia State has the potential to put more people in seats than every school in Georgia with their 50,000-plus student population. They began athletics more than 50 years later than their competition. But Georgia State isn't taking a second to think about it. Bridging the gap is the only thing on their minds.